The Hancock-Henderson Quill, Inc.

---
Meet Your Neighbor
by Susan Galbraith, Quill Reporter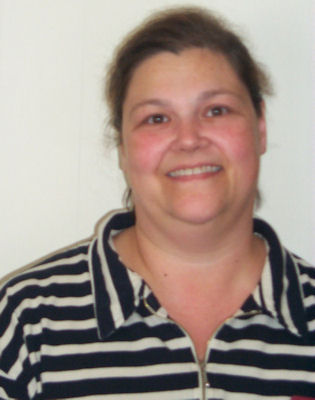 Meet Your Neighbor Mary Ann Stimpson of Stronghurst.
Mary Ann is employed at Oakwood Estates, in the kitchen, as a daytime cook. When asked what she most enjoyed about her job she said, "I love working with the people there because its like taking care of my family."
Mary Ann was born and raised in Burlington, Iowa.
She attended Burlington High School and in July will start C.N.A. training at Southeastern Community College in West Burlington, Iowa.
In May she and hubby, Tom, will celebrate their 30th anniversary. Tom is employed by Alexander Lumber Company in Stronghurst as a yard foreman.
They have a daughter, Jennifer (Eric) Price whos live in Burlington, Iowa. Jennifer is a stay-at-home mom and Eric is employed by Wal-Mart in Mt. Pleasant, Iowa. Jennifer and Eric are expecting another child in August.
A son, Clinton (Crystal) lives at rural Stronghurst. Clinton is employed by Day's Construction and Crystal is a stay-at-home mom.
Grandchildren are Mary Kay, Daniel, Isabella, Nevaeh, Gage and Miley. She also has one great-grandchild, Jade.
Mary Ann's mother, Betty (Gary) Atkinson lives in Burlington, Iowa, and is retired.
Mary Ann has one brother, Jack (Lilly) Taylor of rural Stronghurst and one sister, Kathy (Mark) Meyer of Milan.
Her hobbies are flower and vegetable gardening and doing crafts. She does rock painting and loves making things for her grandchildren.
Before starting to work at Oak Lane she was self-employed for 22 years in Day Care for young children.
---