The Hancock-Henderson Quill, Inc.

---
Meet Your Neighbor
by Shana Jackson, Quill Reporter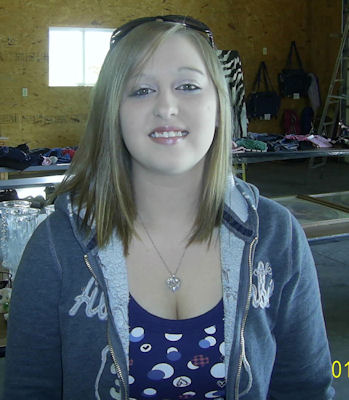 Meet your neighbor Kaela Nicole Ferguson.
Kaela was born in Latrobe, PA but raised in La Harpe.
She is the daughter of Ronald and Beth Covert of Lomax.
Her mom, Beth, is the MDS coordinator of the La Harpe Davier Nursing home. She has one brother, Josh, who lives in North Liberty, IA with his wife Nicole and son Jordan. She also has one sister, Krista, who is a freshman at Illini West High.
Kaela attended La Harpe High and one year at Illini West High. She then went on to SCC and graduated with her GED a few weeks later.
She now works at the La Harpe Davier Nursing Home as a cook/dietary Aide and also has also done housekeeping in the past. Kaela has been employed at the nursing home for 3 years.
She married her high school sweetheart, Tyler Ferguson on July 2, 2009. Growing up Tyler lived just down the road from her. They reside in La Harpe.
Kaela enjoys going on walks, cooking out on the grill, and spending time with family and friends.
Looking back she says her favorite memory is the day Tyler proposed to her.
Kaela has plans to go back to school and is thinking of culinary school.
---