The Hancock-Henderson Quill, Inc.

---
Local Duo Wins IHSA Bass Fishing State Title
Two young men from La Harpe, representing Illini West High School, claimed the Illinois High School Association bass fishing state championship this past weekend at Carlyle Lake.
Senior Travis Wilson (left) and junior Brian Lafferty (right) used their experience gained over the previous year's appearance in the state finals to capture the second ever championship in this one-of-a-kind in the nation event.
Wilson and Lafferty, aided by boat captain/coach Darrin Olin and coach Harold Northup, hauled in the five fish limit during both days of this 2-day test of bass fishing prowess.
This was a vast improvement over their 2009 state finals appearance, when they were able to only bring in two bass to be weighed during the whole event.
Their 2010 "Friday five" weighed in at 14 pounds and 2 ounces and left the Charger teammates sitting comfortably in contention in 6th place after Day 1.
Lafferty's 4 pound-8 ounce "hog" was the highlight of their first day total.
Twenty-two of the fifty-seven competing teams brought in five fish limits on the first day, as a warm front made conditions nearly ideal for the young anglers to catch fish. The top team after day one was Monticello, with a 17 pound-3 ounce total, while three other teams topped the 15 pound mark.
The conditions on Saturday would prove to be much harsher as the temperatures dropped over 20 degrees and the winds whipped up whitecaps all over the lake.
Conditions became so rough that safety concerns forced the IHSA to close off the less protected eastern portion of Carlyle Lake during the afternoon.
The difficult conditions slowed down most of the first day leaders as only eleven total teams filled their five fish limit on Saturday.
However, Wilson and Lafferty seemed undaunted as they just varied their strategy and locations to meet the harsher weather conditions.
They got their "five" before noon and spent the next three hours culling out smaller bass for bigger keepers.
The highlight of this patient practice of seeking the "big ones" finally culminated with Wilson hauling in a 5 pound-2 ounce "monster" that had both boys thinking about the possibility of bringing home a state trophy.
What they didn't know was they were so far ahead that if this had been a football game they would have started the "continuous clock" at that point.
The weigh-in bore this landslide victory out as team after team came in with totals far less than previous day.
When the Illini West tandem weighed in their sack of five for Day 2 total of 16 pounds-3 ounces everyone seemed to know that the tournament was all over but the trophy presentation.
Illini West's two day total of 30 pounds-5 ounces far out-distanced runner-up Moline's total of 25 pounds-8 ounces.
First day leader Monticello was only able to bring one fish to the scales for Saturday's weigh-in.
Incidentally, Illini West and Moline both came to Carlyle as representatives of the Argyle Lake Sectional.
Wilson and Lafferty can now add another big trophy to the new trophy case at Illini West High School.
And while many fishermen will continue to lament the one that got away, these two young men will surely remember this weekend for all the excitement and memories they were able to catch.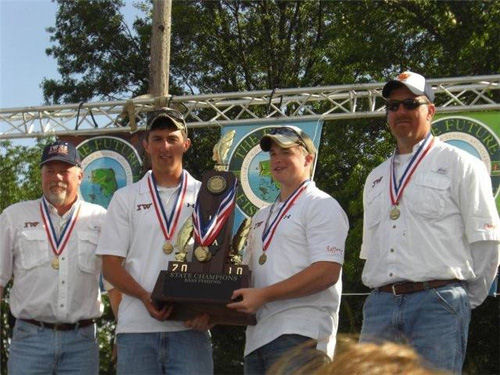 IHSA State Bass Fishing Champs!
From left, Coach Harold Nortrup and Travis Wilson, Brian Lafferty, and Coach Darrin Olin.
---