The Hancock-Henderson Quill, Inc.

---
34 Raceway Opens Saturday With 2nd Annual Brian Hetrick Memorial Race
The racing season at 34 Raceways gets under way this Saturday, April 3rd, with the 2nd annual Brian Hetrick Memorial Race. Last year, Hetrick's brother, Kevin won on an emotional night in the event's first year. This year's winner will get $1000 to win.
Hetrick's father, Jim, will be in a 305 sprint car this year, after a 25 year break from racing, and it is in hopes he will be ready for this special 35 lap Memorial race to compete along side his son Kevin.
Jim quit racing in 1985 when Brian, at 7, began summer ball. Jim won many features at 34 Raceway and his last year was his best. He took home 8 feature wins ending 4th or 5th in points.
His late son Brian, was the first to win the points championship in the Hetrick family. Jim's return to racing started more as a joke. But, once it was talked about, everyone thought it was a good idea and kept pushing it.
Raceway owner Amy Laue got wind of it and set up some radio interviews unknown by Jim and the next thing he knew, there was no turning back.
Kevin and his pit crew are busy, doing everything they can do to be ready to defend his championship title. Hopefully, Jim's car will be ready.
It'll be a great night of racing, unless the chance of rain increases again, and pushes the event into September.
Entering their 4th season of owning and promoting the premier race facility in southeast Iowa, Jeff & Amy Laue, Scott & Lorrie Parish and Tom & Sue Bowling and families promise the BEST SEASON yet at 34 Raceways, West Burlington, Iowa. Following the Brian Hetrick Memorial race is "The Slocum 50," in honor of Brent Slocum, set for April 10 with $3000 to the winner. Jason Frankel of Quincy won last years inaugural event.
The Sprint Invaders Series makes the first of its three stops at 34 Raceway on April 17 and again on May 29 and August 21. The August 21 event will be the third annual Night of the Twins and Brian Hetrick Tribute race.
The weekly points races, featuring IMCA Latemodels, IMCA Modifieds, 305 Sprints, IMCA Stock Cars and Hobby Stocks is set to begin on April 24. The grandstands will be "WIDE OPEN" that night with FREE GRANDSTAND ADMISSION FOR EVERYONE. Ticket outlets will be released within the next couple of weeks to pick up your FREE grandstand admission ticket for this event!
Among the weekly points races throughout the season, 34 Raceway will again host the DASH-4-CASH six week series with their championship event being held Sept. 18th of USA Latemodel Nationals.
Another flavor of racecars are six fantastic nights of Mod Lite racing with the DASH-4-CASH series championship event on Sept. 18th.
The biggest new event will be a FUN-FILLED May 21-22 weekend full of exciting racing and fantastic music festival! For the first time ever, the Lucas Oil Latemodel Dirt Series will hit the high banks of 34 Raceway, featuring some of the best latemodel drivers in the nation. The series includes such top names as Scott Bloomquist, Jimmy Owens, Ray Cook, Dan Schlieper, Dale McDowell, Don O'Neal, Dennis Erb Jr., and Earl Person Jr. among others. Also slated to be in the field is Brian Birkhofer of Muscatine, one of the top drivers in the country. An autograph session is set for Thursday evening, May 20th with a location to be announced.
Advanced tickets may be purchased on race nights at the track or at Electric Rayz Tanning - 3220 Division Street in Burlington, IA. $30 advanced RESERVED grandstand tickets includes a full access pit pass. $25 general grandstand admission.
A first in the track's 44-year history is set for Saturday night, May 22 with the first-ever rock music concert featuring Money Shot and tribute bands saluting REO Speedwagon, Journey, Styx and AC/DC. $12 advanced ticket or $15 at the door.
June 26, the USAC Silver Crown non-wing sprints/midgets hit the high-banked oval for the first time. Advanced tickets may be purchased on race nights.
Among several more points races and exciting specials to come, the 19th Annual Pepsi USA Latemodel Nationals is set for Sept. 17-18, with a 100 lap feature and $10,000 to win. Jason Frankel was the 2009 winner of the event.
The final season event is the IMCA Modified Hawkeye Dirt Tour Championship Nationals Sept. 25, featuring the top IMCA Modified drivers in the tri-state area. Visit www.34RACEWAY.com for more information.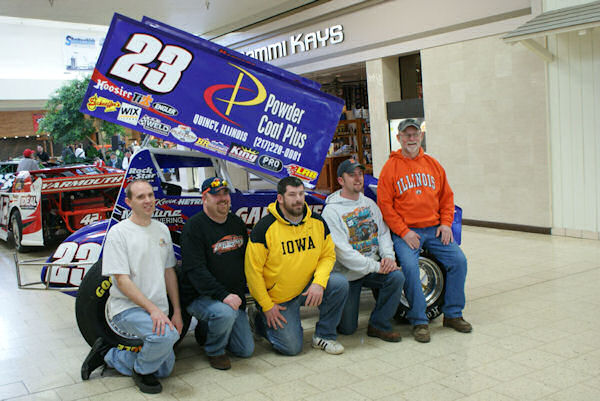 Kevin Hetrick's #23 Sprint Car is ready to race, and so is his dad, who is returning to racing after 25 years. From left is Kevin's pit crew Ryan Anderson, Dusty Hetrick, Brian Collier, and Kevin with his dad Jim Hetrick.
---