The Hancock-Henderson Quill, Inc.

---
Meet Your Neighbor
by Susan Galbraith, Quill Reporter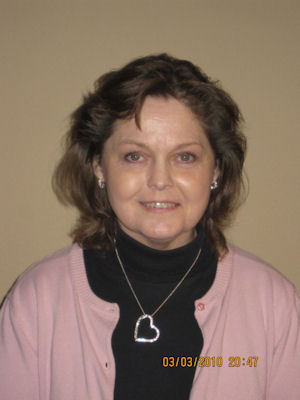 Meet Your Neighbor Becky Bechtel who lives in Stronghurst. She is employed as an Interior Decorator and Sales in Aledo at Cooper Floor Covering, where she has been for the last 10 years.
She was born in the Monmouth hospital and raised in Stronghurst.
In 1977 she graduated from Southern High School and continued with classes in the arts, interior decorating and computers.
She received a degree from the School of Interior Design in Norcross, Georgia.
Becky has been an interior decorator for the past 25 years and also has a home based business, in Stronghurst, which she has been doing for the past 12 years.
She has decorated eight banks, many homes and businesses and recently finished Grandpa John's Cafˇ, in Nauvoo. "I did all the interior decorating from top to bottom," said Becky.
When she was employed in Macomb she taught classes at Modern Home for Western Illinois University students.
She also gives speeches for various organizations, which have included Home Extension groups, Farm Bureau Women's Day, which included seven counties, and recently did a seminar for the, "Women In Business" in Aledo.
Becky has one daughter, Brandi (29), employed by Oak Lane Nursing and Rehab and who is continuing her education at Southeastern Community College in West Burlington, Iowa, working toward her nursing degree.
Her parents are Bob and Betty Carmean of Stronghurst. Bob is retired from the Stronghurst Water Department and Betty is a homemaker. She has one sister, Anna Carmean of Stronghurst.
Becky and her special friend, Doran Elmore, have been together for 12 years. He's a carpet installer.
She is a member of the Stronghurst Christian Church.
She said, "I have no time for outside activities because I spend most of my time working, which I do love." However, they do have a cabin at the river and get in a little fishing. Becky says, "Of course, I always have a decorating book in my hand even when I am fishing!" In fact she said, "I have over 400 decorating books in my home."
What she likes best about her job, she says, is "The end result. When a project turns out the way I have it pictured in my mind, then I am extremely pleased and when my customer looks at it and says, "WOW!', that makes me happy."
Becky certainly has a natural gift and loves every minute of it, even though the hours are long!
Whoops! Nola Talbott's Meet Your Neighbor story last week had two errors. She's been a bus driver at W.C. for the past 38 years (not 18). Her father is the late Lewis Bigger.
---