The Hancock-Henderson Quill, Inc.

---
2nd Annual Cpl Joshua Palmer Tribute And Remembrance Ride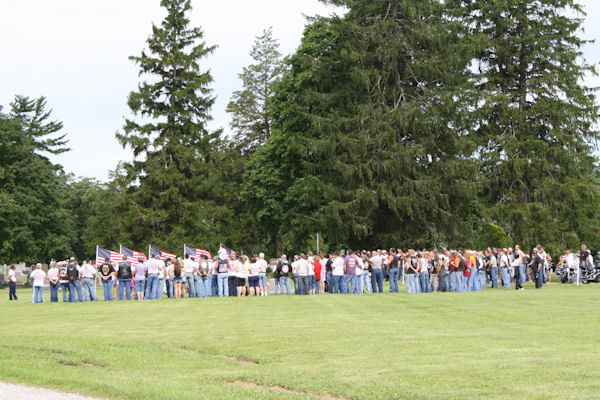 It was a beautiful day Saturday, June 26th for the 2nd Annual Cpl Joshua Palmer Tribute and Remembrance Ride.
Cpl Joshua Palmer laid down his own life November 8, 2004 in an attempt to save another Marine. In doing so he was awarded the Navy Marine Corps Medal Posthumously.
In his memory of their son, Doug and Carole Palmer, have started the Annual Cpl Joshua D. Palmer Tribute and Remembrance Ride but it is not only to remember Josh but for all of those fallen heroes that are dear to us.
Those that are close to home are Cpl Evan James, killed in Action March 24th, 2004; Cpl Michael Dewitt Blandinsville, Oct. 9th, 2006; Spc Christopher Bartkieivicz, killed in action Sept. 30, 2008; LT Col John Stein, killed in action March 23, 2003; Spc Ryan Carlock killed in Action Sept 19th 2003, and Sgt Cheyenne Willey killed in action Dec 23, 2005.
The event took place at the Annex in La Harpe with registration at 8:00 a.m. and opening ceremonies at 9:00 a.m. with Methodist minister Pastor Tom Wright giving a word of prayer and saying that the real heroes did not come back.
The American Legion honor guards brought the flags with Melissa Burt singing the National Anthem. The Gold star families were recognized and Pastor Don Miller said, "We are here to recognize the fallen heroes and the veterans that are here with us today."
Pastor Don has known the Palmer family for 20 years and says it was an "Experience" to be Josh's Youth Pastor.
At 10:00 a.m. the ride began with the first stop at the La Harpe Cemetery for Cpl. Evan James. They were then led out of town by the fire truck for their afternoon remembrance ride with their next stop Blandinsville.
They would then travel on to Canton, Macomb, Colchester and Fountain Green before returning to the Annex.
Worn out, sun burnt riders started showing up around 5:30 p.m. at the Annex.
Supper from R & D was served consisting of BBQ sandwiches, potato salad baked beans and chips and desserts. Then it was time for the auction.
Carole Palmer said they are very appreciative for all the local business in Macomb, Burlington, IA, Carthage, Blandinsville, La Harpe and local friends for the donations.
All the proceeds that are made during the day will go back to The Injured Veterans Fund. Last year they were able to give back $9,000. She thanked everyone for making this happen.
During the evening the Ron Watson family from Aledo got to talk to him through Web Cam. He is stationed in Washington until July 6th and then will be deploying to Egypt.
There was a Karaoke contest donation going on between Doug Palmer and Dave Hobby to see who could get the most donations and would have to sing for the crowd. Needless to say it was a tie and in doing so they raised a little over $700.
In return they gave the money to Ron's wife, Lisa, and told her to use it to buy Ron a plane ticket home for mid tour leave.
The 50/50 drawing winner was Derek Helmers and he graciously gave the money back to the Palmers.
Nate Butler and Jasper Palmer bid on a $1500 gift certificate at Iowa 80 truck stop and gave it to Doug Palmer.
Delbert Kreps wanted to remind everyone about the Wounded Veterans that will be coming through town Friday between 8:30 a.m. and 10:30 a.m. There are about 40 of them and they will be stopping at the Annex for a break. They are headed from California to Virginia Beach.
The next Cpl Joshua D. Palmer Tribute and Remembrance Ride will be June 25th, 2011. Mark your calendars and plan on being there to remember all of our fallen heroes and veterans.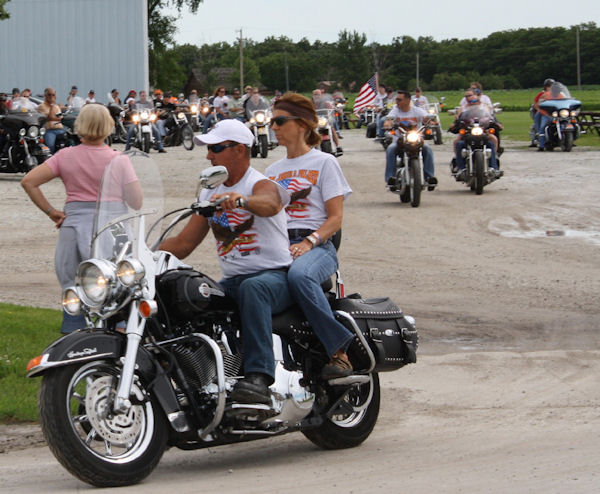 First stop at the La Harpe Cemetery Cpl Evan James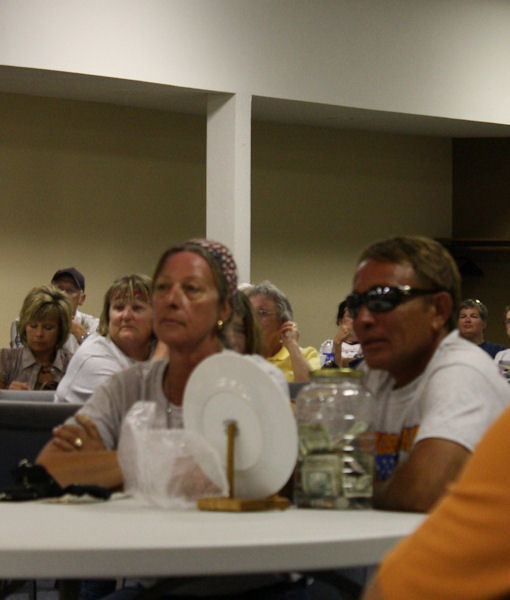 Carole & Doug Palmer
---