The Hancock-Henderson Quill, Inc.

---
International Happenings At Farmer-Owned Ethanol Plant
by Dessa Rodeffer, Quill Publisher/Owner
This week, ten of Costa Rica's top grain importers and end-users traveled to several suppliers in the United States in an attempt to explore opportunities in purchasing consistent high-end grain and grain products.
Big River Resources, LLC, in Galva, Illinois, a farmer owned ethanol plant, hosted the group on Thursday where a lot of enthusiasm was generated by both the host and the Costa Rican guests.
The visit to the U.S. was coordinated by the U.S. Grains Council who promote U.S. grown corn, and other grains and their related products to the overseas market place to put buyers and U.S. producers together.
The Big River Resources, LLC produce 350 million gallons of ethanol and over 1.1 million tons of DDGS in Iowa and Illinois in their three different plants, from corn.
Headquartered out of West Burlington, Iowa, BRR was the first ethanol producing plant in the United States to join the U.S. Grains Council and have developed trade relationships with many countries. On a business development trip to Mexico and South America three years ago, Costa Rica was among the countries visited by their CEO Raymond Defenbaugh and his DDGS marketer Ron Stover.
According to Randy Ives DDGS marketing specialist for BRR from Hawkeye Gold in Ames, Iowa, "What we tried to accomplish today was lining them up with the best products of corn, soybeans, and DDGs. They have a shortage in their country and we have a surplus in the U.S.."
"The meeting has resulted in a mutually beneficial relationship," said Defenbaugh, after a very positive visit by the Costa Ricans.
The response was echoed by the Costa Rican guests.
"I wanted to applaud them," said Mario Echeverria, a feed manufacturer for livestock from Costa Rica, who said he has been looking for high quality and dependability in his imported feed products.
"I found Mr. Defenbaugh to be so transparent and straight forward. I am eager to return home and begin business with them."
Others echoed similar feelings respecting the sincerity of their host and their open willingness to share.
The Costa Ricans expressed their pleasure in the development of a more direct relationship with a supplier which was one of their goals. They expressed their excitement to see first hand the high quality and care that was put into the product at BRR, and the heavy emphasis by the company placed on consistency of DDGS.
Jose Alvarado, coordinator for the rest of the companies consolidated purchases said together the Costa Ricans purchase 42,000 metric tons of grain and grain co- products every 28 days.
"We came with high expectations," Alvarado said. "We return with everything we were looking for and much more."
Mark Heckman, Commodity Manager for BRRs said, "We both are the same in that we want to deal with people who are producers. They are like us, and we understand them."
The Costa Ricans were very impressed with appearance, cleanliness, efficiencies and the knowledge gained about turning locally grown corn into a high quality feed product.
Heckman said, "It is that circle of trust, quality, and performance that continues over and over again.
Ives said, "We are excited and looking forward to the business potential that I am 100% sure will happen. We made a big International impact from rural Illinois.
Defenbaugh added, "We are here to work together and in doing so, we can go a long way in developing a beneficial and lasting relationship.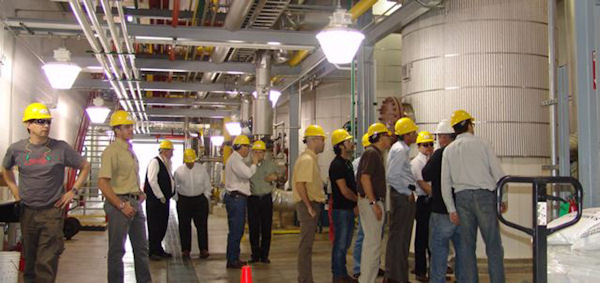 Costa Rica's top importers of grain and grain by-products tour facilities at Big River Resources, Galva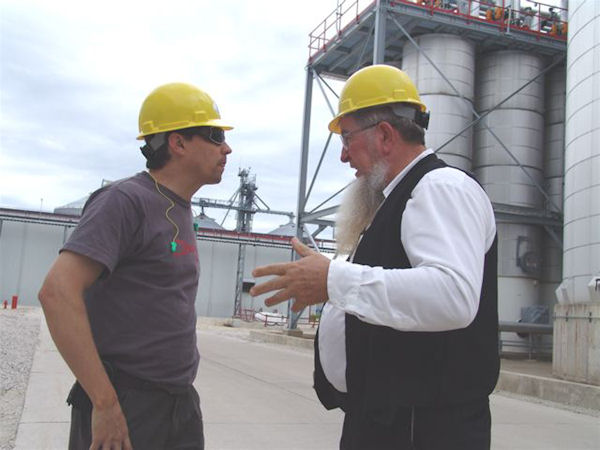 CEO of Big River Resources, LLC (right) Ray Defenbaugh, answers questions of Mario Echeverria, a feed manufacturer for livestock, one of Costa Rico's top importers visiting BRR at Galva.
---