The Hancock-Henderson Quill, Inc.

---
Treasure-The Heartland
Here Comes The Judge, Literally!
by David Conard, The Quill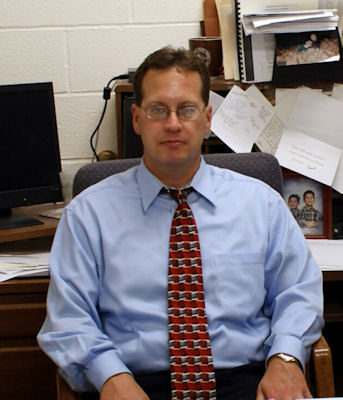 On July 2nd, Raymond A. Cavanaugh of Gladstone will be sworn in as the newest Associate Judge of the Ninth Judicial Circuit due to the retirement of Judge John R. Clerkin.
The Ninth Judicial Circuit includes counties of Fulton, Hancock, Henderson, Knox, McDonough and Warren.
The significance of this momentous occasion will go unnoticed by the majority of the public just because the people are seldom involved with the law other than to hear about it through the media or a neighbor.
States Attorney is an important person to each county and Ray Cavanaugh has been said to have been one of the best. He received his undergraduate degree in 1986 from Loras College in Dubuque, Iowa, and his juris doctor in 1990 from John Marshall Law in Chicago.
While gaining a good judge, the other side of the coin is that Henderson county is losing a great attorney.
For seven and one half years, Ray has been the Henderson County States Attorney, a position to which, he was first appointed then elected on the Republican ticket. He was appointed under similar circumstances when David Vancil was States Attorney before him, and then appointed as an Associate Judge.
In describing Ray, County Board Chair Marty Lafary (D) said it best, "Ray just didn't come to the County for a job, he came to make it his home, which he has in every sense of the word."
The lubrication that helps to keep the gears of our county government turning smoothly are dependent on the person who sits in the state's attorney's office, which has been Rays for 7 1/2 years. Most every aspect of county government is touched by the States Attorney, either directly or indirectly.
This story could turn into a book if all of Cavanaugh's extra efforts were to be chronicled. If he could sing, Ray would be the rock star to the people who work with him. And, "Work with" is the key words to Rays relationship with seemingly everyone.
There is genuine pleasure expressed by everyone for the honor being shown Ray, with not one person regretting his success despite, everyone's sense of loss.
There are jobs that had it not been for Ray would not exist today. His touch can be seen from flood recovery to community grants, not to mention his strong connections and friendships throughout the judicial and law enforcement system, even extending as far as Turkey.
There was much credit given to the way his staff organizes and the way Ray administers his office, which Ray credits to his administrative assistant Amy and Victims Advocate Peggy.
Circuit Clerk Sandra Keane likened Ray to a champion in that if any of the women in the building were having a problem with some one, Ray would be right there to see that everything was all right. Sandra will particularly miss being able to call Ray at any hour if she had a problem or a question that had been bothering her.
Sheriff Mark Lumbeck will miss the morning coffee that he and Ray have shared for too many mornings to count. That beginning of the day brought with it a particularly good relationship that nurtured continuity between the Sheriff and States Attorney's office. Mark also praised Ray for the part he played in mediating labor negotiations with the unionized police force.
Of particular note is the part Ray played in helping to establish the Public Safety Tax which had a modernizing impact on more than newer police cars, because it helped bring the county into the computer age. And instead of eleven years of law enforcement funding deficits, there were both jobs and vehicles that otherwise likely would not have been.
In the Circuit Clerk's office a group of county employees who had worked with Ray for many years shared that they had just been talking about how much Ray would be missed and how curious they were as to who his replacement might be. The sense of loss was evident on the faces of every woman there.
It was in the Henderson County courthouse that Cavanaugh gained a significant part of his 20 years of legal experience and where he gained the respect of the judges of the region, to the extent that amongst stiff competition, the judges selected him as their choice for this esteemed appointment.
Retired Judge Stephen Evans mentioned how extremely fortunate Henderson County has been to have had a man of Ray Cavanaugh's caliber through these years.
The new Henderson County States Attorney will have big shoes to fill and hopefully he will be the kind of professional that can grow into them.
The Cavanaugh family is another Norman Rockwell painting that depicts the good of America. The seven of them live on a scenic acreage on the bluffs of the Mississippi with five children and two full time jobs which can fill the hours of the day in the blink of an eye for Ray and wife Kathy.
The oldest is Kasey, now 23, a nursing student. Shane and twin brother Riley, at 16 are Juniors at West Central. Aaron 14 is in the 8th grade attending ICS along with his brother Colen 12 who is in the 7th grade in Monmouth.
Ray praises and gives credit to his wife Kathy for the balance of a busy and involved family. It can't be easy when you consider Kathy's full time job for many years as a loan officer with Midwest Bank in Monmouth. Sandra Keane describes Ray and Kathy's approach as a team effort that has resulted in quality well rounded children.
July 2nd is particularly auspicious for a Judge to be sworn in.
It represents the middle of the year, a unique type of balance that any judge might find as a good beginning.
---