The Hancock-Henderson Quill, Inc.

---
Take "The Quill" Along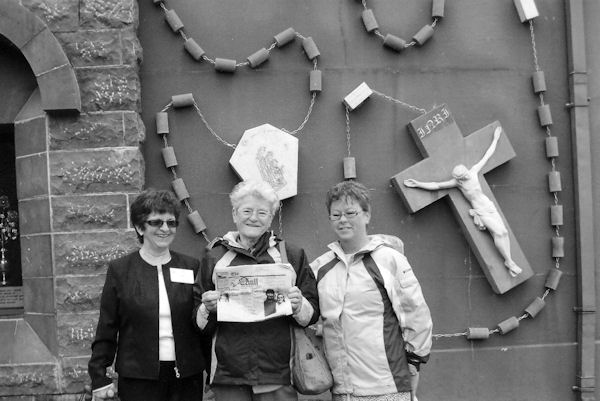 These three ladies left to right are Judy Jones of La Harpe, Dorothy Johnson of Dallas City, and her daughter, Annetta Tevis of Granville. We are standing outside the apparition chapel at Knoch.
We traveled from O'Hare Airport in Chicago to Newark, N.J. and on to Dublin on May 10th arriving on May 11th. We were on a tour hosted by Monsignor Paul Shawater. There were 20 others in our group. We were shown so many wonderful places, the beautiful green countrysides. No wonder it is called the Emerald Island.
From touring the Famine Ship, The Dunbrody, seeing the Blarney Castle and kissing the Blarney stone, to the many beautiful Cathedrals, parks, the Hook of Kells (located at Trinity College in Durbin) woolen mills, Crystal, China and marble places.
We saw all the twisting, turning roads of Ireland's country sides leaving us to wonder, "Do they have any straight roads in Ireland?" They did.
The cliffs of Mohr were something to see and also the Kylemore Abbey.
Too much to tell in a note we enjoyed all this until May 20th when we flew back to the states. We made many new friends and will remember this fantastic trip for years to come.
When you go on a trip, take "The Quill" along and have your picture taken with it, then send it to us. Let's see where all "The Quill" can travel.
---