The Hancock-Henderson Quill, Inc.

---
Let Us Remember
by Shana Jackson The Quill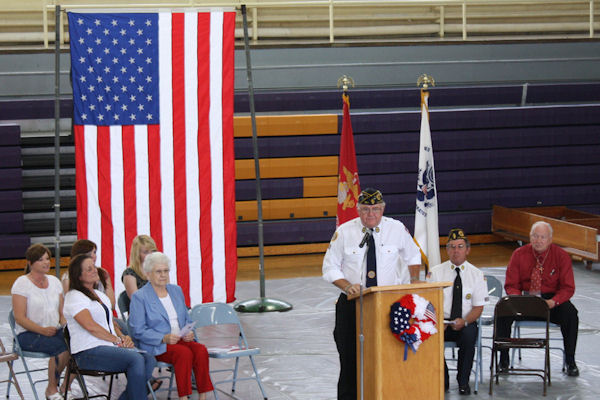 Greater Love Hath No Man Than This, That A Man
Lay Down His Life For His Friends. -John 15:13
The weather did not cooperate in La Harpe on Monday, May 31st for the 2010 Memorial Day Service to be in the City Park, however, the annual services were just as meaningful inside the familiar gymnasium of La Harpe School District's Junior High.
Jeannie Jones, chaplain from the American Legion Auxiliary Unit #301, welcomed the patriots who came to pay tribute and offered a word of prayer.
American Legion Post #301 presented the colors and Melissa Burt sang the beloved National Anthem, and Arleen Gard, President of the American Legion Auxiliary, led in the Pledge of Allegiance.
The Jack family-Christa, Amanda, Emma, and Jessie- gave a beautiful tribute in song of "God Bless the USA."
Mrs. Gard gave introductions of each speaker.
American Legion Post #301 Commander, Darrell Kraft, invited all of the Veterans and those serving our country today, to come up front to be recognized.
Kraft reminded everyone of the 2nd Annual Cpl. Joshua D. Palmer Tribute & Remembrance Ride coming up June 26th. The event honors fallen service members by keeping their memories alive and begins at The Annex at La Harpe for registration. (See Joshsride.com)
There are 7-Honor Stops:
1st: Cpl Evan T. James-USMC, La Harpe Cemetery.
2nd: Cpl. Michael A. DeWitt-USMC, Blandinsville Glad City Cemetery;
3rd: Pfc Christopher A. Bartkiewicz-USA, Canton Greenwood Cemetery;
4th: Lt. Col. John H. Stein-USAF, Macomb Forestlawn Cemetery;
5th & 6th: Spc. Ryan G. Carlock-USA,
Sgt. Cheyenne C. Willey-USA, Colchester McLean St. City Park;
7th: Cpl Joshua D. Palmer-USMC, Fountain Green McConnell Geddes Cemetery
The ride will end at the final stop-The Annex in La Harpe.
Mayor Ken Brown came to the podium and thanked veterans for their service and said that he is proud of all who serve this great country.
He recognized the families of Josh Palmer and Evan James saying, "Our hearts will always go out to them as they remain in our thoughts and prayers."
Veteran Rodney Burr, from the American Legion Post #301, recognized the Veteran and their Gold Star (those who have lost a son or daughter in the service) and Blue Star Mother (those who have a son or daughter currently serving).
Blue Stars are:
Gary Jackson/Ann Carrel and Marilyn Jackson;
Lynard Jones/Jeannie Jones;
AJ and Ty Huston/Teresa Huston;
Elias Hunderdosse/Linda Whitaker Hunderdosse;
Kevin Mershon/Brenda Covert;
Jesse Forquer/Deni Cecil;
Daniel Kendall/Kathy Kendall;
Kylen Carpenter/Monica Carpenter;
Cliff Evans/Debbie Evans;
JR Tomow/Sandra Tomow;
Nathan Cox/Michelle Cox;
Brian Blythe/Barbara Blythe;
Jason Gunning/Barbara Van Fleet;
Aaron Logan/Ann Logan;
Kris Burgdorf and Kale Burgdorf/Connie Burgdorf;
Shaun Thompson/Brenda Burt;
Jared Jones/Donna Jones;
Jared Elliott/Dorothy Elliott;
Michael Stonger/Jane Stonger .
Gold Stars are:
Evan James/ Donna James;
Josh Palmer/Carol Palmer.
Rev. Tom Wright from the La Harpe Methodist Church closed the ceremony with "Let's get excited! This is a day to be proud!" and then a word of prayer for our veterans and for peace on earth.
The Jr High Band, directed by Stephanie Mencel, played the familiar heartwarming "America, the Beautiful." The Honor Guards removed the colors, followed by the twenty one gun salute, and the stirring trumpet call of Taps by the American Legion Post #301.
The Memorial Service, once again, tells the story of our nation's brave patriots and of a grateful community.
It reminds Americans of the love servicemen and women have for their country, and of the suffering families go through to protect freedom here and around the world.
It may be too late to say thank you to those who are gone, but it is not too late to thank veterans today and those currently serving.
The next time you see a veteran, remember what was sacrificed so each of us could have the life we have in America.
Then, take that Veteran's hand and say a simple "thank you."

American Legion Post #301 Commander, Darrell Kraft, invited all of the Veterans and those serving our country today, to come up front to be recognized.
---