The Hancock-Henderson Quill, Inc.

---
Meet Your Neighbor
by Shana Jackson, Quill Reporter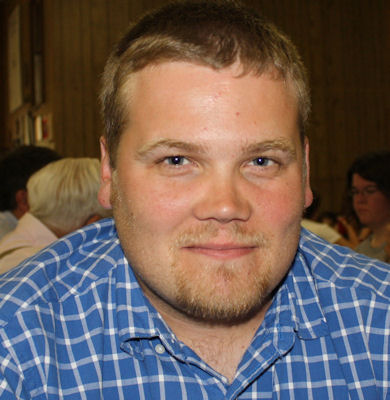 Meet your neighbor, Jason Graves, born in Macomb on Feb. 26th 1985, the son of Tim and Monalisa Graves.
He grew up in La Harpe and attended La Harpe schools, graduating in 2003 from La Harpe High School and in 2005 from Southeastern Community College in Burlington, Iowa where he gained a degree in Construction Technology and Management.
He was employed by Chem Gro for 2 years and is now working for Lavediere Construction in Macomb.
Jason's dad, Tim, works for the La Harpe City Water Department and his mom, Monalisa, is employed in Macomb at Oliver and Company Tax and Accounting.
Jason has 2 younger sisters and 1 younger brother.
Crystal, is a stay at home mom to two boys.
Justin just graduated from Illini West High.
Courtney will be a Junior next year at Illini West.
Jason resides in La Harpe with his fiance Vanessa Stone who he met during college.
Vanessa is originally from Burlington, Iowa and graduated from BHS in 2003. Jason and Vanessa are planning a May 2011 wedding.
Jason enjoyed watching his brother play football for Illini West and taking the state championship in 2008. His grandparents are Dolly and the late Dean Patterson of La Harpe and Marna and Gene Graves of Gilson.
He enjoys outdoor activities such as fishing and camping.
---