The Hancock-Henderson Quill, Inc.

---
Meet Your Neighbor
by Susan Galbraith, Quill Reporter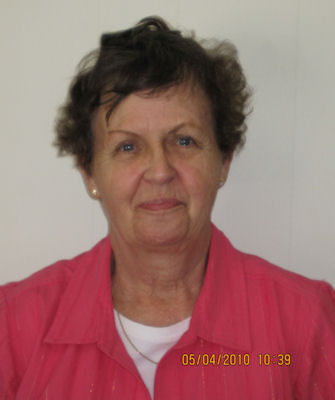 Meet Your Neighbor Anne Mulholland of Stronghurst.
Anne retired from teaching school at Washington Elementary in Burlington, Iowa in 1998. She also taught at Sunnyside in Burlington, Iowa. Her first teaching assignment was at Central Consolidated #22 in New Mexico where she taught for 10 years. Ninety percent of the school, in New Mexico was Navaho. Her second teaching position was at Northeast Community School District in Goose Lake, Iowa.
She was born in Stamford, Texas, and raised in Wray, Colorado. She has lived in Kansas, Florida, Alabama, Georgia, Indiana, Oklahoma, Tennessee and Clinton, Iowa.
In 1956 Anne graduated from Clinton High School and continued her education at Marycrest in Davenport, Iowa, receiving her bachelors degree in 1972 in elementary education. In 1977 she received her masters in Learning Disabilities from Marycrest. She presently has 36 hours of graduate work toward her Ph.D. as a school psychologist.
She attended several schools growing up. Her Pre-K and kindergarten was at Tulsa, Oklahoma, 1st and 2nd grades at Oak Ridge Tennessee, 3rd, 4th, 5th, and 6th at Hammond, Indiana, and 7th through high school in Clinton, Iowa.
Phyllis and Gregory were married on September 10, 1960. Gregory was a farmer and passed away in 2001.
She has a son, Patrick (Melissa) who live in Sperry, Iowa. Patrick is employed by the Burlington Northern Santa Fe Railroad and Melissa is employed at the Department of Corrections.
A daughter, Kathy (Rich) Krogmann live in DeWitt, Iowa. Kathy recently went back to college as a non-traditional student. Rich is manager at Northwest Mechanical in Davenport.
Ashley (Justin) Butt, a granddaughter lives in Clinton, Iowa. Ashley is a pharmacist and Justin is employed by a chemical company in Clinton. They have given Anne a great-grandson, Colton (20 months) and are expecting identical twin girls in June.
Grandson, Kyle, is a graduate assistant offensive linebacker coach at St. Ambrose in Davenport, Iowa, and getting his masters in coaching.
Grandson, Ryan, is a freshman at the University of Northern Iowa on a track scholarship. He is a biochemistry major and received straight A's this semester.
Anne has two step-children, Jake and Ella Parrott and 5 step-great grandchildren, Lukas, Tori, Aden and Brady (twins) and Chloe.
Her parents Gordon and Mary Stafford are deceased.
She has two sisters, Pat (Earl) Ellis of Winthrop, Washington, and Kay Mulholland of Davenport, Iowa.
Her grandfather, Dr. John H. Larson, delivered her two sisters and on one occasion took out Anne and her two sisters tonsils the same day!
Candy Larson, her mother's sister, married Lawrence Buchanan (also a doctor) and had 3 boys, all of which are now retired from practicing medicine.
Anne said, "My mother had been accepted to be the first R.N. as an airline hostess but dad said no".
Dad, Gordon, was a geologist and instrument engineer. He was at Oak Ridge, Tennessee, employed by the Kellex Corporation, during the war. He worked on the "Manhattan Project". However, Anne said, "Everything was extremely secretive and dad couldn't even tell mom what he was doing".
She is a member of the Christian Church of Stronghurst.
Anne has been a caretaker for Harold Nolan for the past 8 1/2 years after his wife passed away. Anne said, "Harold is a great fellow." She said, "Harold taught me how to fish and I love that".
For the past 9 years Anne has been going to Great River Medical Center in West Burlington, Iowa, doing Tai-Chi and various exercises. She is also a member of the Iowa Retired Teachers and a member of the Oak Lane Nursing and Rehab auxiliary.
She is a Chicago Cubs fan either watching on TV or listening on the radio. She also loves going out to eat with her son and family and the kids sports activities. She said, "I just love spending time with my family."
Another activity she enjoys is walking and shopping with friends.
Her favorite thing, when she was growing up, was going to Wray, Colorado, and her grandpa gave her $5 to buy a new pair of jeans and then she went to the local drugstore and charged a Cherry Coke! She has wonderful memories!
---