The Hancock-Henderson Quill, Inc.

---
Friends Still Thinking of Rick With Second Successful Benefit
by Dessa Rodeffer, Quill Publisher/Owner
Oquawka- The second benefit held for cancer victim, Rick Pullen, 52 of Oquawka, was a HUGE success this past Sunday, July 25th.
It began at 7:00 in the morning at the Oquawka Eagle Club with approximately 250 being served breakfast.
Then, at noon, approximately 350 people were served lunch and the crowd kept growing to help one of Oquawka's own who was diagnosed with colon cancer in June.
While Rick remained home due to the ill effects of cancer, approximately 500 people attended the benefit itself.
"We really appreciated Kurt McChesney and Jeff Ballard for doing the auctioneering," Todd Miller said.
Miller, a retired Illinois State Trooper and candidate for Henderson County Sheriff, who says he has more time than most, organized the event.
"We really enjoyed the entertainment by Mike Ripple and Anomoly and couldn't have done it without Corey Fullerton roasting 3 hogs."
Miller was flooded with a host of volunteers who really helped make the benefit the success it was, he said. They organized several activities throughout the benefit including a dunk tank, cake walk, horse shoes and a raffle.
Miller got into the fun of things himself offering to let them shave his head if they raised $500.
"I'll be darned if they didn't. I'm not sure I look too great without hair, but if it'll help Rick and his family, it is certainly worth it. I don't know how someone goes through what Rick and his family are dealing with."
Miller said the car show brought in about $5,000 which included some outside contributions, but the final tally isn't in yet for Sunday's benefit.
If love cures, certainly the people of Oquawka have poured out a heavy dose of it for Rick.
Rick is the chief cook at the Oquawka Diner having worked there since he was 14. His wife Penny works at Winegards in Burlington, Iowa and they have two college age kids, Jessica, 22, a senior at Monmouth College and Mike will attend Southeastern in West Burlington, Iowa next month.
Rick, said he would rather be on the giving end than the receiving end and back at the race track on Saturday nights watching John Peterson's car and his friends race. For now, he is doing what the doctor orders and that is 6 to 8 weeks of chemotherapy every two weeks. Doctors feel the aggressive approach will shrink the tumors and they can be removed.
The family appreciates all who keep Rick in their prayers.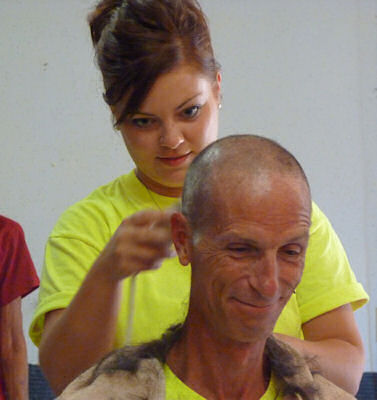 Todd Miller loses his hair Sunday as he gained $500 for Rick Pullen when he offered to have his hair shaved for the donation to help Rick.
---