The Hancock-Henderson Quill, Inc.

---
Retirement Reception for Roger Hughes
At Monday night's La Harpe City Council meeting Mayor Ken Brown and trustees hosted a retirement party for city worker Roger Hughes to show appreciation for his service to the city of La Harpe.
Roger will be retiring July 31,2010 after working for the city for 35 years.
Mayor Ken Brown said that working with the public was something Roger enjoyed.
"He is always willing to help anyone," Brown said.
"Although Roger's job was mostly backhoe work, you could find him in the pickup, big trucks, or with shovel in hand cleaning up. He was backup to the water plant operation, as well.
Each one there expressed that they will miss Roger.
The Council gave Roger a nice plaque, and a watch and cake was furnished by Anita Brown, punch, nuts and mints by Marcia Stiller.
Around 20 people came to give Roger their best wishes and thanks for his good work for the city.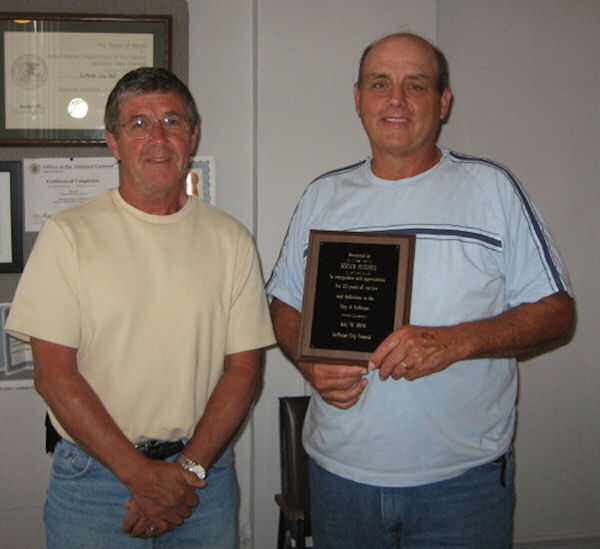 Mayor Ken Brown, left, stands with city worker Roger Hughes after presenting him with a plaque of appreciation Monday.
---