The Hancock-Henderson Quill, Inc.

---
Meet Your Neighbor
by Shana Jackson, Quill Reporter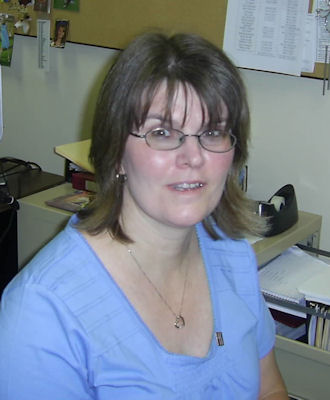 Meet your neighbor Lana Herron.
Lana has been employed in La Harpe by First State Bank of Illinois for 16 years this October where she works as a computer operator.
Lana was raised in Bushnell by her parents, Tom and Peggy Norris and with her sister, Zoe Ehelers.
Her parents are now retired and still reside in Bushnell.
Her sister, Zoe, and her husband, David, live in Farmington and have 5 children.
Lana graduated from Bushnell High School in 1981 and attended WIU for 3 years.
She married Kendall 21 years ago this coming December. Kendall and Lana lived at RR, Macomb after getting married and then moved outside of Colchester in 1991 where they still reside raising all of their animals.
Lana attends the Colchester United Methodist Church.
She enjoys hunting, camping, and trail riding with her husband, and they normally ride at Argyle State Park.
---