The Hancock-Henderson Quill, Inc.

---
Take "The Quill" Along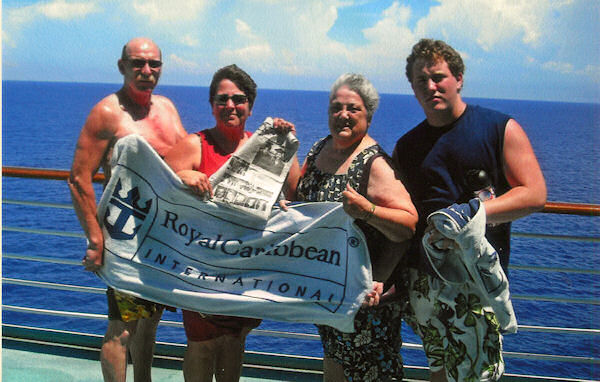 On July 14, Bill, Stacey and Cole Lee and Carol Wilcox, all of La Harpe, took the Quill along as they left Ft. Lauderdale, FL on the Royal Caribbean Cruise ship Grandeur of the Seas. They went to Grand Caymen Islands where they went sight-seeing and all swam with the stingrays. And then off to Cozumel, Mexico where Bill and Cole went on a dune buggy tour and snorkeled in some of the reefs while Stacey and Carol went on a taxi tour of the island. They returned to Ft. Lauderdale on July 19th and back to La Harpe.
When you go on a trip, take "The Quill" along and have your picture taken with it, then send it to us. Let's see where all "The Quill" can travel.
---