The Hancock-Henderson Quill, Inc.

---
2010 Henderson County Fair Queen, Junior Miss, and Little Miss Are Crowned
2010 Henderson County Pageant An Evening Of Fun
by Tammy Guile, Queen Pageant Director
On Sunday, July 18, 2010 a record crowd turned out to cheer on their favorite Queen, Jr. Miss or Little Miss contestants. As temps soared into the high 90's the crowd fanned themselves to keep cool but never strayed from their seats.
As the Little Miss contestants entered the stage the crowd came to life as the contestants performed a dance number to a Fifties pop song, "Lollipop Lollipop," and then the eager young ladies introduced themselves to the crowd.
The Junior Miss contestants were up next and performed a dance to "Johnny Be Good." Despite the intense heat they danced as if the temps were in the 70's.
Finally, the Queen contestants took the stage and each young woman introduced themselves to the crowd and along with the 2009 Queen, Shelby Crawford, they danced to Shake, Rattle and Roll. The Queens dance brought roaring applause from the crowd.
Kelsey Guile choreographed the Queen's dance and Shelby Crawford, the 2009 Henderson County Fair Queen, choreographed the Little Miss and Jr. Miss dance numbers.
Earlier in the day all the contestants competed in interview and the Queen contestants also competed in swimsuit. Those scores were added to the final scores for evening gown, speech and pop question.
After the dance numbers, Lauren Gittings, this years master of ceremonies, introduced each contestant to the audience and gave a short bio on each girl as they modeled their formal wear.
While the Little Miss contestants stole the crowd's heart they were asked a pop question on stage and without hesitation they answered each question with a short but confident response.
This had concluded the competition for the Little Miss contestants and now they would sit back, relax and watch the Jr. Miss and Queen contestants compete.
After the Jr. Miss and Queen contestants wowed the audience with their ability to speak on stage, while 400 people looked on, it was time to say good-bye to the 2009 Queens. Little Miss Luci Kane had everyone in tears as she said good-bye and thanked her parents, the fair board and the pageant directors as her reign as the 2009 Little Miss Henderson County Fair had come to an end. Luci is the daughter of Joe and Cindy Kane of Little York.
Maddy Cooper the 2009 Jr. Miss Henderson County Fair gave a poised and elegant farewell speech while holding back her tears. Maddy is the daughter of Scott and Betsy Cooper of Gladstone.
We hope Maddy will return to the Henderson County Fair pageant in a few years and compete for the title of Miss Henderson County Fair.
Finally it was time for Shelby Crawford the 2009 Miss Henderson County Fair to say good-bye. Shelby looked radiant in a mermaid style gown that fit her small frame perfectly. Shelby spoke to the crowd about her experience this past year as the Henderson County Fair Queen and thanked everyone for making this year an experience she will never forget.
Shelby is the daughter of Steve and Laura Crawford of Stronghurst. She will attend Western Illinois University this fall and major in Forensic Science.
Shelby, Maddy and Luci have been outstanding ambassadors for the Henderson County Fair and for Henderson County. Now it was time to announce the winners.
Little Miss winners:
Most Photogenic-Kendra Cole;
Directors Award-Kethryn High;
6th runner-up-Madelynn Reed;
5th runner-up-Jayde Henry;
4th runner-up-Kendra Cole;
3rd runner-up-Reagan Spence;
2nd runner-up-Johanna Sterett;
1st runner-up-Haley Avery.
Sadie Lenz was crowned the 2010 Little Miss Henderson County Fair. She is the daughter of Amanda Lenz of Smithshire.
Each contestant received tiaras and gift bags and were welcomed by their families as the little princesses.
Jr. Miss Winners:
Most Photogenic-Ashleigh Brown; Directors Award- Jessica Cupps; 2nd runner-up-Jessica Cupps; 1st runner-up-Kaitlyn Wooters.
Ashleigh Brown, age 13, was crowned the 2010 Jr. Miss Henderson County Fair. Ashleigh is the daughter of Joe and Cindy Kane of Little York and Kenny and Katie Taylor of LeRoy.
Ashleigh gave an elegant speech on "Life Is Good" and today life is good as Ashleigh starts her year representing the Henderson County Fair. Ashleigh has been active in the fair since she was young and plans to show many animals in this year's fair competitions.
Queen winners:
Most Photogenic-Taylor Cupps; Directors Award - Morgan McCollum;
1st runner-up-Mackenzie Meyer.
TAYLOR CUPPS, was crowned the 2010 Miss Henderson County Fair Queen.
Taylor is the daughter of Tom and Terry Cupps of Oquawka and will be a senior at West Central High School this fall.
Taylor looked like perfection in a form fitting mermaid gown as she gave her winning speech on Teamwork.
This year Taylor will join the Henderson County Fair team and will spend the next few months preparing to represent them at the Illinois County Fair Pageant in Springfield this January.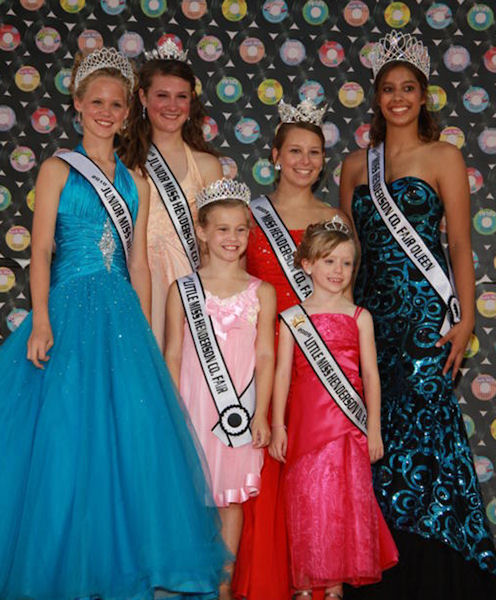 -photo by Tracie Bigger After the 2009 Fair Royalty said the goodbyes Sunday evening, the 2010 were happily crowned. From left clockwise, 2010 Ashleigh Brown, 2009 Maddy Cooper; 2009 Laura Crawford, 2010 Taylor Cupps; 2009 Luci Kane, and 2010 Sadie Lenz.

The little beauties vying for 2010 Henderson County Fair Little Miss along with the 2009 Little Miss Luci Kane.
-photo by Emalee Andrews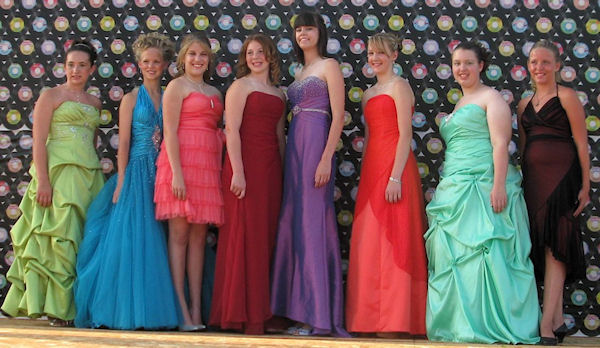 The beautiful young ladies vying for 2010 Henderson County Fair Junior Miss. -photo by Dessa Rodeffer,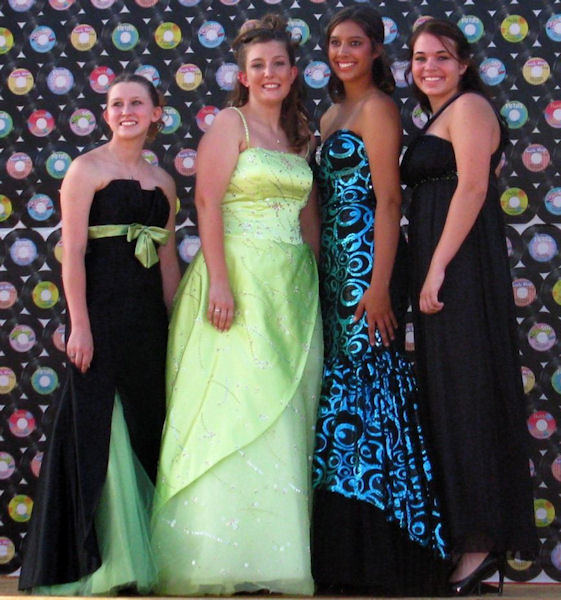 The four beautiful ladies in evening gown, vying for Henderson County Fair Queen for 2010. From left: Hannah Alecock, Morgan McCollum (Director's Award), 2010 Fair Queen Taylor Cupps (Most Photogenic), and Mackenzie Meyer (1st Runner Up). - photo by Dessa Rodeffer
---