The Hancock-Henderson Quill, Inc.

---
Father Joins Son in Sprint Car Racing Competition
by Dessa Rodeffer, Quill Publisher/Owner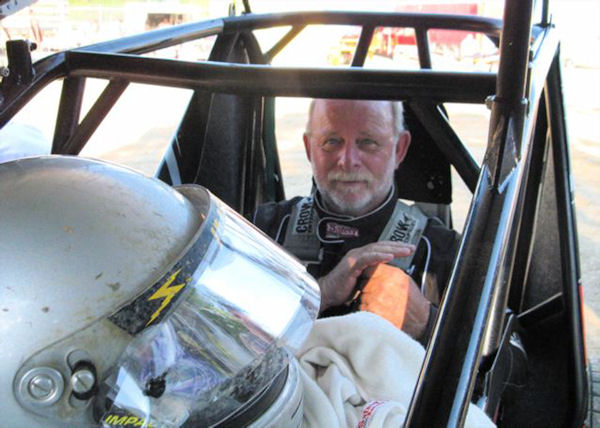 West Burlington, Iowa....A little friendly sibling rivalry is good for the soul they say, but it's a different twist these days for the Hetrick family of Gladstone. Jim Hetrick, has put back on the racing gear to compete with his son Kevin Hetrick, 30, also of Gladstone.
Kevin moved into racing sprint cars a year before his older brother Brian passed away when he was at the top of his class. Although Kevin remembers his brother moving past him those two seasons, he's been quite successful in his 4th year of Sprint racing and presently is leading at 34 Raceway by 7 points.
Saturday evening as Kevin, his dad, and their pit crew were preparing their cars in what eventually became a wild night for the 305 Sprint class, the men graciously took time out to explain.
"It all started out as a joke," Kevin said, "and it kind of succeeded from there. My dad's been off from racing 25 years, I've been racing in the Sprint Class for 4 years, and Brian had raced Sprints for 11 years. I've taken over where Brian left off, with the same pit crew working on the car that my brother had. Ryan Anderson of Peoria, an Engineer, travels back regularly to his hometown of Oquawka to work on the car with Brian Collier of Oquawka.
"They do a heck of a job," Kevin said. "Without them, I couldn't do this. They started helping me and I started succeeding."
"So, we were talking in the shop one night and dad said how he thought we should do things different. We finally said, "Well, we've got an extra spare car over there. If you think you can do it, jump in it and do it.'"
Kevin said, it started out as a joke and it kind of went on from there. He finally hopped in it, and I thought he would try it for a night and give up, but he is doing very well and improving every week, especially for not racing for 25 years."
Kevin said his dad is having a lot of fun at it and feels it makes the sport even better having an extra car out here.
"It's a family thing that our family has always done. I use to go and watch my dad race and he use to win a lot. Now, I am kind of coming around and lapping him and beating him, so it's kind of unique and interesting, and my mom (Joyce) is a big supporter of this."
Kevin started racing when he was 19 in a two person "Thunder" car with his cousin Dusty Hetrick of Carman where two people drive it. After six years he went to the Hobby Stocks for a year, sold that, and got a B Modified and ended second in points in his Class.
"They brought the 305 Sprint cars here as a new class, because they didn't have a weekly class since about 2005 and that had always been my dream, to drive a Sprint car and be like dad was. We started doing it and we're having a great time,"Kevin said. "That's our tradition on a Saturday....everyone's going to the race track and going racing and having a lot of fun."
Kevin and his crew's goal last year was to end up in the top three in the points and he ended one point out of the lead, winning six features. His first feature win was in the Brian Hetrick Memorial Race which was an emotional race.
"We did very well last year," Kevin said, "and it came down to the season championship. Jayson Ditsworth was the points leader and he blew his motor and finished last for the points and Matt Krieger was second in points and moved to first and I ended one point away. Second place is second place and this year we're going for the championship.
"It takes a lot of luck and a lot of drive, and a lot of crew. This is only our 4th race with all the rainouts but we've led in points every week so we are going to stay on top of it. We've got five point races left and we hope to get it.
It takes a lot of his own money and sponsors to race, and Kevin says you can still be in debt at the end of the year winning every feature, having your Sprint car and $5,000 given to you.
"I appreciate those who sponsor me like Ron Gustaf who builds one heck of a speck motor."
Kevin says his success is a combination of things. The pit crew working on the car has a maintenance program that is second to none. They live to race and I live to drive.
Dad's up to 8 points right now and he's just being consistent, finishing, improving.
I'm a firm believer that races are won in the garage working on the car. You can't have a car break on the track and expect to win, so, the car goes to the track in top notch condition.
It takes a lot of luck and staying on top of your game. Once you get your first win under your belt, you gain the confidence and if you do it once you can do it again and you keep going.
"I appreciate the fans who come. The classes and fans are growing. Anyone who hasn't been to the races, once you go you're hooked. The smell of the methanol out of the Sprint cars, the dirt flying around you and the wrecks brings you back.
Kevin's dad Jim said he first started racing a year after his brother Bill Hetrick started, driving Sprints and then a Modified Don Bundy helped him with.
But, when son Brian started baseball at age 7 instead of 8, Jim took the summer off feeling he didn't have the time to devote to both racing and his son. Then Kevin started ball and they all became spectators at the race track.
"I thought I quit early enough the boys would be satisfied with just watching, but Brian came home from college one night and said he found a Sprint car, and he wanted to race. We went and looked at it and bought it and the Hetricks got back into racing."
Jim was part of Brian's pit crew helping him regularly and it was later that Kevin decided to race, but he didn't start with Sprint cars. It was in 2007 Brian and Kevin raced Sprints together and most of 2008 before Brian's fatal motorcycle crash the week he was to take his first point championship at 34 Raceway.
It was an emotional year for the Hetricks but Brian's pit crew, Ryan Anderson and Brian Collier, met with Kevin and worked out a plan to support him in Sprint racing along with the help of Shane Johnson of Peoria. They all went to school together at Union and wanted to help.'
Jim explained how he got back into racing this year.
"Even the last couple of years with Brian, I would always tell them how it should be set up and they would say, "Well, back in the sixties,' and make some kind of joke of it. I didn't race in the sixties, but that is what they always told me. Actually, the word kind of slipped again this winter and two or three people got involved, and it happened, otherwise I would have probably just been talking about it again."
"I'm just kind of taking it easy at first. I don't want to take the chance of tearing somebody else up. When I feel I won't tear somebody else up I'll pass, otherwise, I'm just racing. I'm hoping it gets a little better."
Jim is racing Kevin's spare Sprint car and is allowed any items Kevin is not going to use. Jim says he is not being cautious because it's Kevin's second car, and when he gets a chance he'll enjoy passing him, but he admits, "That's going to be awhile."
"I'm not going as fast as I can, but you really don't notice who is where as you're trying to pass somebody. You're just racing your car and passing as you can."
He doesn't feel really comfortable again yet, but it's getting better. A lot of it is like riding a bike, he said, you don't forget. Some things come natural.
"I'm trying to get it where it feels good to me, and a lot of laps. I just need a lot of laps."
Jim's happy Kevin's doing a really good job right now, and says for himself he is just trying not to get lapped which is hard on a short 3/8 mile track and a big field of cars.
"If I do get lapped, I would just as soon that it be Kevin and not somebody else that laps me."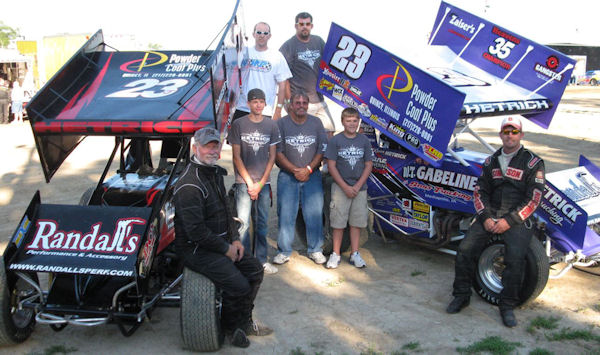 Father-Son Friendly Rivalry: Hetrick Racing Teams Jim Hetrick (front left), his son Kevin Hetrick of Gladstone (front right) with their 305 Sprint cars and racing team. Standing in back from left- Hetricks' Pit Crew Ryan Anderson of Peoria, and Brian Collier of Oquawka. Standing at front center is 34 Raceway 305 Sprint Class sponsors and sponsor of Hetricks, Ward Gabeline and sons Nick 16, and Jeff, 12 of Mediapolis, Iowa. Ward and his wife Trina, became involved as friends of Kevin, and because of the enthusiasm of their sons Nick and Jeff who love the races. Both boys are part of the Jr. Fan Club and work at the race track. Ward said he has never raced a car in his life, but he likes being a part of the racing action. "It's a family oriented business and it takes them all to do the job, and they do it very well. They all get along very well and have the recipe for success."
He said, "34 Raceways is located in a unique area in the state where there is a need for this type of entertainment. The families are dedicated with a high level of safety, bringing top entertainment to the area. Ward, said his family is proud to be sponsors of the Sprint class and a sponsor of the Hetrick car. Gabelines own a fleet of 14 semis in Mediapolis, plus they farm. They were highly involved in the Oakville evacuation and clean-up during the Flood of 2008 offering their semi's and man power.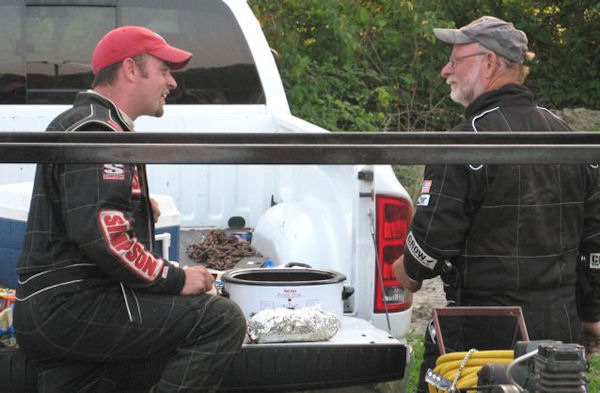 KEVIN AND HIS DAD TEASING EACH OTHER BEFORE THEY RACE SATURDAY EVENING AT 34 RACEWAYS OUTSIDE WEST BURLINGTON, IOWA.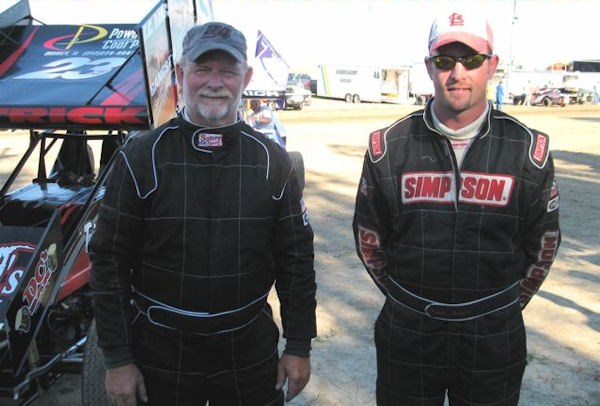 FATHER JIM AND SON KEVIN HETRICK, WHO WAS 30 ON MAY 15TH, ARE READY TO RACE.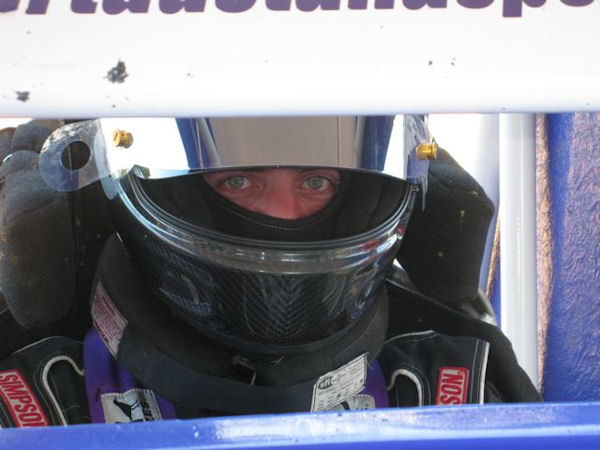 KEVIN IS STRAPPED IN, ON WITH THE HELMET AND READY TO RACE!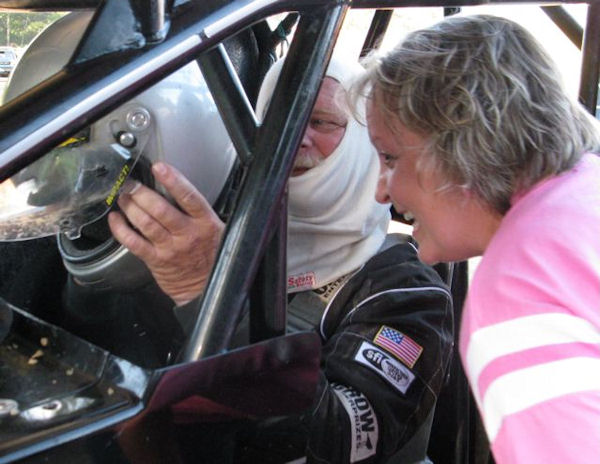 JOYCE GIVES HER HUSBAND JIM A KISS FOR LUCK. IT MAY HAVE HELPED HIM AVOID SEVERAL WRECKS THAT OCCURRED THROUGHOUT THE EVENING. FROM A FIELD OF 20 JIM ENDED IN 8TH, KEVIN TOOK 1ST.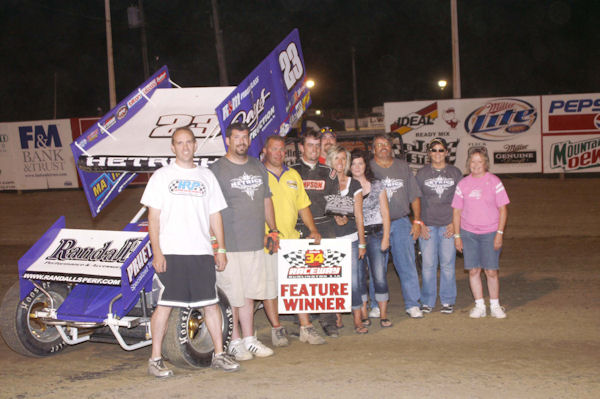 FROM LEFT IS THE HETRICK PIT CREW, RYAN ANDERSON WITH JEFF LAUE PRESENTS KEVIN HETRICK WITH A 1ST PLACE FEATURE PLAQUE WITH HIS COUSIN DUSTY HETRICK WHO BRINGS HIS CAR TO THE RACES EACH WEEK, AND KEVIN'S GIRLFRIEND BECKY HARTMAN, SPRINT CLASS SPONSOR WARD GABELINE, AND OTHER SUPPORTERS WITH HIS MOTHER JOYCE HETRICK FAR RIGHT.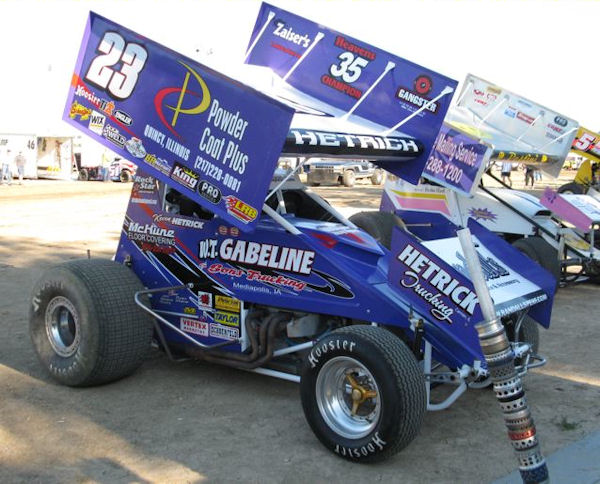 KEVIN HETRICK'S 305 SPRINT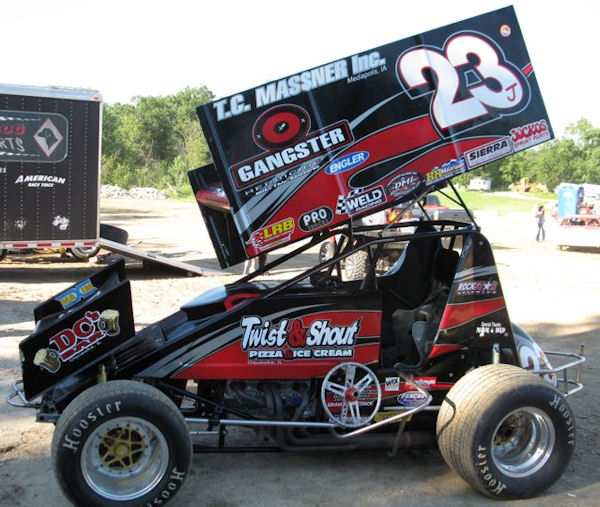 JIM HETRICK'S RACE CAR #23j - ready for the 305 Sprint championship race July 10th at 34 Raceway.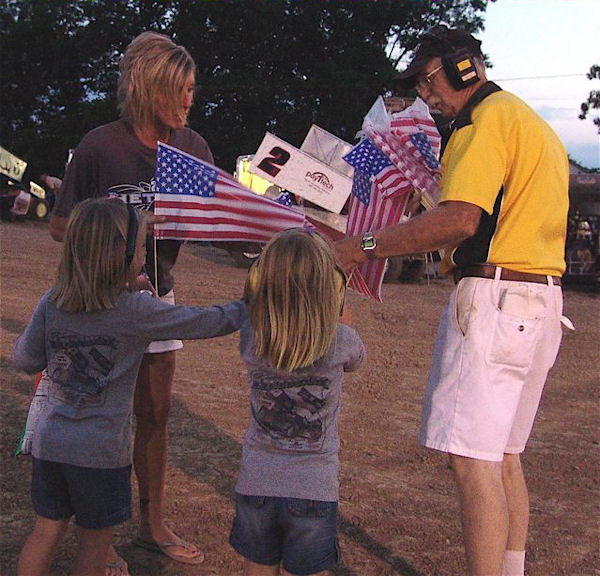 Kevin's girlfriend Becky Hartman and her twins, five year old Jenna and Jaylea Hartman of Dodgeville, Iowa are getting American flags to wave during the Independence Race July 3rd. They were earlier working at cleaning the dirt out of Kevin's Sprint car using a screwdriver.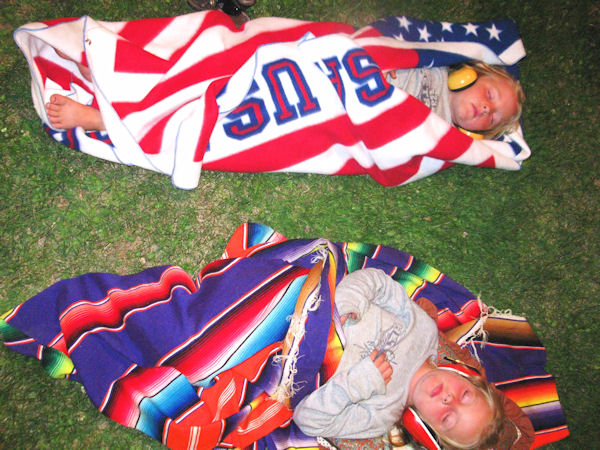 Becky Hartman's twin daughters were busy all evening helping but didn't make it to the end of the races. They wear headband style ear muffs to protect their ears from the loud noises including the fireworks which were set off after the 4th of July races.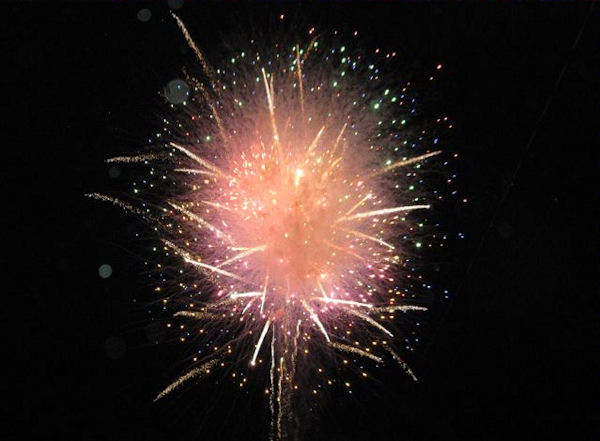 ---