The Hancock-Henderson Quill, Inc.

---
R & D FoodS, Deli, Catering & Annex Hometown Grocery Store
The Treasure Of La Harpe
For Delbert and Rhonda Kreps of La Harpe, it remains to be a family affair at R&D Foods, after selling their other Colchester grocery store.
As of July 1st, the Colchester store is now owned by former La Harpe residents, John and Pam Sparrow who have been living the past five years in Arizona.
"I had plans to retire," Delbert said, in a response to a rumor that possibly he had both stores sold, " but now I plan to work for the rest of my life," he laughed.
"Actually," he said, my wife (Rhonda) actually does all the work cooking and preparing salads and food for our catering service. I just show up with the food and serve it and get all the credit."
Delbert said, his store is changing suppliers.
"We are now going to the Hy-Top brand, a better value."
He also said, his load has been lightened in that he won't have the daily trips to Colchester.
Delbert started ownership when he bought his first grocery store at age 19 in Good Hope and ran it for twenty years. Then he traveled selling cleaning supplies and refinishing gym floors for 8 years.
He became a manager for Gene and Bev where wife (Rhonda Johnson) was working. The two married and work together very well.
Rhonda is up at 3:00 a.m. and at work by 3:30. She makes all the salads and cooks for the catering two or three times each week serving groups from 5 to 450 plus.
Rhonda said, "I am only 55. I had no plans to retire but planned to continue working here."
Rhonda and Delbert bought the store January 1, 1997. Delbert's dad, Donald of Blandinsville, helps at the store daily. His mom, Idel (Link) passed away in 2000 from cancer. Delbert grew up in a family of 4 girls and 4 boys and Rhonda grew up in a family of 3 girls and 5 boys and they learned the value of hard work at a young age.
Rhonda's family grew up outside of La Harpe the daughter of Eugene and Betty Johnson. With the 8 of them, "Dad had his own farm crew," she said, and the four boys were in the field and the girls were stuck at the hay mound.
They had 1000 turkeys on a farm north of La Harpe. Then, when Rhonda was ten, they moved south of La Harpe near Fountain Green where they raised livestock. She did many jobs, including rising early to walk beans.
Rita (Kreps) Siegworth, Delbert's sister, said she started working at Gene & Bev's upon graduation from Northwestern High School in 1976. She is now the meat cutter, but says she does whatever it takes to help out. She cuts up special orders for people, Ribeyes and T-bones and makes homemade brats.
Rhonda started working with Rita in 1980.
"It would be like a divorce if they retired," Rita said. "We didn't want it!"
Rhonda has a sister Rita Bennett who helps with the produce and their son Jason who loads trucks and does carry-out for customers.
"It's a family affair."
R & D Foods deli department has weekday specials that are very popular. They always have a large variety of salads and fried chicken 7 days a week, but along with that on weekdays they have the following specials:
Mondays:
Extra Special Meatloaf.
Tuesdays:
BBQ Ribs, Creamed Chicken & Biscuits
Wednesdays:
Swiss Steak Dinner; Creamed Chicken & Biscuits;
Thursdays:
Liver & Gizzards
Fridays:
Catfish, Buffalo Catfish, whole and filet.
R&D Foods are unique in that they have the large Annex for rent across the street, see: www.theAnnexLaHarpe.com.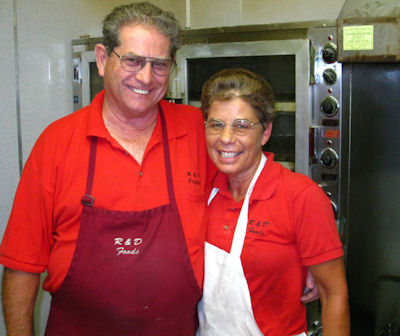 Delbert and Rhonda Kreps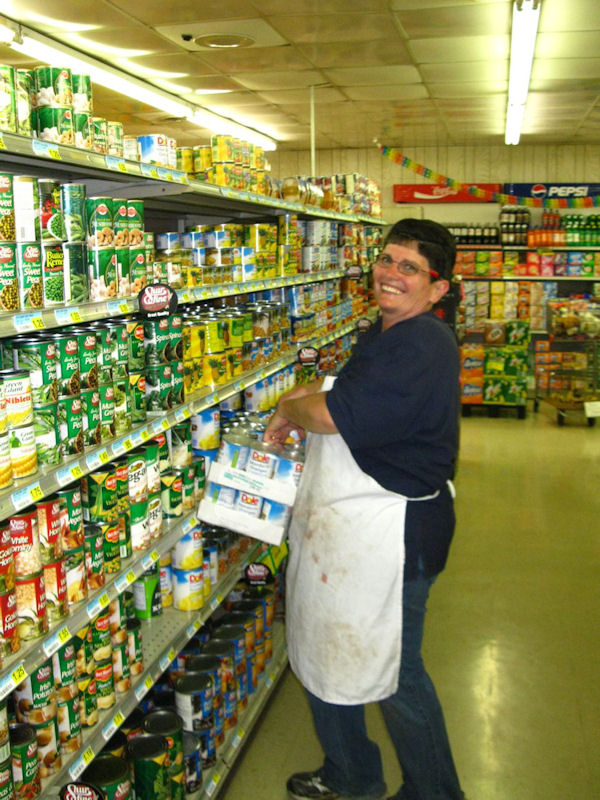 Delbert's sister, Rita Siegworth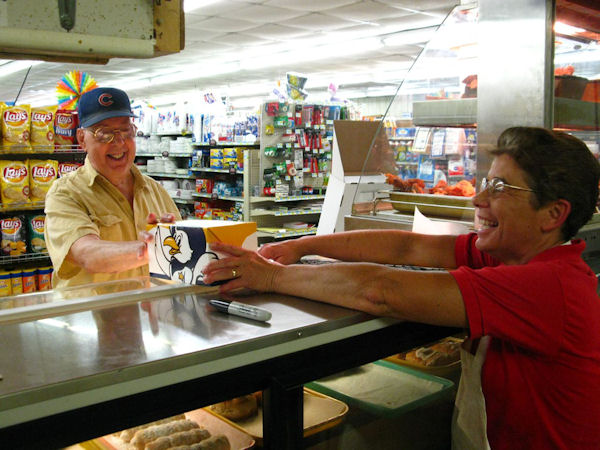 Oscar Strasser of La Harpe, a regular shopper at R & D Foods stops by for some of Rhonda's delicious fried fish filet for his noon meal.
---