The Hancock-Henderson Quill, Inc.

---
Phil Geiser Retires After 42 Years Of Serving In Education In Henderson County High Schools
by Dessa Rodeffer, Quill Publisher/Owner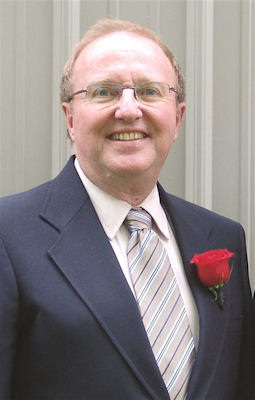 Henderson County residents are seeing the end of an era of a diligent educator, Mr. Phillip Geiser, 64, of Mt. Pleasant, IA, who over a 42-year span in the education field, has put countless hours into shaping our children's lives in a positive way, giving them lifelong tools to enable them to succeed in college and in life.
Mr. Geiser was Principal for the last couple of years at newly consolidated West Central High School. Before that he was a teacher in the high school English department.
As a college student, Mr. Geiser said he was probably most influenced into seriously considering education as a career because of several teachers who had inspired him along the way in one way or another.
"I was actually interested in chemistry and music at first, then I encountered a couple of English professors at college who really inspired me personally, and I began to think about doing the same thing for high school students.
"My student teaching supervisor was a great deal of encouragement to me, and he focused me on the challenges of teaching high school age students in the public schools.
"I guess that you never know the influence and impact you have on the others around you, particularly young people who are looking at everything that you do."
Mr. Geiser said, "My goals have not significantly changed over the years. I have always believed that students rise to the level of the expectations that we have for them, so I always set the standards high for myself as well as for the students.
"And I have confirmed that students do indeed pretty much live up to what good teachers expect of them."
In his early years as teacher at Southern High, students often talk about the "Wagon Trail" that was a serious series students learned from and sometimes, would go to class even if they didn't feel like it in order not to miss.
"My intent with the wagon trail simulation was NEVER to have students come to school when they were sick!" Mr. Geiser said. "The westward movement during the 1800's was an extremely important phase in the shaping of our American character. The wagon train activity attempted to simulate some of the random hardships and blessings that occurred to wagon trains on their way west.
"The classroom activity also attempted to simulate the benefits of everyone working hard and working together so that their wagon train stood a greater chance of success.
"Obviously, in the real world of a wagon train, if several families are sick, then their lack of ability to work impacted the progress of the entire wagon train. So students pretty soon recognized that if several members of their group were absent, then their wagon train was not going to make good progress in competition with the other "wagon trains" in the classroom. Students figured out that if they came to class and "worked" by doing the assignments, the readings, and the diaries, then their wagon train could keep up with the others. It was that competitive spirit showing up in the students that has always been such an important part of the American character.
Mr Geiser kept himself busy in educational opportunities in a variety of ways to improve his teacher skills by writing grants, or using his own funds or taking advantage of opportunities.
He said, "I have been fortunate to have had very supportive administrators and school board members who encouraged the faculty to develop new skills and experience new things.
"One of the big buzzwords in education today is "Life-Long Learning" and with that in mind, I think that is why my career shows that I have never stopped learning. Even having reached "retirement" I will still be learning new things as I work with Lincoln Christian School in Guadalajara, Mexico, this next school year."
Mr. Geiser said, "I can never see myself just sitting on the front porch sipping iced tea and watching the world sail by. If I can add my own little effort to a larger cause, then I'm happy to do that."
For the most part, the average person doesn't know what is behind a teacher and they don't do it for the money, but Mr. Geiser says he has never regretted his career decision to work in public education.
"No, it definitely was not about the money,' He said, "but the pay has been sufficient. It's all the intangible "perks" that have made so many miles worthwhile for me."
In asking Mr. Geiser to explain how a dedicated teacher can change the world by encouraging others, he explained that he has always told his fellow teachers and his students "to make today a little better than yesterday."
"If we all would do that (rather than holding grudges, seeking to blame others, or looking for the easy way out) then the world indeed would get a little better each day.
"Having that kind of positive attitude about everything in life also helps you to sleep better at night knowing that your motives have been good and your actions have been headed toward a higher purpose."
Mr. Geiser has always been commended for his dreaded "Writing lab." It was the necessary preparation that eased students through college once they had taken it. It was usually after college that students saw the reward in it.
Mr. Geiser gives a modest explanation.
"I was fortunate to have had the opportunity to teach some of the very best students in the county over the past 42 years.
"Nobody ever said that the most worthwhile things in life are easy to come by. The writing skills that students learned may not have seemed evident to them sitting in the high school computer lab, but when they went off to college and had the skills in writing that enabled the students to be successful they realized that they had learned some valuable skills that actually did help them with their academic work.
"I would also go so far as to say that our students' success in their careers or in their academic studies was not particularly the result of stellar teaching. I believe much of the success our graduates have had comes from the work ethic they developed in school and their own personal commitment to achievement.
"Their positive attitudes toward their work or studies in many cases set them apart from other students or other workers on the job.
"I am tremendously proud of the achievements our graduates have accomplished after their high school days in Henderson County, and I credit them with having the desire, determination, and dedication to make a success of themselves.
"As a community, we can be very proud of our young people. Yes, other parts of the state and other school districts can afford fancier science labs, more high-tech equipment, and maybe more glamorous classrooms. But the education that is going on in our West Central school today is making a positive impact on our young people ... and their achievement after high school pretty much speaks for the quality of education most of our students are buying in to at school today.
Mr. Geiser has been known as an achiever with an endless amount of ability and energy, and always willing to give a helping hand to administration, staff, students, and to community projects.
It seems that phrase: "I will call Phil and see if he will help us" around the school and community is an ongoing thing and will be missed.
"Helping each other and working together is, in my opinion, one of the great things of living and working in a small community," said Mr. Geiser.
"Whenever problems come up in small towns, the people always seem to work together to make things better. That spirit of volunteering to help out is just a part of the fabric of small-town life.
"It's not a matter of one person being able to do it all - that can't be the case. But, together, we can make things better for the whole county."
Mr. Geiser said he realized solving all issues is a big task.
"It's one thing to talk about problems and/or situations and a whole other thing to get your hands dirty in solving a problem. Helping other people is what real success in life is about. I hope that I have done that more often than not."
And of his future, Mr. Geiser said, "Since life doesn't end at retirement (I hope!), I had been looking for some opportunity to make a contribution to the world somewhere after teaching in Henderson County.
"I'm definitely not ready to sit on the front porch and watch life pass by. Through an organization called the Association of Christian Schools International, I learned about international teaching opportunities in schools around the world.
"I registered with this group and got connected with the Lincoln Christian School in Guadalajara, Mexico. I will be working there next school year with 11th and 12th grade English classes.
"Their school is an English immersion school with about 500 students, and most students take classes with instruction in English. By the time students graduate, they will be fully bi-lingual in Spanish and English.
"The big challenge for me will be to learn Spanish to get around in Guadalajara, a city of five million or so. I know there will be challenges in this new culture, but then there were daily challenges at West Central as well.
Mr. Geiser and his late wife Glenda, who passed away from cancer, had two children Chris and Amy. He has since married Connie (Miller) of Mt. Pleasant, Iowa, a Registered Nurse who was an educator teaching nursing at Southeastern Community College until her retirement.
Phil's son Christopher and his wife Mary live in Brookfield, Wisconsin, with their daughters Emma and Elizabeth. Chris works with the worship music at Elmbrook Church, and Mary works in the insurance industry in downtown Milwaukee.
His daughter Amy and her husband Glenn live in Stroudsburg, Pennsylvania, with their daughter Madeline and son Quinn. Glenn works for the university, and Amy gets to be a stay-at-home mom to the kids.
The Mt. Pleasant side of his family besides his wife Connie is her two sons Destin Miller who works for Shottenkirk and Kiley Miller who works with the Chamber Alliance in Mt. Pleasant. Their five children give them a total of nine grandchildren who he says are "Amazing!"
---