The Hancock-Henderson Quill, Inc.

---
West Central Heat High School Boys Bowling Team
Headed For The IHSA State Tourney At O'Fallon
Heats up a cold winter with strikes!
by Dessa Rodeffer, Quill Publisher/Owner
The West Central Heat Bowling Team has been more than just warming up the lanes in Illinois bowling competition since they began the season in high school bowling.
They have easily weathered the beginning challenges of a new sport at West Central and, now in their 5th year, have earned West Central School District their first ride to the Championship level in a "team" sporting event.
Last week at the Taylorville Sectional, the team not only took Sectional, but also two individual titles at AMF Laketown Lanes in Springfield to advance to state tournament at St. Clair Bowl near O'Fallon, 20 miles east of St. Louis.
The Sectional 6-game competition was tough but the steady Heat led by Ryan Bigger scorched their opponents 6,097 to second place Alton 5,913 and 3rd place Edwardsville with 5,633.
The boys goals were to be at state said Coach Sue Rothzen who initiated the bowling program at West Central and has a son on the team.
She said she knew that they had it in them to win Sectional, especially if they kept putting their best into the games.
Ryan Bigger has been a steady force for the Heat and had a six game total of 1,327 points to win the individual title by 37 pins!
West Central Dylan Kindig has also been heating up the lanes and came home third individually with 1,287 points just 3 under second place Alton's Jordan Spooner (1,290).
The Heat opened their season on November 11, 2009 by beating Taylorville 3,004-2,761 when Junior Ryan Bigger rolled a 694 series, Kindig a 591 series and Jared Clark a 576 series. It was a good place to return to and bring home the Sectional trophy.
The school fans are more than supportive of the bowling team's accomplishments buying shirts from the team that sport:
West Central Heat
2010 Sectional Champions
Boys Bowling Team!
And on the back accompanies a bowling ball with flames on each side busting a pin in half saying:
"It is advised that all Illinois High School bowling teams stay home to prevent HEAT STROKE."
Listing all eight boys last names, then 2010 Sectional Champions!
The Heat Bowling team has also been nominated for Hometown Heroes of the week on Galesburg FM 95 and it is to be announced tonight if they received the honor.
The Galesburg Register Mail sports department has named Ryan Bigger, Athlete Of The Week! and I am sure more is to come.
Team members have been given the shirts to wear on their send-off Thursday after a 9:00 a.m. pep rally and 9:30 motorcade that is planned to escort them on their way.
This weekend, look for a change in the weather: The Heat's on its way!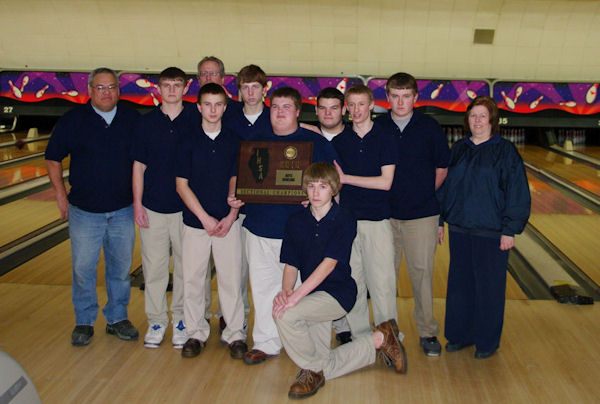 Coach Sue Rothzen (right) assisted by husband Ron Rothzen, and Sam Bigger stand with the Sectional Bowling Champions of West Central High School. Kneeling Colin Rothzen (Sophomore) and standing Senior Nathan Harden, Juniors Ryan Bigger, Dylan Kindig, Logan Stogdill, and Sophmores Jared Clark, Tyler Bundy, and Freshman Johnny Ryffel.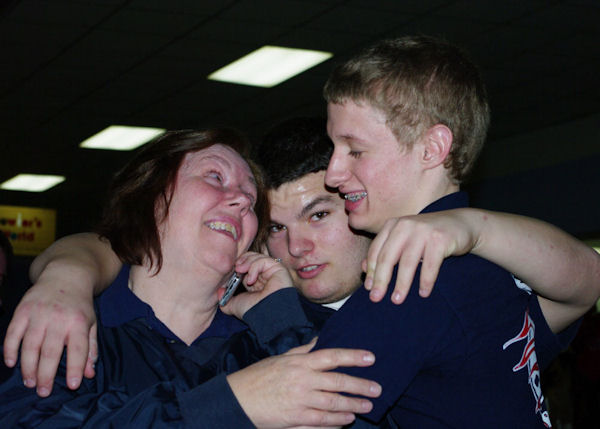 West Central Coach Sue Rothzen gets a hug from two of her team members after they gave a Sectional win for their HEAT bowling team last weekend at Taylorville.
---