The Hancock-Henderson Quill, Inc.

---
Meet Your Neighbor
by Jenna Clayton, Quill Reporter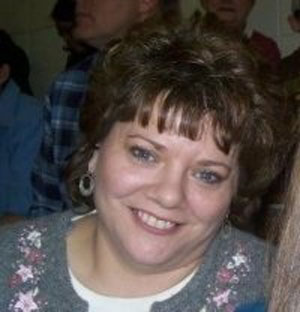 Meet your neighbor Janet Vass, the daughter of Eileen and the late Willard Logan.
She was raised in Lomax, on the same block as Logan Grocery and remembers it as being a great place to ride bikes and go ice skating on the creek in winter, and catch minnows in the summer.
She grew up with her twin sister Julie and her brothers Wade, Jay, and Rusty. She was raised by her mother with her grandparents living on a farm close by. She graduated from Dallas City High School in 1981 and from the Institute of Cosmetology Arts in Fort Madison, Iowa in 1982.
Vass is now married to her husband Clay whom she has been with since high school. They have two children, Jake (19), and Jill who is a junior at Illini West High School.
Vass owns her own hair salon called "the Mane Line" which she has run for thirteen years and also works at Stage 2 in Fort Madison, IA.
When her children were in grade school she was a substitute teacher, classroom aide and lunchroom aide and also subbed in the district and elementary offices. Vass is a member of the Colusa United Methodist Church where she is very involved, she is a volunteer with the Red Cross, is in charge of the Boy Scout Troop 51, and serves as the secretary for the Illini West Board of Education.
Vass enjoys being outdoors, fishing, being involved with the Boy Scouts where she has served as a Cub master for ten years, riding motorcycles, and spending time with her family.
Vass has thoroughly enjoyed every moment of watching her children grow up and participating in every stage of their lives.
She also loves being a part of her husband's life and recalls a part of his coaching career when his team, the Hamilton Cardinals beat their bittersweet rivals the A-C Central Knights in the 1994 Super-sectional game in Macomb.
Vass takes pride in where she lives and says, "Not to steal this from Hillary Clinton but I do believe that it takes a village to raise a child, being raised by a single parent I know how true this is."
---