The Hancock-Henderson Quill, Inc.

---
Meet Your Neighbor
by Jenna Clayton, Quill Reporter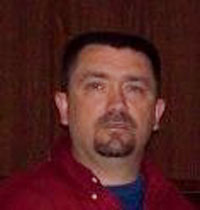 Meet your neighbor RD Trout, the son of Roger and Carolyn Trout.
He was raised in Disco. He was raised with his brother, Randy, spending a lot of time on his grandparent's farm.
Growing up, his dad taught him and his brother how to fix things themselves and says his grandpa starting the trend of fixing everything himself.
Trout always enjoyed seeing what new things his grandpa had been fixing.
Trout is now married to his wife, Lisa, and has three children, Jamie (25), Nate (18), and Andi (16). He works for Methode Electronics in Carthage as the Shipping Supervisor, where he prepares customer shipments and loads trucks.
Trout is a member of the Illini West School Board. He extends an invitation to any community member to contact him with ideas or comments to help improve the High School. Trout enjoys hunting, competition coon hunting, and going to local sporting events.
Trout treasures the memories of a family vacation he took as a child to Florida, watching his children compete in sports and being a part of watching them in several state competitions, and a gift from his parents which was a trip to Yellowstone National Park and Mount Rushmore with his family.
Trout loves the small town life and says, "The cost of everything is rising, but getting to live in a small town close to friends and family is priceless!"
---