The Hancock-Henderson Quill, Inc.

---
Meet Your Neighbor
by Susan Galbraith, Quill Reporter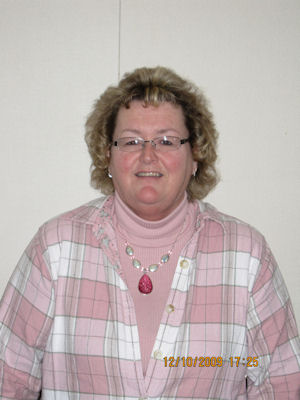 Meet Your Neighbor Brenda Holford of Gladstone.
Brenda is employed by James Insurance as a CSR/Agent. (Customer Service Representative) and is also a licensed agent.
She was born in La Harpe and raised in the Stronghurst area.
In 1977 she graduated from Southern High School.
Her parents are Don and Joann Overton, deceased.
She has been married to Dee for 17 years and they have two daughters, Jessica, (22) and a senior at Western Illinois University majoring in Business and Marketing, and a son, Timothy, (15) a sophomore at West Central High School.
Brenda has two brothers, Mark (Toby) who is a truck driver for Stronghurst Grain and Scott a farmer near Roseville; two sisters, Karen (Robert) Scott of Media and Susan/Sissy (John ) Cough of Griggsville.
Karen and Robert are the parents of Eric (Sammi) of Burlington, Iowa and they just recently had a baby girl, Grace. Susan and John have one son, Taylor.
Brenda says, "I chase Tim all over as he plays football, basketball, bowling and in the summer, baseball."
She loves to read, anything (!) go shopping and spending time together with her friends.
As a family they love camping and most of their summers are spent at Lake Young near Kirkwood. This is their 5th season there.
She said, "The folks at Lake Young are like our extended family, you really draw close to people you see every weekend and being able to take the boys and not worry about them is a real benefit to camping there."
She said, "We camp from the first of April to the first of November, which is our number one enjoyment."
When asked what she liked about her job she said, "I have the best boss in the world. I have been at James Insurance for 15 years and there is something different every day, no repetitions and Ron is the nicest and kindest boss one could ever have."
---