The Hancock-Henderson Quill, Inc.

---
Take "The Quill" Along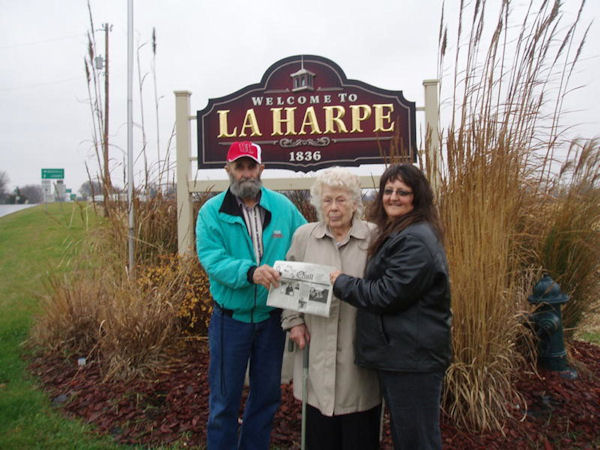 Michael and Tina Hardman, of Klamath Falls, OR, traveled to La Harpe in November for a surprise visit to see Rusty and Harley Palmer (Mom and Dad). They went to the Community Center for dinner and met up with long time friends and family, Uncle Boyd and Aunt Joy and Amy Palmer, Greg and Diane Blythe, Linda and Bob Shutwell and Cindy Palmer. Once having lived in La Harpe we receive the Quill (yearly subscription from Mom and Dad) we enjoy seeing the happenings from your fair city. Also was able to meet up with Marty Burdge and his lovely wife (nephew, hadn't seen in years). We spent Thanksgiving in Peoria, with our daughter, Michelle Allison and her family Tom, Christoper, Jonathon,and Kira. Family from La Harpe and Michigan came to enjoy in the festivities, fun was had by all.
So why not let the Quill make it's journey back to La Harpe. We love the Welcome to La Harpe sign so had to have our picture taken there. When you go on a trip, take "The Quill" along and have your picture taken with it, then send it to us. Let's see where all "The Quill" can travel.
---