The Hancock-Henderson Quill, Inc.

---
Miracle Dog, Surprisingly Safe From Blaze
By JOHN MANGALONZO, THE HAWK EYE
(photo and story used with permission from The Hawk Eye)
OQUAWKA -- Dennis McBride hurriedly left his home after receiving a call that his business was on fire Tuesday morning (Feb. 9th).
It was not the building or its contents he was worried about, but a friend he left sleeping inside. His heart was beating fast as he approached fire crews at the scene. His face turned somber after he was told no one could possibly survive the inferno raging inside his rural Oquawka auto repair business.
"I wanted to go in and get her," McBride said Thursday, still shaken. "I wanted to get her so I could take her home and bury her."
Then, as the blaze consumed its last breath, a scuttle was heard, and out came McBride's friend: his 7-year-old dog named Smoke.
Literally, Smoke escaped the fire.
"She must have heard me talking, and she came out running to me," McBride, 58, said. "Everybody out there had their mouths open."
And rightfully so.
What are the chances a German shepherd mix could survive inside a burning structure for nearly three hours?
Oquawka Fire Chief Hal Jern said Smoke "survived the fire by going underneath a steel desk."
That location is all too familiar for the shop dog because it was where Dennis and his wife, Linda McBride, placed a soft pillow for her to sleep on. It was her comfort area, a place where she waits for Dennis McBride to open the business every morning.
It was not Smoke's time.
Chain of events
Maybe it was meant to be that Henderson County Sheriff's deputy Arby Vancil was on routine patrol and passed by McBride's Auto Repair shop that morning.
Smoke already was increasing and flames were started to torch.
The deputy called 911 and reported the matter. Soon, Oquawka volunteer fire crews were on the scene and called for mutual aid from the Gladstone Fire Department.
"The structure was fully involved inside when we got there," Jern, the fire chief, said. "Crews went inside and it probably had a room temperature of 2,500 degrees."
Hours passed, but the efficiency and the precise actions of firefighters saved at least 60 percent of the building. They ruled the fire to be accidental and said it may have started with an electrical component of an air compressor.
"It's a good thing the deputy saw it," Jern said.
Thinking the worst
Dennis McBride gets up at 6 every morning to go to work but got a call early from his son informing him authorities were trying to reach him because his building was on fire.
"When he got up there, they told him that his dog was already dead," Linda McBride said. "Because the temperature was really hot in there. They said nothing could survive that."
Dennis McBride remembers being distraught. He was pacing back and forth and passing time talking to firefighters and others at the scene.
He said he tried very hard not to think about Smoke, but at that point, the dog was all he cared about.
"I got insurance, and anything in life that you have can be replaced, except for a living being like that," Dennis McBride said. "I don't care what other people think, or say that she's just a dog."
Then, a feeling of guilt engulfed his heart. He started to question the decisions he made: Why did he put Smoke in that position?
Did he place the dog there to die a horrible death?
"She's my pet," he told crews on the scene. "She's my friend."
All the while, firefighters were going in and out of the building, with no signs of Smoke. They doused the flames, and Dennis McBride could do nothing but watch.
Some consoled him and attempted to soften the blow, in case they recovered the body.
The pain of losing his parents two years ago -- Linda recently lost her mother -- started to come back.
Dennis McBride looked up, then down. His head shook, he said, and he couldn't bear to look into the direction of the scene.
He needed to get out of there. He needed to get away.
Happy ending
As the minutes turned into hours, Dennis McBride could not take it any longer and gestured to firefighters he was going to leave.
Then, something amazing happened. The smoke cleared a bit, and Smoke came running out.
"They were standing there talking, and here she come cowering out of there," Linda McBride said. "Then she came flying out of there after she heard his voice. The only thing we could figure out was that there was an air pocket real low on the floor, and she just kept her nose close to the floor."
Jern said, amazingly, the dog did not suffer any burns.
Smoke started showing up at the McBrides' business five years ago. She supposedly was sitting in a man's truck and jumped out.
The owner got her back, but ever since that time, Smoke began visiting the shop on her own, many times staying there for long periods of time.
Linda McBride said the owner one day asked them if they wanted to keep the dog, since she had developed a liking to the McBrides.
"Her name was already Smoke," Linda McBride said. "She became our shop dog."
Dennis McBride said they probably will tear down the building and start over. He had been in business since 1982 and moved the shop to Oquawka six years ago.
But that does not matter anymore.
"Miracles do happen," Dennis McBride said, as he proudly announced Smoke got a bath and is doing just fine. "The main thing I could have lost in that fire was my dog. And now I have her back, so everything's going to be OK."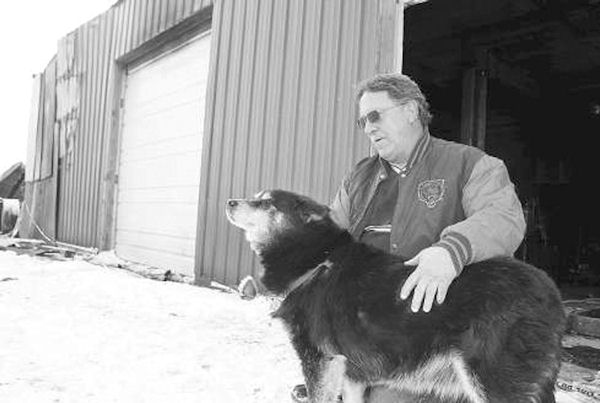 Dog named Smoke, survives fire Photo-John Gaines/The Hawk Eye
Dennis McBride is happy to be with his dog, Smoke, in front of his business McBride's Automotive Thursday in Oquawka. The dog literally crawled out of the smoke from the business as a fire damaged the building on Wednesday.
---