The Hancock-Henderson Quill, Inc.

---
Meet Your Neighbor
by Susan Galbraith, Quill Reporter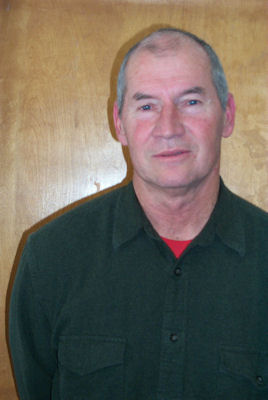 Meet Your Neighbor John Wetterling of Stronghurst.
John is head grounds keeper at West Central elementary and high school.
He was born in Burlington, Iowa, and raised in the Stronghurst area.
In 1963 he graduated from Stronghurst High School and entered Carthage College graduating in 1967 with degrees in physical education and history. During his college years he played football for four years and was a member of the Delta Omega Nu.
He and his bride, Rose, have been married for 43 years. Rose is a 3rd grade teacher a West Central elementary.
They have two sons, Scott (Nicole) who lives in La Harpe and Todd (Vanessa) who live in Monmouth. .
Scott is employed at Western Illinois University in the heating plant and Nicole is employed at McDonough District Hospital.
Todd is a junior high health teacher along with being the coach for football, and track at the Monmouth-Roseville schools and Vanessa is employed by radio station WMOI/WRAM in Monmouth.
Rose and John have 5 grandchildren, Donnie (6th), Dannie (5th) and Dylan, (3rd), students at La Harpe elementary school, Stephanie a junior at Illini West High School and J.W. who is employed by a boat fabrication company in Oquawka.
His parents, Wendell and Alberta Wetterling, are both deceased. Wendell was a farmer and Alberta a teacher.
Rose's mother, Neola Peterson, lives next to them in Stronghurst John said, "I enjoy having Rose's mom so close."
John has two sisters, Jeriyn Powers of Libertyvile and Jean Mares of Golden, Colorado; one brother J.D. (Karen) whom travel around the country, sightseeing, in their motor home
Rose and John attend the Assembly of God Church in Burlington, Iowa.
John was a former teacher/coach for six years at Clifton Central, two years at the junior high in Roseville and three years at the high school in Roseville. In 1973 he proudly says, "Our football team won the conference title".
In the middle of the school semester, 1973-74, John's father became very ill and John retired from teaching to help on the farm. He farmed on the family farm for 20 years before starting to work at Southern.
John has had several health issues. He was diagnosed with Diabetes when he was 38, had triple by-pass heart surgery when he was 42 years of age, had Hepatitis C which was a 6 month treatment and last summer had surgery for cancer of the prostate.
He and Rose enjoy vegetable and flower gardening, yard work, walking, bike riding and going on day trips.
They enjoy visiting different coffee shops. John said, "Our favorite is the "Inn Keeper" in Galesburg. "We love spending time there together".
John said, "I love living in a small community such as Stronghurst. In the early morning when Rose and I walk it is so peaceful. I couldn't imagine living anywhere else".
---