The Hancock-Henderson Quill, Inc.

---
Emergency Volunteers-Our Treasure
db Conard, The Quill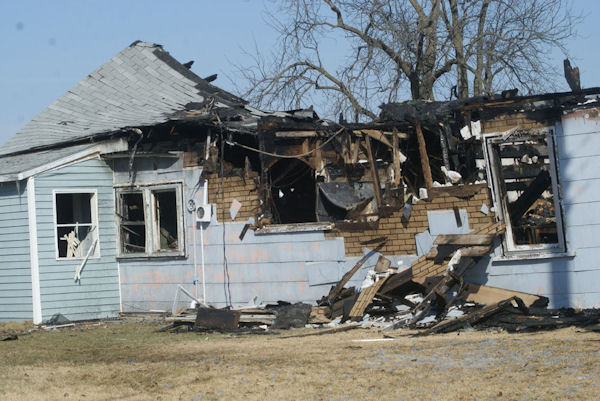 Fire Destroys Lomax Home
On Thursday evening, January 28th, it was 6:45 p.m. when a Henderson County sheriff's dispatcher sent the alarm out for a house fire in Lomax to the volunteer fire fighters of the Lomax Fire Department. And, according to their log, it was approximately 6:56 p.m., eleven minutes later, the dispatcher was notified that firefighters are at the fire station. Then thirteen minutes after his initial alarm, he is again notified that they are at the fire.
On what might have been just another Thursday evening to the rest of us, there was a large group of people experiencing a night they will never forget.
It began with Connie Brockett, and David Mitchell having a normal evening. They smelled smoke, then they discovered lots of smoke in the back bed room. You can only try and imagine the thoughts that were racing through their minds as they watched the fire build.
A call was made for help on a cell phone to 911 which was received by the Burlington Emergency Center and then immediately after recording critical information, Connie's call was transferred to the Henderson County dispatcher who happened also to be an Oquawka firefighter, and in the fastest manner possible, sounded the alarm.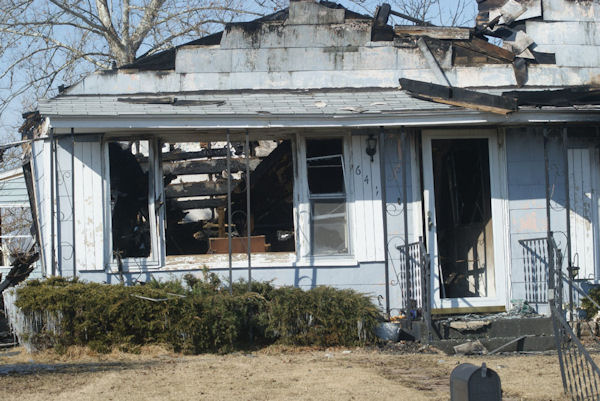 The fire is suspected to have started at the ceiling furnace then spread throughout the home along the channels cut for the duct work.
Making matters worse, the wind that night was a steady 11 mph out of the northwest. When the wind touched the flames, it immediately created a furnace with incredible heat that consumed everything in its reach.
At 7 pm four firefighters were setting up to put water on the fire. The four men from Lomax grew to eleven, then other departments from neighboring communities began to arrive. It did not take long for the road to be filled with every sort of emergency equipment, and personnel.
Tankers, pump trucks, ambulances, police cars, even the highway department, everything that had a flashing light were there.
Niota, Colusa, Dallas City, La Harpe, all volunteers, were rushing to help.
Thirty-five firefighters, plus or minus a few, along with the police, ambulance and highway department people, all added up to a lot of freezing hands, feet, noses and ears.
With an outside temperature of 12 degrees and a steady wind, the water became steam on the flames, and ice on everything else.
Can you imagine trying to direct a hose in those conditions, with nothing but ice to stand on?
There is just no adequate way to try and describe the terrible conditions so many suffered trying to help Connie and her family. It was over three hours on the first call and then four more times fighters were called back for "re-lights" at the house that just would not stop.
It was after ten that night that the communities' volunteer firefighters headed back to their respective stations to get their equipment cleaned up and ready for the next call. The next day was a work day no matter what.
Multiple ceilings from modifications to the house made it almost impossible to get a handle on the fire; no matter how much water was thrown at it, the flames had a life of their own.
Connie Brockett, her son and her significant other, David Mitchell have lost treasures that can never be replaced. Photos and David's Viet Nam medals and other treasures. My understanding is that they didn't have time to save a thing; absolutely everything they had was lost to the flames and water. The good news is that they have already begun on the road to recovery and have found a house across the street to rent while they rebuild their world.
Just about any sort of help would be very much appreciated by this family. Connie had insurance, but seldom does that cover everything. If you would like to help, call (319) 208-9088 or (319) 750-7015
Five Fire Departments did their best yet this time the fire won. Two men were injured from the Lomax department. One fell from the roof and the other fell on the ice. Both firefighters were taken to the Great River Medical Center. Both Volunteers are reported to be home and doing well.
It had to be a discouraging night for everyone concerned and then there came a misinformed timeliness assertion that got a good number of the people in our community wound up.
Let there be no doubt in anyone's mind that there is not one step in the emergency process that is not focused on getting help on the way. The county dispatch log says it plain enough when calls were made and received. Our responders did a great job! They are the often underappreciated Treasures of The Heartland!
---