The Hancock-Henderson Quill, Inc.

---
Burlington Northern Santa Fe
The last train crossed the BNSF railroad bridge at 1:55 a.m. Monday, Dec. 20 and trains were stopped for 30+ hours. Workers replaced the swing span across the navigation channel on BNSF's 118 year old bridge across the Mississippi River between Gulfport, IL and Burlington, IA.
Besides BNSF employees, only a small crowd witnessed the historic event which occurred on the 2nd busiest railroad river crossing in the U.S.
Three photos top left are the old 120 foot span as it is moved by tugboats to east of the BNSF depot to be dismantled.
It Will Swing No Longer
by DB Conard, The Quill
As of Tuesday morning of this week the BNSF Railways river bridge that crosses the Mississippi, at Burlington, will swing no more.
The 119 year old swing span was lifted onto a barge for its last journey over the river and is on its way to be salvaged.
As soon as the old span was lifted out, the new lift span was floated in, lifted up and attached, seemingly without a hitch, and was ready for train traffic by mid-morning.
Everything went according to plan, according to BNSF spokeswoman Amy McBeth. The bridge still needs another tower before it can become operational to allow river passage. It will have to be done before March and before the river can be reopened for traffic.
Warren Buffet and his friend Bill Gates had planned to be on site to watch the swap of the spans. Just their possible attendance sure got everyone's attention. Weather is what I heard caused them not to be able to make it.
The importance of the renovated bridge is significant especially to river traffic that will travel much more efficiently and safely.
There isn't a Barge Captain on the river that doesn't think about threading the needle at Burlington, especially in a storm.
Now with a channel twice as wide as before, 322.5 ft., there will be shorter and fewer delays for our nation's commerce, where in the truest sense of the term, "Time Is Money!"
Consider that there is on average about 35 trains a day which adds up to over a thousand a month. Many of those trains burn a lot of energy starting and stopping for river traffic which has priority.
Barge traffic has been stopped as well due to bridge strikes by barges. It is the second most often struck by barges, according to reports.
On average the swing bridge would open 10 times a day or about 300 times a month for river traffic. The new system will significantly reduce congestion at this intersection, that in its own way, crosses the heart of the "Heart Land."
Can you imagine how much of our nation's history and commerce has traveled through our county on its way to and from this bridge?
In March when everything is done except the cleanup we will for the most part all go back to just taking the bridge for granted.
There will be fewer pickup trucks in town, as out of town contractors move on to the next project, while the local economy of contractors and merchants recycle the dollars the bridge brought to all of us.
The liftspan project is funded primarily through the American Recovery and Reinvestment Act of 2009 and previous funds from Congress.
This has been a big undertaking.... big enough to warrant the attention of BNSF CEO, several of their Vice Presidents as well as its major stockholder Warren Buffet.
Let's hope their investment lasts as long and serves as well as its predecessor in an uplifting way.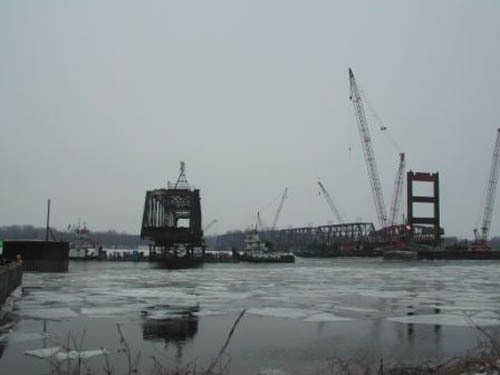 Tug boats move the 150 foot span from 118 year old bridge.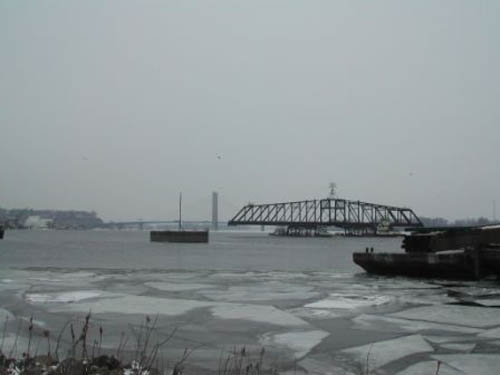 150 foot span above was increased to more than 300 feet.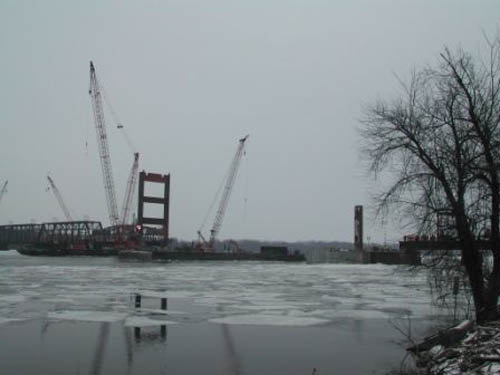 Opening is ready to be filled by the new lift span.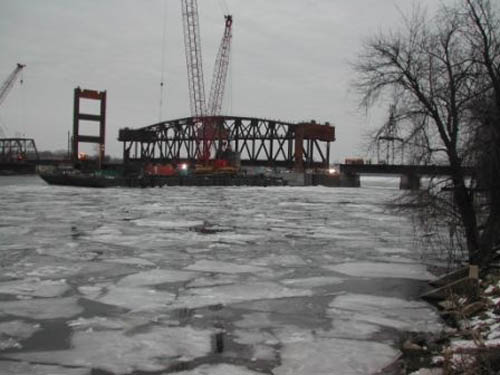 Positioning the new modern vertical, late afternoon. The $70 million project is expected to be complete by the summer of 2011. -photos by Monty Waddell
---