The Hancock-Henderson Quill, Inc.

---
Where's Harry?
by Dessa Rodeffer, Quill Publisher/Owner
"Where's Harry?" and "When will he be back?" are the questions I heard on the days I filled in for Harry Bradley," said Chuck White substitute bus driver.
Harry Bradley, now 82, retired in May at the end of the 2010 school year at La Harpe School District after driving a school bus for 55 years including substitute and regular routes.
Bus drivers have a lot of responsibility transporting children, and it takes an extra amount of patience to deal with the very active minds of today's kids.
Bus drivers in the La Harpe area have had the extra challenges this year with the soft roads and road closings, having to find alternative routes that were safe.
Besides that, they came in contact with oil, dirt, gravel, pot-holes, and soft shoulders, along with distracted drivers who just aren't paying attention, and many times are just in too big of hurry.
But Harry, like his fellow bus drivers, showed up for work 176 days a year in the early hours at the bus barn to shuttle kids to their destinations in a safe and timely manner without the extra hurrying, and without the extra distractions, well, except for the commotion of a bus load of kids.
How did Harry do it, still gaining the love and respect of all those kids year after year.
Harry loved his work and he loved working with kids. He was fair and consistent and expected a certain amount of respect and for the most part took care of the discipline in a quick and swift manner. Only once did he have to stop the bus and handle the commotion of two boys with a swift paddling, which ended that. It's something you couldn't do today, but usually just setting them in the front seat for awhile got them to settle down.
Those were the days, Harry said, when parents stood behind you for the most part.
He also gave kids some slack too, because, he said, he understood the need to be a little noisy and excited on the bus after a long day of classroom confinement and lessons.
When Harry Bradley first took on this bus driving job, it was after he took on the his first teaching job at Colusa. He substituted his first year there as a bus driver and then began full time his second year.
There is a lot to tell about this "golden glove" winner from his high school in Southern Illinois, who began his working career as a science, biology, P.E. teacher and coach and then the job as "bus driver as well.
"Harry was completely consistent and a pleasure to work with," said La Harpe School Transportation Director Jeanne Clayton. "He definitely kept me on my toes, and he rarely missed a day."
Jeanne oversees 14 bus drivers and subs for the La Harpe School District and said Bradley started full time in 1967 for the La Harpe School District which has included a morning route for Illini West in 2007-08 since their convergence of high schools with Carthage and Dallas City.
He was a substitute for a few years in the La Harpe School District when he first came from Colusa school in 1961. A year after he started teaching in La Harpe, they sent him to Terre Haute. That is when the closing of several schools (Burnside, Durham and Terre Haute) forced the Middle School from La Harpe to Terre Haute. Fountain Green still maintained their own school through 8th grade, he said.
Prior to this time some of the country schools had basketball courts but were not large gymnasiums as they have today.
"Fountain Green had built their own gymnasium," Harry said, "but Burnside had an outdoors court and some used a little dinky room."
While Harry continued teaching science, biology, P.E. and coaching basketball, baseball and track, he had some pretty good teams. Once in awhile, you might catch him sparring with a couple of boys during P.E. in a boxing match. That came from his previous life before he was a teacher.
"I would pick up the kids on the school bus, teach them all day, take them home and return to coach basketball. I have always enjoyed the kids enthusiasm for learning and just working with the kids," he said.
"I did box kids in high school on occasion during P.E. class. It was a good way for them to work out some frustrations between us at times. That wouldn't be allowed today, either," he said.
How did Harry find his way to Hancock County schools?
Harry came to Hancock County after attending Carthage College, where he also coached boxing, following his brothers lead.
He and his two brothers were raised in southern Illinois and attended high school in Murphysboro near Carbondale.
Harry said that he and his brother Bill followed their older brother into boxing in high school.
"St. Andrews Church sponsored a boxing club and held shows all the time in the 30s and 40s.
We didn't attend that church or school at St. Andrews but we were interested in it, so we joined the club."
Harry boxed his way into winning the Golden Glove Boxing award for two years in 1949-50 in Quincy.
He was runner up in St. Louis when he competed in the Lt. Wt. Championship, sponsored by the St. Louis Globe Democrat.
It was the Arena Tournament of Champions in Amateur Fighting.
"The first time I boxed in the Golden Glove tournament in St. Louis I was a senior in high school and got into the quarter finals. The championship covered the southern part of the U.S. because I boxed guys from Texas and Tennessee and all over. I went into it with a broken nose, thanks to my brother boxing me a few days before. We were just sparring when he punched my nose. It has been broken three times. Once in football in Carthage college and another time on a baseball road trip to Louisiana after a quick stop and I hit the dash and broke it again.
Harry said boxing has died out now, but it was a big thing in those days?
Harry's two older brothers went to Carthage College, and his oldest started the boxing program there in 1945 and was the coach -"Buzz" Clarence Bradley. Buzz won several boxing tournaments and was runner up in the Chicago boxing championship. The winner went on to win the World Championship - Harold Dade who is listed in the World Boxing Hall of Fame.
Harry really looked up to his brother. He said Buzz went into the service and was wounded but before he was hurt he boxed there and was runner-up in the entire European Theatre War in Boxing - all FIGHTS.
Around the same time during WW II his brother Bill was lightweight boxing champ of the 5th Army.
Older brother Buzz (Clarence) had started the boxing program and coaching in Carthage and Bill took it over. Bill was a Golden Glove Champion of the lightweights in Carthage for two years and the Golden Glove Champion in Quincy.
That's when Harry stepped in, after Bill.
We had Golden Glove people from all over who came for an education, but they went out for boxing. Bradley said he taught them some pretty good moves .....a good jab and a good hard straight right, but it to be good .. it takes some coordination, knowledge of boxing, and an opponent to practice on.
He said the routine consisted of a work out of 2 1/2 hours which consisted of running, jump rope, punching bag, calisthenics, shadow boxing, sparring or boxing with another guy. As a coach I would show them some moves, to hold their guard up, and what to do. No one lost their front teeth, but usually they wore mouth pieces whenever sparring with another guy.
To toughen up abs we used a medicine ball (big heavy leather ball) and pushed it back and forth against each other's stomach, and do different exercises with it, and a lot of sit-ups.
"You had to have a pretty strong stomach or you would get knocked out."
Bradley knocked out a 220 heavyweight football playing on their boxing team in Carthage when he was coaching.
"I was only 135 lbs. but I gave him my lucky punch." It wasn't in the stomach - it was in the jaw."
Harry said there are different styles of boxing, weaving, straight on and the like, but success comes form experience. "Boxing with my brothers, learning with practice, and the more you play the better you get. You have to work at any sport you are at if you want to do any good at it."
Is it the coaching that brings success?
Harry says it takes a certain amount of ability and grit and determination.....along with a coach that can teach you something to bring about success. You can't make a fighter out of everyone ... but they can improve.
What advice does he have for the competitor, parents and coaches:
"Winning isn't everything. You are a better rounded person if you have some losses and some failures to learn by.
A perfect season is not all wins but some wins and some losses. You are going to have to accept failure sometimes."
You learn more by a loss than you will in a win in a lot of cases..... it develops character to accept both."
"We (Harry and his brothers Clarence and Bill) were the last ones to coach boxing at Carthage College and then they dropped the program after I left."
Harry always wanted to go into education and coaching kids and he was hired right away at Colusa. The bus driving just kept him involved longer with the kids. He retired from coaching around 1970 and retired from teaching in 1984 and driving the bus in 2010.
Harry's family consists of his wife Kathleen (Peterson) of West Point of 57 years this Dec. 27th, and four children, three girls and a boy. Girls were all cheerleaders and his son played some school basketball.
His son Mike (Brenda) worked at WIU on the grounds crew until he was forced due to a disability, and Mary (Doug) Norvil teaches at Dallas City Elementary. Judy (Jeff) Stevenson teaches art at Carthage after being at La Harpe a number of years, and Patty (Joe) Plackett of Springfield is in the business world. Harry and Kathleen have 7 grandchildren and 10 great grandchildren.
The Bradley's go to the Sacred Heart Catholic Church in Dallas City where Harry is an Lecturer.
At retirement, I catch up on sleep, likes to hunt and fish in decent weather, watch television,
What would Harry like for Christmas if he could have anything? He says,"Good weather and good health."
Harry has accquired a wealth of good memories in working with kids over the years while Hancock County students have life-long memories of a great educator, coach, bus driver and friend.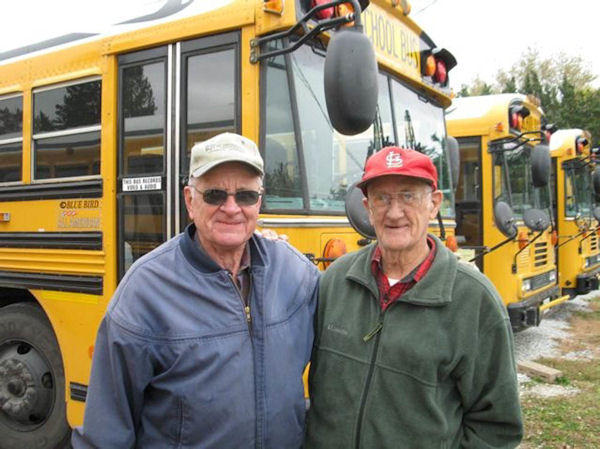 Chuck White (left) a substitute bus driver who filled in for the now retired Harry Bradley, without hesitation, joined his friend Harry for a snapshot when asked. "I'd be proud to be in a picture with Harry," he said. For 55 years, Harry drove a bus for the two schools he taught in. He taught classes, and coached sports, and after retirement from teaching, he remained a steady dependable bus driver for the district until the end of the 2010 school year, when his wife said, its time to come home. -photo by Dessa Rodeffer/Quill Publisher
---