The Hancock-Henderson Quill, Inc.

---
New Brent Family Pharmacy Open In Stronghurst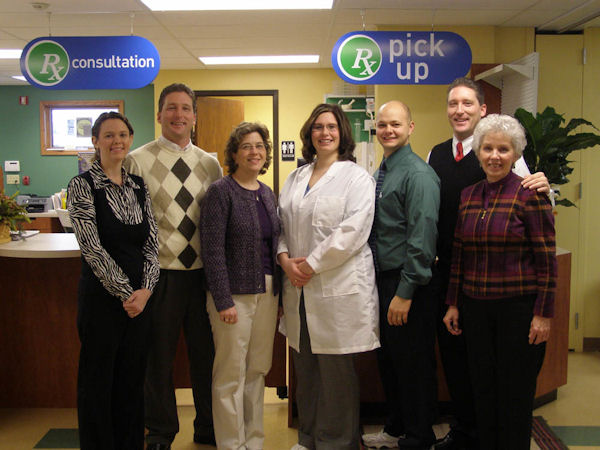 Western Illinois and Henderson County residents can ring in the New Year by celebrating economic development and increased modern healthcare conveniences with the opening of the new, state of the art Brent Family Pharmacy in Stronghurst.
Just three short years ago Henderson County residents had to travel out of the County or out of State for prescription and pharmacy services.
With this month's opening of Brent Family Pharmacy's second location in Stronghurst, Western IL residents can enjoy the convenience and service of Brent Family Pharmacy's two locations in Oquawka and Stronghurst.
Brent Family Pharmacy is truly a family affair. It is owned and operated by siblings Natalie Blindt, twin brothers Lonnie and Rodney Brent, and their spouses. Their parents were both educators in local school systems for over thirty years. You also may have known their belated grandparents, Forrest "Frosty" and Anna Brent or Archie and Eileen Morris. If you have not had a chance to meet any of the four Brent pharmacists, you will quickly find out they thoroughly enjoy the way of life in Rural, West Central Illinois and they are actively involved in the local schools and youth programs.
A natural question for many people is how can a pharmacy survive in a small, rural community? When you visit one of the pharmacies you will quickly find out the magic ingredients are the combination of good old fashioned customer service and the utilization of modern technology.
"Providing personal customer service, fair prices, and convenience services are at the core of what we do everyday", said Natalie, pharmacy manager.
The Brents opened their first location in Oquawka in January of 2008.
"Prior to opening the doors in 2008, Rodney and Lonnie had put years of research into trying to determine if our community could support a pharmacy. Their analytics suggested it could be done if we followed three philosophies: fair prices, unique conveniences, and a level of customer service only a family operated business can offer", stated Natalie.
Brent Family Pharmacy uses the largest drug wholesaler in the world and belongs to a buying group which allows them to purchase drugs at the same prices large corporate chains do.
"Using modern technology we try to make sure we price our prescriptions fairly, which we equate to prices less than large corporate pharmacies" said Rodney.
"What we found out when we opened in Oquawka is the big boys are great at bait and switch schemes like charging you $4 for a drug on their list, but then charging you an exorbitant price for a drug not on their list to make up the difference plus some.
Ultimately, we were able to save a lot of people a lot of money and it did not take long for word of mouth to spread about our fair prices and convenient services."
The unique services Natalie and Rodney mention include FREE delivery to your door anywhere in West Central Illinois, House Charge Accounts for Families and Care Providers, a Senior Citizen discount on non-Rx items, and Free Drug Cost Analysis.
Natalie was quick to state, "We are in the business of helping people with their prescription challenges and as a small, nimble, family owned business we try to offer solutions the corporate giants will not consider."
For the past three years the Oquawka location has thrived. The combination of fair prices and unique services has allowed the family owned business to serve customers from Mercer, Warren, Knox, McDonough, Hancock, and Henderson counties.
Lonnie said, "The patronage from Western Illinois and especially Henderson County residents has been both exciting and appreciated.
"We are very thankful for the support and cooperation of the Henderson County Economic Development team, the Eagle View Community Health Systems team, and many other local health care leaders who have played roles in the process of getting where we are today.
"The efforts and support of many in our community have helped us build our business while improving access to healthcare and providing the economic development benefits of nine new jobs and additional tax base."
As the Brent's pharmacy business has evolved they have recognized their location in the North side of Henderson County made them convenient for residents of Warren, Mercer, and the North End of Henderson County, but a location in the South end of Henderson county would make it much more convenient for potential customers in Hancock, McDonough, and additional Henderson County residents. Early in 2010 the Brent's began evaluating how to open a pharmacy location in Stronghurst. At the same time, Eagle View Community Health System was looking at expanding their building size at their Stronghurst location and agreed to lease space to the Brent's to operate a pharmacy.
Every since the Spring of 2010 the Brent's have been working on the licensing process for opening their location in Stronghurst.
"Acquiring a license for a new pharmacy is a very extensive process and involves both State and Federal agencies including the State Board of Pharmacy and the DEA.
"The fact the Stronghurst location would be the first pharmacy in the state to incorporate modern technology with the capability of providing remote, tele-pharmacy services added to the process.
"Ultimately, we were thrilled to receive all of our licensures and to be opening in Stronghurst this Holiday Season", said Natalie.
"Practicing my profession in the community I grew up in is quite rewarding and the added excitement of being one of the first few pharmacies in America to utilize this technology is a tremendous accomplishment for our community."
The Stronghurst pharmacy has certified pharmacy technicians on location to greet customers and manage the prescription process.
The customer experience at the Stronghurst location will be like any other pharmacy, but will have the added benefit of speaking with a pharmacist each time a prescription is picked up.
As a patient you pick up the phone hand set and you are front and center on the video having a live discussion with your pharmacist.
This technology allows for every customer to talk to their pharmacist which is something the Brent's pride themselves on.
Rodney stated, "In many busy retail pharmacies today you may not see the pharmacist, let alone have the chance to speak with them live.
"We pride ourselves on having a personal, first name relationship with our customers so we can be sure they are getting the care they need from our pharmacist. This technology truly makes this relationship possible in a small, rural community."
Brent Family Pharmacy in Stronghurst is located at 101 S. Division adjacent to the patient waiting room of Eagle View Community Health Systems.
Customers do not have to be a patient of Eagle View to utilize the pharmacy; however, the added convenience of being able to see a Doctor or Dentist and then having your prescription filled in the same location will be advantageous for many.
Most common questions are about insurance and how to transfer their prescriptions but the pharmacy accept all major insurances and if a customer has an insurance card, their co-pay should be the same at Brent's as anywhere else. Natalie said, "If they don't have insurance, our pharmacy staff will help customers research the best discount programs in the market for each patient."
Brent Family Pharmacy administers a prescription program for Eagle View patients who qualify. Transferring your prescriptions is easy. Call the pharmacy at (309) 924-2300 or stop by with your prescription bottles or information and the pharmacy team will do the rest.
---