The Hancock-Henderson Quill, Inc.

---
Meet Your Neighbor
by Peggy Villwock-The Quill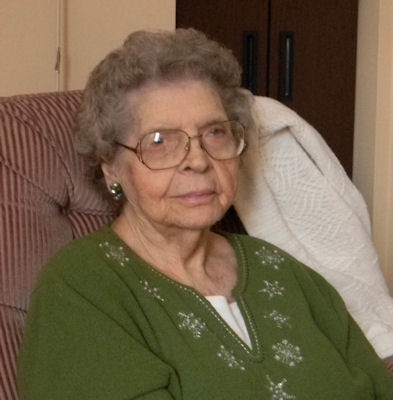 Meet Your Neighbor Laura DeHaven, a long-time resident of La Harpe. Before coming to La Harpe, she lived in Moline, Davenport, IA, Florida and Wisconsin.
Laura was born in Green Grove, Wisconsin November 6, 1914 to Anna and Claus Hyberg.
Her mother came to the United States from Sweden when she was 5 years old. Her father came to the Moline area from Sweden when he was twenty years old.
Laura had five brothers: Harlan, Raymond, Clifford, Ingner and Edwin. Claus worked in a furniture-making factory until he lost his fingers in an accident, so he moved his family to Wisconsin where he purchased the dairy farm that Laura was raised on.
They had 40 cows and sold the milk to a cheese-making factory. Laura attended schools in Green Grove and graduated from Greenwood High school. Her favorite memory is when her father took her shopping for a dress for her 8th grade graduation; there were two dresses-one for $5 and one for $2. She told her father to buy the one for $2 because they could not afford the other one but her father insisted she get the $5 dress, and she had the prettiest dress in the whole class!!
When her family lost her father, her mother moved her family to the Moline area where she bought a restaurant, which she operated for 20 years. Her mother won a $5000.00 prize from House of Pancakes for her Swedish pancake recipe.
Laura worked for her mother for awhile before traveling to Florida to work in a department store. She was a supervisor and on occasion had chances for discounts which she used to buy dresses for her friend's two small girls. The girls have never forgotten her kindness and often write to her and send her flowers for her birthday and other holidays. She is very happy that they still remember her.
When she returned to Illinois, she bought her own restaurant where she did most of the cooking.
For a time, she owned and operated a restaurant in Davenport, IA, before moving back to Moline to operate another restaurant. She ran that restaurant for ten years.
She married James Bell, in 1935 when she was 20 and they were married for 24 years. They met at the barbershop that he owned when she went there to get her hair cut.
In 1969, she married Sport DeHaven and moved to La Harpe with him when he retired.
Her 5 brothers has given her 12 nieces and nephews of whom she is very proud of.
She even sponsored one niece and nephew with their schooling when they lost their parents. She is very proud of what they have been able to accomplish.
Laura is retired, and says her favorite hobby was cooking. She enjoys visits from friends and family, as well as receiving cards and flowers.
Laura is a member of the La Harpe Christian Church and enjoys the Bible studies she is able to attend
---