The Hancock-Henderson Quill, Inc.

---
Meet Your Neighbor
by Dessa Rodeffer-Quill Publisher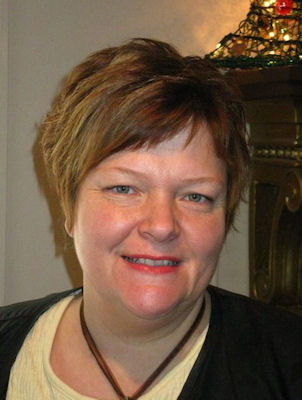 Toni Boehm is employed at the La Harpe Davier Care Center and also owns Bella Donna Beauty Shop at 398 W. 3rd, along the highway in Dallas City, her hometown.
She was born and grew up in Kankakee, the daughter of Ted Knapp and the late Bette Wetteland of the Chicago area.
Her grandfather (Ted's dad) was a Ft. Madison, Iowa, policeman and worked at the Iowa State Penitentiary.
Toni graduated with a GED, took business courses at Carl Sandburg Junior College in Carthage and received certification in cosmetology, in 2006, at Bill Hills Beauty Academy in Ft. Madison, Iowa.
She said, "I always wanted to do cosmetology and chose Dallas City due to it being the center of everything."
Being employed by the care center she also is a cook/dietary aid and for the last four years fixes the residents hair.
"Making people feel good is like having a slumber party, it's just fun and its my artistic outlet. Sometimes I think I'm a psychiatrist or a therapist because when people leave they say, "I just feel great' and it also gives me a good feeling."
Toni really enjoys working at the health center, the staff is so nice and a lot of my clients, from the shop, are now at the center and she said she can always use the extra money.
She said, "the key is loving what you do."
Toni has 8 children, Jadi (30), Jene` (28), Lauren (25), Timothy (24), Raina (21), Charlie (18), Fred, (14), a 9th grader at Illini West (14), Breanna (11), in 6th grade at Dallas City Elementary.
Raina has a daughter, Sophia. Raina who helps at home and works at Casey's in Dallas City.
Toni is also raising 3 grandchildren, Juniper, Weslee, and Rosie Stricklen. All attend Dallas City schools.
Toni said, "As a single mom, you credit older siblings as being a help. Everyone pitches in. Taking part in the daily process of running a family is good for kids and we have lot of fun too."
The kids are all artistic and musical. One daughter, Lauren, has signed with Super Nova Records in Nashville, Tennessee; an all girl punk rock band called "Thelma and the Sleaze". She is on the Internet.
Jene` is the manager of Zale's at Westland Mall, Des Moines, Iowa; Tim is manager of a Burger King in Des Moines, Iowa; and Charlie is a musician that writes and plays music who desires to follow in his sister's footsteps.
Toni is a Girl Scout leader for three groups, Daisies, Brownies and Cadets. She loves working with the kids. The junior leader is Kathy Nelson and they said they can always use more help!
Toni enjoys Barb Wardlow of "Top Hatters" who has a dance studio and teaches kids of all ages along with exercise. She uses the gymnasium of Grace Bible Church. Weslee, Rosie, Juniper and Breanna all do dance with Barb. Toni does ballroom. boomba, salsa, aerobics and exercise. "It's great fun and very good for you. We have a blast. Come out and join us."
She really enjoys work, dance, shopping, being at home and playing with the kids.
Toni has a huge garden of vegetables and flowers.
"We are still digging up potatoes and getting sugar babies watermelons.
"We don't have Cable TV, as there's too much life to enjoy out there."
---