The Hancock-Henderson Quill, Inc.

---
Meet Your Neighbor
by Susan Galbraith, Quill Reporter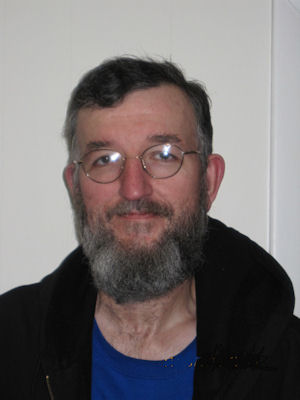 ERIC CHOCKLEY
Meet your neighbor Eric Chockley, Stronghurst Mayor.
Eric has been an engineer for BNSF (Burlington Northern Santa Fe) Railroad for 20 years and previously was a diesel mechanic for 5 years for BNSF.
He was born in Quincy and moved to Stronghurst when he was 11 years of age.
In 1982 he graduated from Southern High School and went on to receive his associate degree from Spoon River College in Canton.
His wife, Peggy, of 26 years is a phlebotomist at Great River Medical Center in West Burlington, Iowa.
They have two sons, Abe (22), a conductor for BNSF and Andy (21) who has completed his associates degree and is a laborer for BNSF. Andy's new bride is Lauren, a nurse at Great River Medical Center. Abe is engaged to Laura Genebacher.
His parents are Richard and Sharon Chockley of Stronghurst who are retired.
Eric has one sister, Sharie (Bob) Harden of rural Stronghurst. Bob is a machinist for BNSF and Sharie is a nurse practitioner and midwife at Macomb Hospital.
He and Peggy attend the Stronghurst Christian Church.
In his spare time he and his sons restore antique automobiles. Eric presently has a 1915 Model T Ford and a 1965 Mustang.
The entire family is involved at Old Threshers in Mt. Peasant, Iowa. Eric has a 1/2 scale 65 HP Case steam engine he displays and has been a member of the Midwest Central Railroad for 26 years.
Stronghurst selected Eric as their mayor in 2001 and he will have been the mayor of Stronghurst now for 10 years in April 2011.
When asked what he enjoyed most about being the mayor of a small town he replied, "I want to keep Stronghurst the same great place that I grew up in. I try to help people.
"In fact," Eric said, "I am very proud of the fact that I was able to help bring a $1 million housing development grant (Urban Development) to Stronghurst and help to refurbished 25 houses. That was 3 years in the making but was well worth the time and effort."
Eric has also helped with many other projects including getting the town's own police protection and major improvements at the Stronghurst Park.
---