The Hancock-Henderson Quill, Inc.

---
A Tale Of Two Countries
(Or, How Glenn Fort, SHS Class of 1964, Ended Up Living In Germany)
-by Glenn Fort, Special For The Quill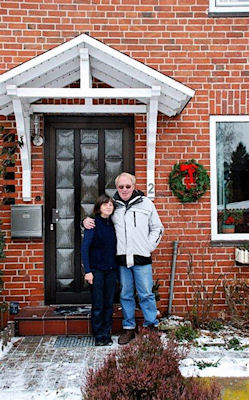 My life has been marked with a number of major turning points. As will be seen, if any one of them had been different, the course of my life would have been changed.
The first turning point occurred in late October 1963 during the football game with LaHarpe. I was going downfield on punt coverage when I was hit from behind. My left knee went south and the rest of me went north. There was serious ligament and tendon damage to the knee, so much so that was no way that I could play football ever again. That also meant that my two football scholarship opportunities at Monmouth College and Western Illinois were gone.
So, thought I, it is time to become a better student or else. With the help of my then girlfriend and still good friend, Lorraine Pearson Light, and with the help of some very dedicated teachers, I became a good student, making the National Honor Society on the last of day of school, 1964.
Since we had absolutely no money for college, my twin brother, Grady, and I went with our mother to Sacramento, CA where we could attend a junior college for practically nothing. I continued being a good student and was rewarded for my work by a full scholarship to the University of California, Davis in 1966. I graduated from UC Davis in 1968 with High Honors and an admission to the Boalt Hall School Law at UC Berkeley. Boalt Hall was and is considered one of the better law schools in the country, so my future seemed pretty rosy at this point.
Boalt Hall was not to be, however, for on the very same day that I received my UC Davis diploma in the mail, I also received my Draft Notice. 1968 was the year they ended graduate school deferments from the Draft except for medical and dental schools. So, my brother was off to Medical School at UC San Francisco and I was off to the Army. This was the second major turning point in my life. At the time it seemed to be one of the worst things that could have happened to me. As you will see later, it turned out to be one of the very best things.
I signed up for Infantry Officer Candidate School and was sent to Fort Ord, California for Basic Training and Advanced Individual Training (AIT). I thought my next stop would be Fort Benning, GA for OCS. Such was not to be for the Army had somehow screwed up my records and I ended being sent to Fort Belvoir, VA for Engineer OCS.
This was a third turning point in my life. Had I had gone to Fort Benning, I would have been in Vietnam in about a year and who knows what would have happened to me. As it turned out, I did well enough at Fort Belvoir to pick the branch of service in which I was to be commissioned as a second lieutenant. I chose the Ordnance Corps and to be an Explosive Ordnance Disposal (EOD) unit commander. I chose EOD because it offered 10 months of training in the US in conventional, chemical, and nuclear weapons disarming and disposal training and a guaranteed three years at the duty station of my choice. I did the math and computed that I would not be sent to Vietnam for at least four years (by this point one my best friends and mentor, Don Issacson, had been killed in Vietnam and I had lost all desire to go there to fight a war which made no sense whatsoever).
Thus occurs the fourth major turning point in my life when I choose to go to Germany. To this day I am not sure why I chose Germany over every other place I could have gone, except that I had never been out of the country and Germany seemed like good place to start my international travels.
I was placed in command of an EOD unit in Cologne, Germany in June of 1970. There was all of 40 GI's in Cologne, a city of over a million persons. There were two other officers in Cologne, both of them married. There was no Army housing available for unmarried officers. This meant that I would have life off post, eat off post, and date German girls if I wanted any social life whatsoever. I did manage to do all three and in the course of all this, met Eva Piepenbrink, my roommate's girlfriend.
Eva and I dated during the summer of 1971 when my roommate was in Texas getting his Master's degree. When my roommate returned to Cologne, we stopped dating. I received orders to command an EOD unit in Vicenza, Italy in early 1972. I saw Eva one more time before I left and I realized that she would be the only person I would really miss. I moved to Vicenza in March of 1972. I returned to Cologne in June and Eva and I got engaged the second evening I was there.
Eva moved to Vicenza in November of 1972. We thought we would be married shortly thereafter. But, due to the combined inefficiencies of the US Army, Italian Government, and the German Government, we did not get married until June of 1973.
In the interim, the fifth major turning point of my life occurred in late May, 1973 when I fell 50 feet off the side of a mountain on a demolition range. I broke my back in five places and punctured a lung. By the saving grace of God, I survived the fall and after two weeks of hospitalization and six weeks of convalescent leave, I returned to my unit. The time off gave me a chance to think about how we should spend the rest of our lives and I realized that I really did not want a career as an Army officer (way too many moves and I had already used up 8.9 of my 9 lives).
I should also mention that during this time, Dessa Bell Rodeffer, the current editor of the Quill, wrote me a letter every day with words of faith and encouragement. We became life long friends after that. I was honorably discharged from the Army on February 8, 1974
I will never regret the 5 years I spent in the Army. I entered the Army a disorganized, last minute planning person with very little leadership experience.
I left the Army as a very organized, plan ahead person with 4 years of leadership experience, some of it in life and death situations.
The Army also gave me a chance to visit many cities and countries I would never have dreamed of seeing.
EOD personnel were assigned to Secret Service units to provide bomb disposal ability during visits overseas by the President and other high ranking officials. I was with President Nixon in London, Mrs. Agnew in Salzburg and Vienna, and Secretary Kissinger in Saudi Arabia. I met and married the love of my life while in the Army and we have been married for 37 years. All in all, I have no regrets whatsoever.
I started the University of the Pacific, McGeorge School of Law in September of 1974 and graduated in May of 1977. I passed the Bar Exam in December of 1977 and began practicing law. I had a wide variety of legal and management opportunities during the next 33 years and I eventually ended up with an estate and financial planning practice with over 1,500 clients.
Many other turning points occurred during this 33 year period, the most of important of which was the birth of our daughter, Christine, in 1979. Christine has been a blessing to Eva and I each an every day of her life. She graduated summa cum laude, phi beta kappa from UC Berkeley (there is that school again) in 2001 and received her MA from St. Mary's, Moraga, CA, in 2004. She now works as a paralegal in Boston, MA. That is quite fortunate for us because over the years I have become a die-hard Red Sox fan. She is also a nationally ranked amateur cyclist in her spare time.
Still another, and perhaps most life changing, turning point occurred in January 1989 when Eva, Christine, and I started to attend St. Peter's Lutheran Church in Elk Grove, CA. Shortly after we started attending, the Junior Pastor convinced me to take the two year Bethel Bible Teachers Course.
He promised a "life transforming experience" and, indeed, it was. Eva and I both became very active in the church and I was blessed enough to help in the creation of St. Peter's Lutheran School in 1994. We still remain committed Christians to this date.
About three years ago, Eva and I started thinking about where we wished to live in our retirement years.
California was out of the question due to high property taxes, high state income taxes, high sales taxes, and a state government that was, as is, totally out of control.
We considered living on the East Coast to be closer to Christine but again we ran into the problem of high property taxes, etc. We then started thinking about living in Germany.
Over the years we had made many, many return trips to Germany and I had become quite close with Eva's family. In fact, her family more or less adopted me, a small town boy from Illinois and former GI.
We looked at all relevant factors and decided that Germany would be the best choice for us.
Property taxes are ridiculously low (about $180 a year), there is no income tax to speak of, there is a sales tax but it varies per type of item.
Admittedly, gas is much more is expensive, but everything else, especially food, is much cheaper. The public transportation system is without equal. Most importantly, we would be living close to Eva's family and Eva's mother could then move to the Hamburg area and live with us.
Well, Quill readers, it all has happened. We now own a three story townhouse in Norderstedt, Germany, a city of about 70,000 persons just north of Hamburg. Eva's mother is living with us and life is very, very good. We have joined a small church about 900 meters from our home. We take our Beagle hound, Anakin the Invader, for at least two walks a day through the neighborhoods and surrounding corn and wheat fields. We have made new friends and, yes, my German is improving every day. I am even getting used to the Hamburg area weather, which is a lot like Illinois weather.
We have a designated guest bedroom for any of you all (I had to say that) who wish to visit. Until then, auf Wiedersehen!
---