The Hancock-Henderson Quill, Inc.

---
Take "The Quill" Along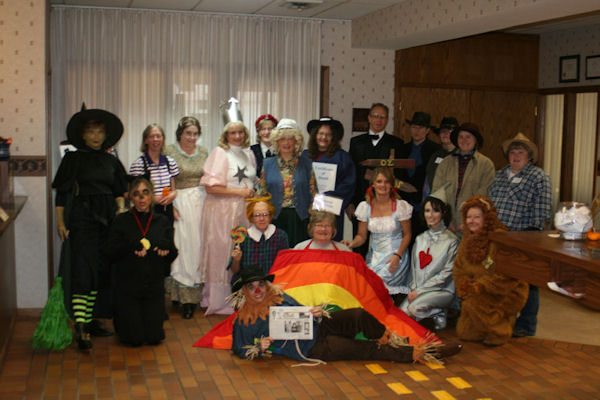 "The Quill" traveled to the land of Oz Friday, October 29, 2010, but Toto was not in Kansas but in La Harpe at the First State Bank of Illinois. Employees were dressed as characters from the Wizard of Oz and the lobby became a little Kansas and a little Oz, complete with a Yellow Brick Road.
(Back left) The Wicked Witch - Jeanette Ford; Munchkin - Denise Thompson, Auntie Em - Barb Duffie, Glenda the Good Witch - Anna James, Professor Marvel - Betty Jo McConnell, Munchkin - Jodelle Hallowell, The Coroner of Oz - Tracy McDowell, The Wizard - Andy Bastert, Elmira Gulch - Jenni Little, Hunk, Hickory, and Zeke (the farm hands) - Lana Herron, Tara Torrence, Laura Classen;
(middle left)Toto - Amy Palmer, Lollipop Guild - Jackie Terrell, Somewhere over the Rainbow - Becky Cramer, Dorothy - Theresa Purdy, Tin Man - Kasey Livingston, Lion - Teresa Cox,
(front) Scarecrow - Melanie Douglas; (not pictured) Uncle Henry - Ben Powell. (Fun Fact: the only two La Harpe's in the U.S. are La Harpe, Illinois and La Harpe, Kansas.)
When you go on a trip, take "The Quill" along and have your picture taken with it, then send it to us. Let's see where all "The Quill" can travel.
---