The Hancock-Henderson Quill, Inc.

---
Meet Your Neighbor
by Nancy Lionberger, The Quill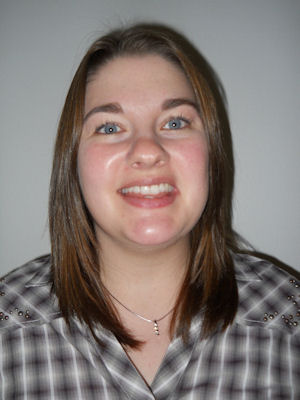 Jaime DeCrane
Meet your neighbor Jaime DeCrane from the Stronghurst area.
Jaime and her husband, Adam, have one son, Colten Anthony who will turn two on January 5.
She has been the secretary of the La Harpe Christian Church for six months. Her job consists of a wide range of duties-producing the newsletter, "The E-Light", and bulletins each week, ordering supplies and any other projects she is called upon to complete.
Prior to working for the church, she worked in the banking industry for six years both locally and when she lived on the East Coast.
Adam, who is originally from Abingdon, is a security supervisor at Catfish Bend Casino in Burlington, IA.
Jaime was born February 7, 1981 in Macomb. Her parents are Karen (Steve) Henry of Stronghurst, who are recently retired, and Mitchell (Elaine) Cortelyou of rural Raritan.
Her father, Mitchell, is a rural mail carrier and a full-time farmer in the Blandinsville area.
Her grandparents are the late Mary Ellen and Lowell Cortelyou of Raritan and the late Wendell and Lucille Lefler of Blandinsville.
She has an older brother Anthony, who passed away in 1984, a sister Lori (Jeremy) and one nephew, Will, who live in West Des Moines, IA.
Jaime's in-laws are Dennis and Debra DeCrane from Abingdon. Dennis works for Yemm Chevrolet in Galesburg and Debra works at Knox College.
In 1999, Jaime graduated from Southern High School and then attended Monmouth College. In 2003, she completed a degree in Public Relations with a concentration in English.
She met her husband at college, and they were married in 2004. As a new couple, they lived far away with Adam being stationed with the U. S. Marines at Camp Lejeune in Jacksonville, North Carolina.
There were there about a year and it was one of Jaime's favorite areas to live.
Stafford, Virginia, south of Washington DC, was their next home, where Adam was stationed at Marine Corps Base Quantico for three and a half years. They have been back home a year and a half.
Jaime has a dog named "Haley" and also likes cats. She very much enjoys spending time with her family, especially her son Colten.
Her son was due December 25th and arrived January 5th while her nephew, Will was due January 20th and decided to make an earlier appearance on December 26th, the cousins being ten days apart. Her mother, Karen, was visiting Jaime in Virginia awaiting Colten's arrival while sister Lori was giving birth to Will back in Iowa.
Jaime is a pleasant and friendly young lady to meet. She stated, "We are so glad to be close to family again!"
---