The Hancock-Henderson Quill, Inc.

---
Gharst, Sutton take Sprint Invader wins at 34 Raceway's Night of the Twins
By Dana Royer/34 Raceway, Dessa Rodeffer/The Quill
W.Burlington, IA- It was double the features, double the excitement, double the fun at Burlington's 34 Raceway and a fan pleaser as Dirt, Dust and Speed presented Night of the Twins and Brian Hetrick Tribute Saturday night August 21.
The Sprint Invaders with their larger 360 engines were in action with not one, but two feature events as well as the IMCA Modifieds and the Mod Lites.
Kevin Hetrick was a guest flagman during the Brian Hetrick Tribute which honored his brother who raced a #35 Sprint ten years at 34 Raceway until he tragically died in a motorcycle accident (8/18/08) a week prior to his championship race where he was the points leader.
With Kevin waving the checkered flags, Invaders point leader Kaley Gharst of Decatur, took his 4th feature win of the season.
Later, in the second Sprint Invader Feature, a second Illinois driver, Matt Sutton, of Macomb, drove his #3 under the checkered flag waved by Jim Hetrick also honored as guest flagman for his son's tribute night.
Kalely Gharst (#14p Plath Motorsports/Randy Plath) and Matt Sutton (#3 Grit Motorsports/Gary Sutton) lead the way in points in the 24 pack of Sprint Invader competitors. Gharst has 2715 and Sutton has 2699.
Two Iowa men won the other two races: Jeff Morris, Long Grove (modifieds) and Mike Morrill, Altoona (mod lites).
This Saturday, August 28 at 34 Raceway will be Olson Brothers Custom Shop Season Championship night with point races for the 2010 season to be decided in all five classes. It's Back To School Night with prizes for the TA Auto & Tire Kids Club.
Friday and Saturday, September 17 and 18 will be the 19th Annual Pepsi USA Late Models National, Deery Brothers IMCA Late Model Series Season final. "Who will be the series' point champion and who will win the $10,000 prize?" Jason Frankel took home the top money in 2009.
Sprint Feature # 1
The first feature was lined up per qualifying. Then they would return to the track with the field of cars finishing on the lead lap inverted to start the second feature.
Cars not on the lead lap would then follow.
Kaley Gharst took the lead on lap five of the first twenty lap sprint feature and never looked back taking the checkered flag thrown by guest flagman, Kevin Hetrick.
Russ Hall, would follow to finish second and Dave Hall would take third.
The win was Gharst's 17th win for the year for the Invaders.
Sprint Feature # 2
In Sprint Feature # 2, Jake Blackhurst and John Schulz sat on the front row with Schulz taking the lead when guest flagman, Jim Hetrick, (Brian Hetrick's father) gave the go ahead waving the green flag. Schulz led the field for four laps before Joey Moughan would pass him for the second lead of the race on lap four.
With Moughan in the lead and running into lap traffic by lap seven, Matt Sutton was gaining ground.
Starting from the third row, Sutton moved into the second spot on lap nine and took the lead from Moughan on lap sixteen of the twenty lap race when Moughan got caught up in traffic.
On the final lap of the twenty lap race, Moughan would shoot around Sutton for the lead using the high side heading into turn four.
But Moughan would bobble in four and Sutton would regain a slight lead as they headed to the checkered flag. Sutton took the win by a car length.
34 Raceway 8/21 Results
HOLMES CONCRETE
MOD LITES FEATURE:
1.Mike Morrill, Altoona, IA
2.Greg Rossell, Knoxville, IA
3.Justin Buchholz, Pleasant Hill, IA
4.Shon Sanders, East Moline
5. Joe Huggins, Pleasant Hill, IA
6. Evan Epperson, Muscatine, IA
7. Robert Guss, Moline,
8. James Chesmore, Wapello, IA
9. Jim Neal, Galseburg
10.Michael Dominguez, Lone Tree, IA
11.Andrew Smith, Kirkwood
12.Todd Thornburg, Mt. Pleasant,IA
13.Blake Woodruff, East Galesburg
14.Todd Cramer, Knoxville
15.Rob Conklin, Davenport, IA
16.Daniel Guss, Milan
17.Alex Headly, Sheffield
18.Josh Woodruff, East Galesburg
19.Eric Hendrickson, Ankeny, IA
HEAT WINNERS: Morrill, Buchholz, Rossell.
MILLER LITE
IMC MODIFIEDS FEATURE
1. Jeff Morris, Long Grove,
2. Scott Hogan, Vinton,
3. Dusty Kraklio, Durant,
4. Brandon Rothzen, Rariran, Il.,
6. Andy Krieger, Burlington,
7. Jeff Waterman, Quincy, Il.,
8. Adam Birck, Canton, Mo.,
9. Dean McGee, Galesburg, Il.,
10. Kevin Goben, Sherrard, Il.,
11. Brandon Savage, Keokuk,
12. Mike Weikert, Jr., Muscatine,
13. Tyler VandeKamp, Ankeny,
14. Dustin Crear, Mediapolis,
15. Norm Brakeville, Little York, Il.,
16. Jamie Smith, Monmouth, Il.,
17. Dustan Fenton, Burlington,
18. Rich Smith, Davenport,
19. Darin Thye, Burlington,
20. Derek Hamm, Donnellson,
21. Chris Horn, Cedar Rapids.
HEAT WINNERS: LaVeine, Kraklio, Morris.
IDEAL READY MIX SPRINT INVADERS FEATURE #1
1. Kaley Gharst, Decatur, Il.,
2. Russ Hall, Pleasant Hill,
3. Dave Hall, Des Moines,
4. Ben Wagoner, Emden, Il.,
5. Jarrod Schneierman, West Burlington,
6. Dennis Moore, Jr.,
7. Jayson Ditsworth, Gladstone, Il.,
8. Ryan Jamison, Mediapolis,
9. Joe Beavers, Knoxville,
10. Matt Sutton, Macomb, Il.,
11. Joey Moughan, Springfield, Il.,
12. Matt Harms, Chillichothe, Il.,
13. Andy Huston, Roseville, Il.,
4. John Schulz, West Burlington,
5. Jake Blackhurst, Galesburg,Il.,
16. Seth Wilke, Burlington,
17. Max Pozsgai, Lincoln, Il,
18. Donnie Steward, West Burlington,
19. Jimmy Davies, Oquawka, Il.,
20. Bart Andrews, Muscatine.
IDEAL READY MIX SPRINT INVADERS FEATURE #2
1. Matt Sutton,
2. Joey Moughan,
3. Ryan Jamison,
4. Kaley Gharst,
5. John Schulz,
6. Dave Hall,
7. Ben Wagoner,
8. Jarrod Schneiderman,
9. Russ Hall,
10. Matt Harms,
11. Joe Beavers,
12. Jimmy Davies,
13. Jake Blackhurst,
14. Dennis Moore, Jr.,
15. Jayson Ditsworth, Gladstone
16. Andy Huston, Roseville
17. Seth Wilke, Burlington, IA
18. Bart Andrews,
19. Max Pozsgai,
20. Donnie Steward.
SPRINT HEAT WINNERS:
Gharst, Hall, Steward.
B-Main: Jake Blackhurst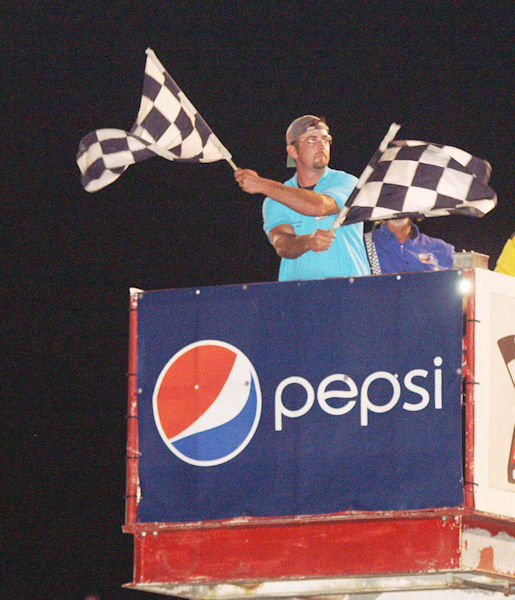 Guest flagman, Kevin Hetrick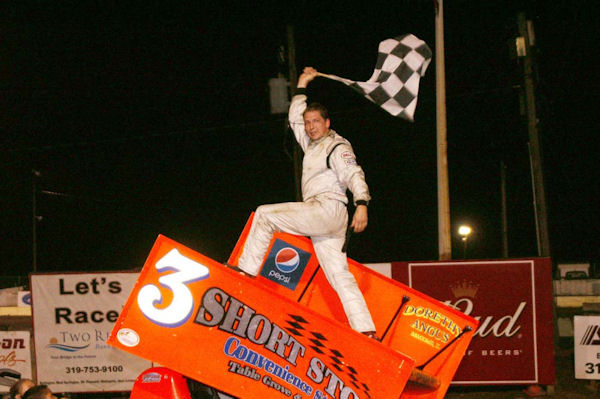 Matt Sutton, Macomb, second in points in the Sprint Invaders, celebrates his Feature win at 34 Raceway Saturday night.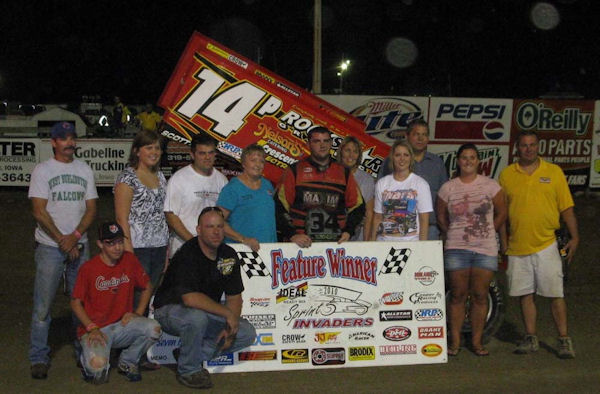 Randy and Lori Plath, Burlington, and daughter Kim, Iowa City, IA, all formerly of Stronghurst were at 34 Raceways Saturday to see driver Kaley Gharst race their #14 Sprint car past the checkered flags to win the Brian Hetrick Tribute Feature Saturday. Kaley is point leader in the 36 member Sprint Invaders race with 4 races remaining. They stand with their pit crew headed by Nick Brewer of Gladstone, friends and Jeff Laue, an owner of 34 Raceway.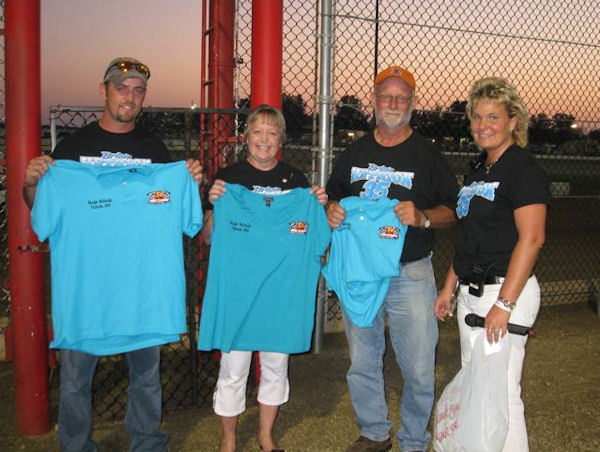 34 Raceway track owner Amy Laue (right) interviews Kevin, Joyce and Jim Hetrick after presenting them shirts in a tribute to their son Brian, prior to the Feature races.
---