The Hancock-Henderson Quill, Inc.

---
Meet Your Neighbor
by Susan Galbraith, Quill Reporter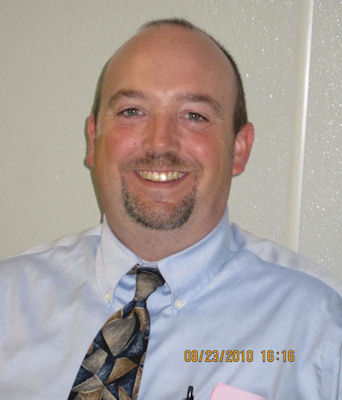 Meet Your Neighbor Jonathan Bradburn, the new principal at West Central High School.
Jonathan and his wife, Denise, live in Galesburg where Denise is the director of a community pre-school for 3 and 4 year olds at the Galesburg United Methodist Church.
He and his bride celebrated their 16th anniversary in July. They have a daughter, Hannah (13), a student at Lombard Middle School and a son, Luke, (9), a student at King Elementary in Galesburg.
Jon's parents, Bill and Ann Bradburn, are retired and live in Pekin. Bill is retired from Commonwealth Edison and Ann is a homemaker.
Jonathan has one sister, Amy (Rick) Brayford who also live in Pekin with their son, Logan, a kindergartener. Amy is a stylist and Rich is a subcontractor for Caterpillar.
Jonathan was born in Spirit Lake, Iowa, and raised in Pekin.
In 1988 Jon graduated from Pekin High School. In 1993 he received his bachelor's degree, in education, from Western Illinois University, Macomb, and in 2010 received his master's degree in educational leadership from WIU.
He was employed at Peoria District #150 school district where he taught 6th and 7th grade and was district level assessment consultant for all grade levels.
Prior to that he was a contractual instructor at Henry Hill Correctional Center where he was the director of the computer technical certification program. Before that Jonathan was director of the Carl Sandburg Center for Agricultural Business and Industry (CABI).
For the past 6 years he has been involved in Upward Bound, a program through Carl Sandburg College. He said, "The program is for students that are the first generation to go to college". Each summer he takes students to different parts of the states to expand the student's horizons.
Both he and Denise are involved in United Way. He is a member of the Illinois Principals Association, has coached youth T-ball and the Cal Ripken baseball program.
He has special memories of a trip, when he was 11 years of age, going with his family to the World Trade Center, in New York, when his uncle took them for dinner. "Since 9/11 that has much more meaning to me."
When asked what he was looking forward to in his new position at West Central he said, "I am thrilled to be working with students, teachers and getting to know the families of the students. I want the students to enjoy their high school career and have fun at the same time."
---