The Hancock-Henderson Quill, Inc.

---
Magical Night On The Ridge
by Dessa Rodeffer, The Quill
A magical night in Henderson County on the Ridge in Lomax near Crane Cemetery, hosted by David and Scotti Pittman, brought dreams to life as three fame blues/folk musicians serenaded guests at a private Garden Party Thursday evening.
The trio played and sang folk music, out under the stars on a hot, but perfect night. The feature singer was actor/songwriter Ronny Cox, who got his first big break in the movie "Deliverance,' a 1972 American thriller film with principal cast members Jon Voight and Burt Reynolds.
In Deliverance, Cox played dueling banjos. He also played in TAPS with Tom Cruise, in Robo Cop, was captain on Star Trek in two episodes, has played the U.S. President in two films, been in TV episodes and specials, and numerous movies throughout his career.
What most people have not known, is his music career and his love for performing folk music for live audiences.
Cox was accompanied by two fame international musicans, Radoslav Lorkovic, Jr. of Iowa City, a frequent guest at "The Ridge" and Karen Mal, of Austin, Texas, who tours as a solo singer-songwriter or as a sideman for others on mandolin, guitar, and harmony vocals.
Radoslav and Karen have their own successful solo careers and recordings. Karen has album releases including celtic folk "Dark-Eyed Sailor" where the single won her the Celtic Radio Music Award as the best song in 2006.
She also has a slew of awards from many festivals and events she takes in during her ambitious schedule.
Her crystalline voice sings opera but her albums are in gentle folk with recordings including CD Album release of Modern folk: "Mercury's Wings" cut in 2002 with popular songs "Imagination",
"Never Any Flowers,
"Mercury's Wings" and "Take A Drive," and in late 2007 release of "The Space Between," reaching #6 on the Folk DJ Chart in November.
On her "Dark-Eyed Sailor" album it notes: "Largely known as a fine American singer-songwriter and excellent mandolinist, Karen Mal on this recording indulges her love of songs largely gleaned from the Irish and English tradition. Her voice is perfectly suited to the delicate Irish-influenced vocal decorations she executes so beautifully on this recording."
The evening's music could only be described as a wistful sentimental longing for things of the past, with shooting stars, a clear sky and fresh outdoor air from the patio deck of the Pittman's Garden party creating the nostalgia.
The down-home friendliness shared by the trio were a perfect blend of blues and folk music and story-telling to the more than thirty guests who surrounded them on deck or sat around the patio. Their warmth combined with musical talent brought that down-home feeling of all that is good in America, reminding each of their great heritage and their roots, too often lost in today's busy lives.
Besides the stories told by Ronny Cox, each musican has a fantastic history and story of themselves.
Radoslav, who has cut several albums and travels internationally, tells of his grandparents. His grandmother, Melita Lorkovic (1907-1987) was an internationally known classical pianist. Her successes were tempered by the years shortly after the war [1945] when her husband Radoslav Lorkovic Sr. was shot by Tito's communist regime. Following a devastating period of being thrown out on the street with two children and losing her position at the University [of Zagreb], she survived in a small flat teaching neighborhood kids piano lessons... At a concert in Belgrade Tito himself attended the performance and was so impressed that he went backstage and asked if there were any personal favors he could grant Ms. Lorkovic. Melita responded, "Yes. Could you tell me where you shot my husband?"
Drawing from a multitude of influences ranging from elegant classical and jazz styles to the rawest, most basic blues, country and soul, Radoslav Lorkovic has taken on an unusually broad musical spectrum and refined it into his distinctive piano style. His tenure on the R&B and folk circuits has culminated in five critically acclaimed solo recordings and numerous appearances on the recordings of and performances with artists including Odetta, Jimmy LaFave, Ribbon of Highway Woody Guthrie Tribute, Greg Brown, Richard Shindell, Ellis Paul, Dave Moore, Andy White and Bo Ramsey. His twenty year touring career has led him from the taverns of the upper Mississippi River to the castles of Italy, The Canary Islands, The Yup'ik villages of Alaska and Carnegie Hall.
Born in Zagreb, Croatia in 1958, Lorkovic's initial exposure to music can be attributed to two grandmothers. Antonija Bujas, his maternal Grandmother, sang him Croatian, Slovenian and Czech folk songs since birth. At age one he was reported to be singing back on pitch. By age three he was putting on floor shows for his grandfather and friends. Classical music played in the home constantly. Radoslav moved to the United States at age six. He had a foothold on a classical music career when at age fourteen he was sidetracked by a blues scale that a friend had taught him and began touring at age 20 with Bo Ramsey and the Sliders, having mastered the styles of boogie-woogie greats. Ramsey's influence drove Lorkovic deeper to the core of the blues.
The music of Howlin' Wolf, Muddy Waters and Little Walter shifted Lorkovic's focus to the basics as he began to draw from the styles of Otis Spann and Pinetop Perkins.
Years later Lorkovic and Ramsey joined forces with Greg Brown adding musical authenticity to his deep Iowa Roots. He was simultaneously brushing up on his classical heritage and looking south to the polyrhythmic sounds of Professor Longhair and James Booker. He had picked up Tex-Mex and Zydeco accordion, then in 1990 he made his solo recording debut. Six CDs later, Lorkovic currently tours the world regularly appearing at prestigious events such as the Woody Guthrie Festival, Womad, Winnipeg Folk Festival, Falcon Ridge Folk Festival, Mountain Stage, Prairie Home Companion as well as a litany of Italian castles and villas.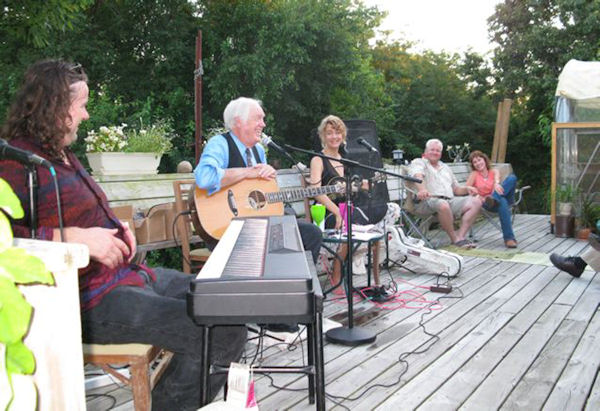 Local guests enjoy a Garden Party at David and Scotti Pittmans outside Lomax Thursday evening. The fame international blues and folk musicians from left are Radoslav Lorkovic, Jr., Ronny Cox, and Karen Mal.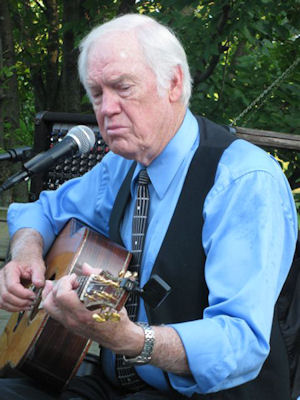 Ronnie Cox entertains at a Garden Party outside Lomax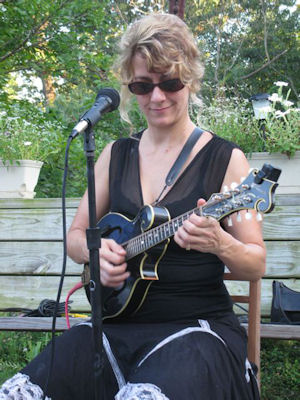 Karen Mal, on the mandolin at the Pittmans, rural Lomax.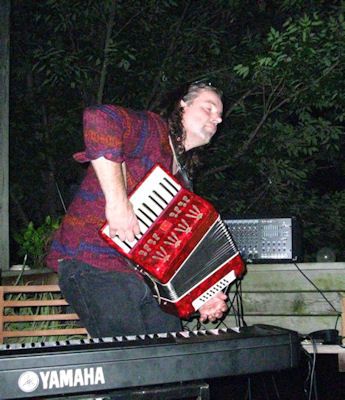 Radoslav Lorkovic, Jr. plays the accordian.
---