The Hancock-Henderson Quill, Inc.

---
4-Lane Funds Approved for West Central School By-Pass
by Macy Davis, The Quill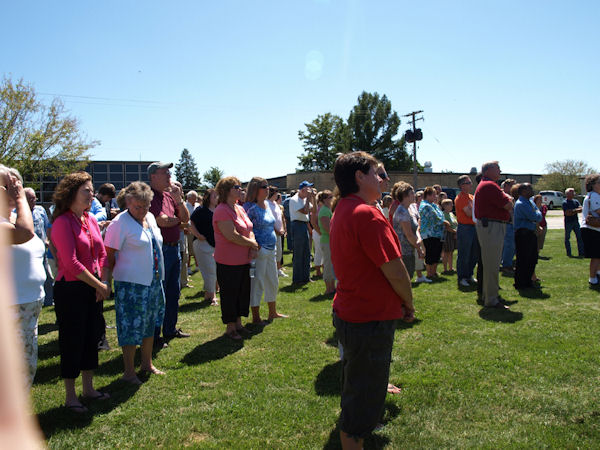 After several years of petitioning for safer travel along Highway 34, the Illinois Department of Transportation Joe Crowe, State Representative Richard P. Myers, and State Senator John Sullivan have finally had the pleasure of announcing plans to construct the US 34 Biggsville Bypass, Monday, August 16 under the West Central Heat marquee.
A large crowd of concerned students and parents and school staff turned out to hear details on the long awaited project. As is, Highway 34 currently sees more than 5,000 vehicles every day, and according to Crowe, 20 percent of those vehicles are semi-trucks. There have been 65 crashes on the stretch of road from Monmouth to Gulfport in the past 3 years, resulting in 16 injuries and 1 death.
Justin Allaman said it best when he announced, "One fatal accident has happened already. We don't want there to be another one. Next time, it could be a student!"
Representative Myers spoke at the conference, as well as Senator Sullivan, Superintendent Grimm, and Joe Crowe, Regional Engineer District 4.
Miriam Rutzen also spoke, reading a moving poem written about the fight for a safer road, stressing urgency for the complete construction of Highway 34 4-lane..
There will be two sections to the bypass with the section in front of the school, the first priority. The safety of this particular stretch of road is being stressed, mainly because of the student organization "34 Voices" and their fellow classmates, who have strongly and consistently voiced their concerns for several years.
Both Sullivan and Myers said their involvement was a significant part of the decision to reconstruct the road in front of the school first.
In explaining further "34 Voices" concerns, Justin Allaman said, "It's dangerous to drive from Henderson County or even Monmouth to Burlington, IA," and "even small accidents can back up traffic for miles. And when school gets out, the road gets more and more crowded with cars trying to get out of the school parking lot, sometimes making it hard to see oncoming traffic."
Student Mary Brokaw recalls a time in class when a serious collision occurred directly outside the school.
"All of a sudden there was a loud crash and sirens. We had no idea what had happened." She says that she is very excited to finally see progress being made and that soon there won't be as much worry when driving home or to Burlington.
"Right now it's very hectic coming and going, you're putting your life at risk just trying to pull out of the school." Soon that risk will be lowered dramatically.
No construction has begun on the new bypass, but it is, however, in the preparation stage of design, and then land acquisition. The cost of the now fully funded 4.7 mile bypass will be approximately $60 million.
If all goes well, the project may be completed by November of 2014. All in all, the US 34 Biggsville Bypass will be a road everyone will be glad to see finished.
---