The Hancock-Henderson Quill, Inc.

---
Meet Your Neighbor
by Misty Huston, Quill Reporter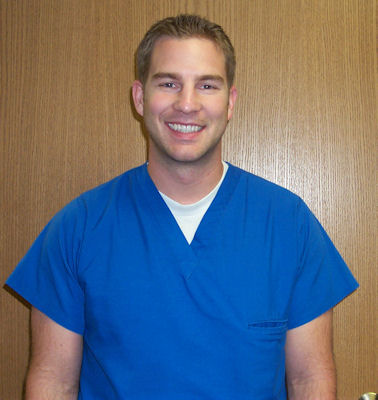 Meet Your Neighbor, Rob Anderson who resides in Burlington, Iowa.
Rob is currently employed at Eagle View Community Health Systems, in Stronghurst, as the new dentist.
He was born and raised in Salem, Utah. He graduated from Spanish Fork High School in Utah and Utah Valley University, where he earned his Bachelor of Science Degree. He then went on to A.T. Still University, Arizona School of Dentistry In Oral Health where he earned his Doctorate of Dental Medicine (DMD).
Rob has been happily married to Diana, a native of Colombia, for seven years. She is a full time mother and recently started teaching Zumba classes at the YMCA in Burlington, Iowa.
They have three children, Arianna (5), Rachel (3) and Beckam (9 months).
They met while in college, where they both were attending classes and teaching foreign languages. Rob was teaching Bulgarian and Diana was teaching Spanish.
Rob went to Diana and asked her to give him private Spanish lessons one day and she agreed. He says, "I used it for my pick up line but, I truly had wanted to learn Spanish all my life".
As he learned her native language, their relationship grew and they started using it more and more. Now they speak strictly Spanish at home and have taught it to their children as well. However, their children also speak and understand English perfectly from using it while with friends and other family.
Rob is a member of the LDS Church, American Dental Association, Omicron Kappa Upsilon Honor Society and the Academy of Osseointegration.
In his spare time he enjoys playing with his kids and just being together with family, anything outdoors, exploring new places, visiting historical sites, reading, racquetball and golf, even though he says, " I'm not very good but it is fun to play".
Some of his most cherished times are when they go home to Utah for Christmas and get to see all of their family. His favorite family tradition is at Christmas when everybody gets together and they line up from youngest to oldest and sing a song that was written by his great-great-grandma. He says, this has been a tradition in his family for 35 years, since before he was born.
Another one of his most memorable times is of when he served on a mission trip for his church in Bulgaria.
---