The Hancock-Henderson Quill, Inc.

---
Meet Your Neighbor
by Misty Huston, Quill Reporter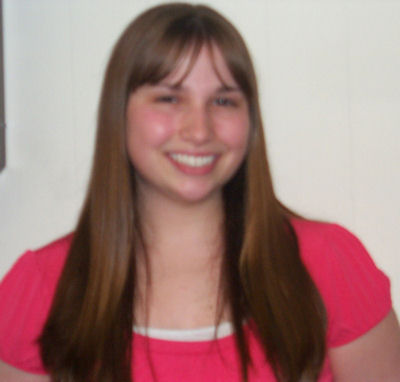 Meet Your Neighbor Emily Smith, who resides in Stronghurst.
Emily currently works at the Bank of Stronghurst as a drive-up teller and doing filing.
She was born and raised in Stronghurst and graduated from West Central High School in 2008. She is currently enrolled at St. Ambrose University in the Occupational Therapy program. In the fall she will begin the masters program, majoring in Physiology.
She is the daughter of Cindy Smith of Stronghurst who teaches at West Central. She has two older brothers, Brian and Daniel; and one sister, Elizabeth.
She recently became engaged to West Central graduate Brad Buss, who is attending West Point Military Academy, son of West Central Elementary Principal Dale Buss and wife Donna.
Emily is a member of the Presbyterian Church of Stronghurst and the National Honor Society at St. Ambrose University.
In her spare time she enjoys reading, listening to music and just having "free time", when she doesn't have to worry about what assignment is due next or if she is ready for that big test, etc.
Emily's most memorable moment is when her fiance, Brad proposed to her. She received a phone call from her dad and sister asking her to come to Texas and spend four days after she finished the semester and before she started her summer job. She thought it a little strange to spend all that money for such a short visit but they were insistent that she come right then.
It ended up being quite the trip but worth it all in the end. After getting sent to the wrong airport, missing her connecting flight and spending the night in the airport she finally made it there.
The next day her sister, Elizabeth, had big plans for her.
She wanted to take Emily to get her hair done, shopping and out to dinner, but Emily wasn't feeling well, so she didn't want to go anywhere. After trying a lot of different strategies, Elizabeth finally convinced her to go downtown with her to the mall and "get some things for the kids".
They just kept walking around aimlessly, and Emily kept asking "What are we looking for, what store do we need to go in?" But Elizabeth would just say "I'm not sure, it's around here somewhere".
Finally, after walking around for awhile, Emily went around a corner and ran into Brad standing there. He got down on one knee and proposed right there on the streets of San Antonio, Texas.
She was totally shocked and asked, "Are you serious? Yes!"
As West Point cadets can not marry while in school, the wedding will have to wait until after Brad is commissed a Second Lieutenant.
---