The Hancock-Henderson Quill, Inc.

---
Meet Your Neighbor
by Shana Jackson, Quill Reporter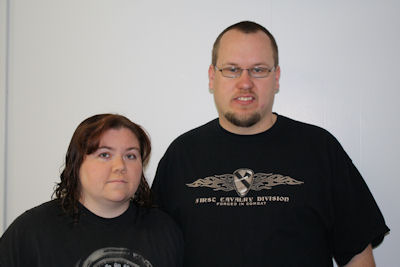 Meet your neighbors Ryan and Christy Kienast of LaHarpe.
Ryan was born at the Burlington Medical Center in June of 1977 and raised in La Harpe. His wife Christy was born in Dec 1978 and was raised in Burlington, Iowa.
Ryan graduated from La Harpe High in 1996 and Christy from Burlington High School in 1997.
While Ryan was working at Vista in Burlington, IA, his boss, Christy's sister, set them up. She brought Christy over to Vista to meet Ryan.
Ryan still laughs about it. "I was in my white coat and hair net when she met me."
Christy moved to La Harpe in 1998.
She and Ryan have been married for 11 years.
His parents are Dave and Donna Mershon of La Harpe, and hers are Ron and Margie Kienast of Burlington, IA and Helen and the late Harold Mandorf.
Christy's parents moved to La Harpe in 1999. After her father passed away in 2001 her mom moved next door and has lived beside them ever since.
Ryan and Christy have 2 children, Haylee who will be 10 years old in May and Hunter, who is 8 years old.
Ryan works at the Dallas City School as a light maintenance/custodial and Christy has been working at Pella in Macomb for 4 years.
The couple enjoys the community events and volunteer with the La Harpe Easter Egg Hunt and the La Harpe Haunted House.
They also both love taking walks together, sight-seeing, and doing anything that involve the outdoors.
Christy also enjoys baking and decorating cakes.
Their favorite memory is the birth of each of their two children.
---