The Hancock-Henderson Quill, Inc.

---
Meet Your Neighbor
by Susan Galbraith, Quill Reporter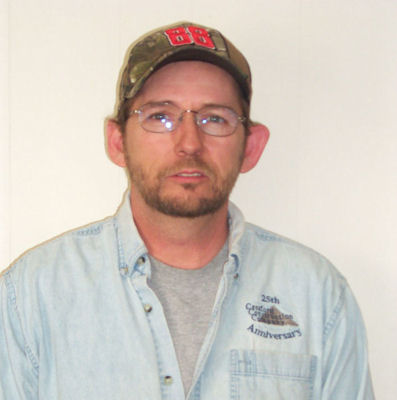 Meet Your Neighbor John Pence of La Harpe.
John has been employed by Cessford Construction Company for the past 18 years.
He was born in La Harpe and raised in Lomax.
He was a student at Dallas City High School and received his degree in 1987.
He enlisted in the U.S. Army and was on active duty for 3 years and in the Reserves for 7 years.
His basic training was at Ft. Jackson, South Carolina, and individual training was at Fort Lee, Virginia, before being transferred, for the remainder of his ative duty, at Fort Riley, Kansas.
John and his wife, Cheryl, celebrated their 25th wedding anniversary last year. Cheryl is employed at Winegard Antenna in Burlington, Iowa.
They have two daughters, Amy (33) who is married to John Tanner. Amy is a housemother and will graduate with her C.N.A. from Southeastern Community College, in Carthage, this spring. John is employed by Nelson Tree Service. Amy and John have four children, Ashley, twins, Kyle and Kelsey and Tyler.
Another daughter, Amber (26) is employed at Iowa Wesleyan College in Mt. Pleasant, Iowa, at the snack bar. She is also assistant coach for the Iowa Wesleyan girls softball team and coaches the Mt. Pleasant Iowa High School softball girls team.
His parents are Milford and Beatrice Pence. His dad, Milford, is retired and lives in Lomax and Beatrice is a resident at Oak Lane Nursing and Rehab in Stronghurst.
John has four brothers, Jimmy, Timmy, Lonnie (deceased) and Chad and a sister, Vicki.
His bowling team, Pioneer Rex Johnson, recently finished in first place at Country Fun Bowling Alley and Restaurant near Biggsville. He is on the Tuesday Night Men's League and he and Cheryl bowl on the Friday Night Mixed League.
He also coaches a summer softball league for the girls' fast pitch league in La Harpe; enjoys golf and NASCAR with Dale Earnhardt, Jr. being his favorite driver.
John said, "When I was younger, I played slowpitch with the local La Harpe team but now I just coach!"
---