The Hancock-Henderson Quill, Inc.

---
Fathering Children Of Another Kind
by Dessa Rodeffer, Quill Publisher/Owner
June 17, 2009
Often, I think about how much our heavenly Father loves us. We are each a different kind with different talents, hopes and dreams. We come from different backgrounds, ancestors, ethnic groups, yet He calls each of us to Him. He is our Father!
There is nothing that can separate us from the love of our Heavenly Father, no matter what!
He is master of the universe, yet "he counts the very hairs on our head", though we are all very different.
My son Troy and his wife Erica, who have two beautiful girls, Noah Jayne -10, and Sydney Jayne - 6, have chosen to adopt a child through Crisis Pregnancy Outreach in Tulsa where Erica volunteers.
A birth mother who came to the center for help rather than aborting the pregnancy chose Troy and Erica to adopt, love and raise her unborn child. She gave birth this past Sunday, June 14th, Flag Day, a little 6 lb. 12 oz. girl. She is a bi-racial child of God's special creation and just as special as each of my grandchildren and of yours.
Not everyone has a heart for all. They put conditions and reasons behind their loving, and it could be for a numerous crazy reasons including the color of an individual's skin.
There are fathers who have turned against their own children because they have disappointed them in some way, or they have chosen a different path than they had planned for them.
Some are jealous because their sons have succeeded where they did not.
Some have not learned how to open wide their arms and just love, and accept.
Others still have simply not learned how to love another and are still dealing with their own hurts.
I am so proud of Troy's decision to be a father to this child, just because he and Erica have the love, the heart, and the means to do it, plus the desire to serve the Lord.
It started long ago with a message Troy heard called "The Orphan Heart Message" and it is growing into ways we should care for others in crisis, especially widows and orphans (James 1:27).
Being a caring Father to your own children is good and so important, but being able to love another child someone else has fathered, is Christ like.
I am so proud of you today, Troy and of Erica, Noah, and Sydney, for opening up your hearts and home.
Happy Fathers Day Troy, and welcome Granddaughter Carly Jayne. She is grandchild number 19.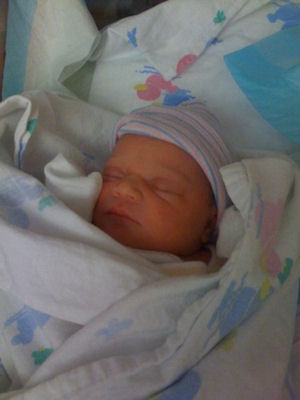 Carly Jayne Andrews - Grandchild #19. Born June 14, 2009
Troy Andrews' four Jaynes, wife Erica Jayne, Noah Jayne-10, Sydney Jayne-6, and newborn Carly Jayne.
---