The Hancock-Henderson Quill, Inc.

---
Putting On A "Boo"tiful Event With A Globetrotter
by Dessa Rodeffer, Quill Publisher/Owner
It was a flashy affair, bringing a world famous Globetrotter to our small schools of La Harpe Community and West Central in Henderson County.
Several asked me how it came about that I was able to bring Curley "Boo" Johnson here.
It all started with a bit of luck when I was shopping in Peoria last month when the Harlem Globetrotters had come to the Peoria Civil Center.
An employee at the mall was telling me of a great place to eat that had exquisite food in Peoria Heights, near where my Corporate Attorney formerly had his office.
I was eager to return to see how things had changed there and to find what they told me was the best of Peoria eating.
After finding several nice restaurants in the area, I finally found what I was looking for, a restaurant called, "Seven" on Prospect.
It was here I was delivered a delicious and fabulously presented appetizer of Portebello mushroom with cream cheese and caramelized onions, and a wonderful fish and asparagus presentation that could have won the food network's "Challenge of the Chefs."
I was giving my compliments to owner, Joe Kahn, who said he had owned six other restaurants, including four Italian ones around Peoria and he named this one SEVEN for luck, when in walks this guy who turned heads. Everyone seemed to know him, was patting him on the back, giving him hugs, and it was a packed house. The only other place to sit was a table next to me that didn't have a chair, so I told Joe, he could have my extra chair.
Who is this guy, I asked Joe, is he the Mayor or does he own half of Peoria by the treatment he was getting.
Then Joe told me he was a motivational speaker and former globetrotter who had grown up in Peoria, and "We all love him here," he said.
So, Curley, politely came over and thanked me for giving up my extra chair for him.
Before I left, I inquired if he would consider coming to our small schools and he said he would email me his information for me to look at and then we would negotiate the terms, and that is what we did. Sponsors were generous and quick to give and were treated to a private reception at Cerars Barnstormer restaurant in Monmouth with Curley. It was especially fun to see the excitement on the kids faces and to see them get shoes, shirts, and basketballs autographed such as Sam Wolf did here. Now they want me to do it next year, and I'm not sure if lucky "Seven" could bring me Ryan Sandberg or not.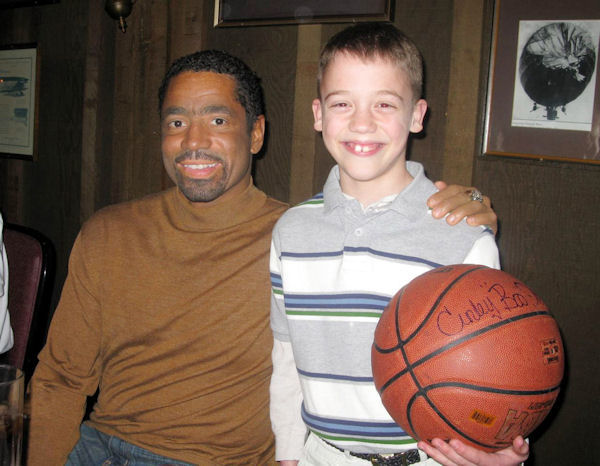 Sam Wolf (11) of Biggsville grins as he receives his basketball signed by world famous retired Harlem Globetrotter Curley "Boo" Johnson.
---