The Hancock-Henderson Quill, Inc.

---
Chargers Fly Past Rockets 55-0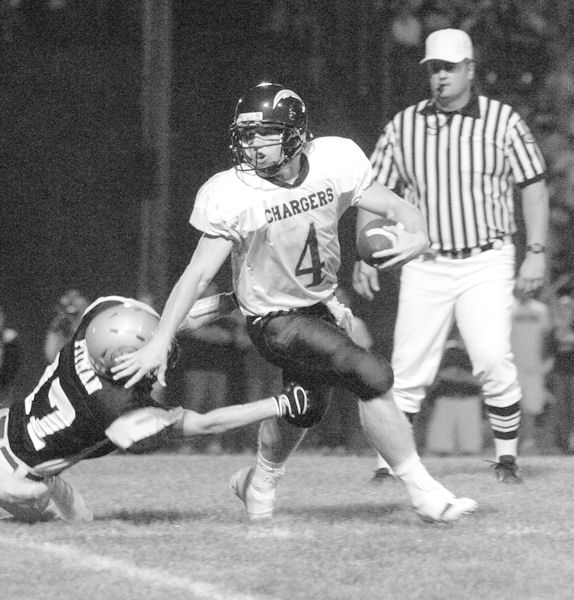 The Illini West Chargers used a combination of their passing game and stingy defense to post a 55-0 victory over the visiting Rushville-Industry Rockets in West Prairie Trail Southwest Conference football last Friday night.
The Chargers improved to 5-0 on the 2009 season overall and 2-0 in the conference race.
After receiving the opening kick-off, the Charger scored on their very first play, a 60-yard passing strike from QB Michael Lafferty to halfback Ser Whitaker. This was the first of six touchdown passes on the night for Lafferty, to four different Charger receivers.
Senior place-kicker Ryan Wilhite, returning from a shoulder injury, split the uprights for a 7-0 IW lead.
Much of Lafferty's throwing success can be attributed to good protection from his ever-improving offensive line, center Travis Hobby, guards Jack Carlisle and Andy Boyer, and tackles Carl Hartweg and Brogan Smith, gave Lafferty the time to scan the field and pick-out talented teammates splitting the defensive coverage.
This type of protection is crucial if Illini West wants to make their dangerous passing attack a bigger part of their weekly offensive game plan.
The undermaned Rockets did a good job early on playing ball control and using up the clock to keep the score at 7-0 through the early part of the 2nd quarter.
At that point the Chargers used the quick strike of their passing attack to jump out to a big advantage. Starting at 10:03 of the 2nd period, Lafferty would throw TD's on IW's next 5 offensive plays.
Utilizing a short field following a Rocket failure to convert on 4th down, Lafferty would hit a streaking Kris Vincent for 25 yards and a score. Wilhite's successful PAT kick made the score 14-0 in favor of IW.
The Charger offense then used the combination of Lafferty to senior end Zack Burling for it's next 2 scores. Lafferty hit Burling from 25 yards for his third TD toss and then hit him again from only 5 yards for his fourth TD strike.
Wilhite was right on target for both PAT kicks for a 28-0 Charger edge.
IW finished the half with the Charger defense getting the ball back in good position for the offense to take another shot at scoring with under 40 seconds. This proved to be plenty of time, as Drake Schmudlach took a screen pass from Lafferty and raced 28 yards down the left sideline to the endzone.
Wilhite was again true on his extra point kick and IW went into the halftime break, up 35-0.
The Chargers picked-up right where they left off in the 2nd half, when Lafferty found senior end Jacob Schmudlach for a 34-yard TD on IW's first play after the break. A bad snap on the extra-punt kept the score at 41-0 Chargers.
The Charger reserves took over from there and they produced 2 fourth quarter scores against the Rockets. The first of these came on a nice drive that culminated with an 18-yard run by junior fullback Kyle Huss. The IW sophomores attempted to run in the extra point, but were turned away by the Rocket defense. IW now led 47-0.
The final Illini West score came on a 3-yard run by senior fullback Aaron Carroll at the 5:00 minute mark of the game. Back-up QB Zane Schmudlach hit tight end Dylan Pieper in the left corner of the end zone for the 2-point conversion, setting the game's final score at 55-0.
The Charger defense gave up 144 total years, but the Rockets never seriously threatened to score.
The IW defensive effort was led by Jacob Schmudlach, Carl Hartweg, and Kris Vincent with six tackles each. Also big on the tackle chart were Ryan Bolen (5 total tackles), Dylan VanFleet (5), Mitch Beals (5), Tim Yex (4), and Dustin Carlisle (4).
Others on the chart included Justin Graves, Dakota Seaver, Rob Hutson, Ethan Lillard, and Brandon Gehle with 3 tackles each.
Finishing with 2 tackles each were Jacob Jacoby, Aaron Carroll, Jack Carlisle, Travis Wilson, and Zach Burling.
Solo stops were posted by Tyler Kiley, Brian Lafferty, Cody Carson, Zane Schmudlach, Steven Miller, and Erick Klein.
Tackles for loss were posted by Vincent (3), Bolen (3), Jacob Schmudlach (1), Beals (1), and Yex (1). This helped to keep the Rockets below 3 yards per play on their 55 snaps from scrimmage.
The Chargers gained 320 yards on only 23 offensive plays. Lafferty finished 9 of 12 passing for 227 yards, including 6 TD's and no interceptions.
The Charger receiving corps was led by Burling with 3 catches for 49 yards and 2 scores.
Also in that receiver group with 2 grabs each were Ser Whitaker (83 yards), and Drake Schmudlach (36 yards).
Making single catches were Jacob Schmudlach (34 yards) and Kris Vincent (25 yards). All 4 of these receivers had 1 score each.
The Charger running attack produced 93 yards on only 11 attempts.
Kyle Huss had 39 yards on 3 rushes, while Aaron Carroll produced 38 yards on 4 carries.
Single carries were added by Cody Carson (13 yards), Trey Bartlett (1 yard), Trey Ourth (1 yard), and Lafferty (2 yards).
The Chargers will return to action this Friday night when they host the West Hancock Titans for the 2009 homecoming game.
The Titans are 1-4 on the season this far.
Kick-off is slated for 7:00 p.m. at Fuzz Berges Field.
---