The Hancock-Henderson Quill, Inc.

---
Galva Spoils West Central's Homecoming
By, Drew Postle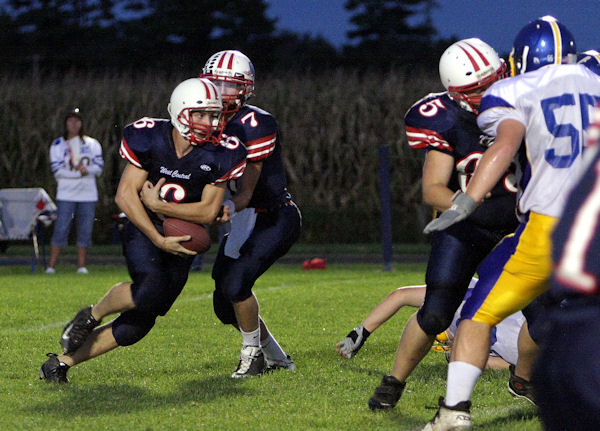 Homecoming was bitter sweet Friday night after the Heat fell to Galva 32- 48.
"It was a disappointing loss." said Head Coach Steve Arnold, "You can't turn the ball over."
The Wildcats took advantage of an early Heat turnover and jumped out to an early 13-0 lead in the first quarter, but the Heat answered with 14 points of their own, on 2 yard and 60 yard runs by Ryan Mowder.
With only five seconds left in the 1st half Galva was able to score on a 4 yard run by their quick #45 running back, Harry Hergert, taking a 20-14 lead into half.
The second half went back and forth, but the Heat just couldn't get it done.
"Every time we got something going there was a turnover or a penalty that swung the momentum the other way." Coach Arnold said.
Ryan Mowder (31) had a big day racking up 152 yards on 17 carries and three catches for 72 yards and three total touchdowns.
Galva was lead on the ground by their fullback Nolan Peterson #36 with 115 yards on 16 carries. It was the Wildcats head coach Tom Buck's first victory since his state championship win with Wethersfield eight years ago. Buck had returned to high school coaching after retirement.
The Heat was lead on defense by Jesse Sams (72) who had 5 solo tackles and 7 assists, Toby Krow (75) with 3 tackles and 12 assists, and Tyler Anderson (39) with 3 tackles and 11 assists.
The Heat (0-5) go to Wyoming this Friday night to face Stark County (4-1). Kickoff is set for 7:00 pm.
---