The Hancock-Henderson Quill, Inc.

---
Republicans Enjoy Annual Gathering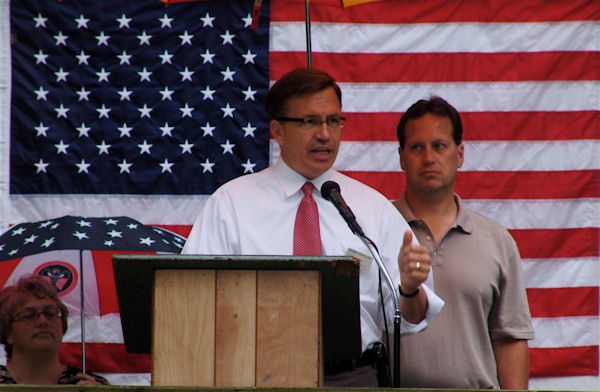 At the end of Republicans annual gathering at Delabar State Park, Sept. 20th four hogs, roasted to perfection by the Kim Gullberg family, were completely gone as over 250 were served delicious pork, baked beans, cheesy potatoes, applesauce and beverage.
It was Henderson County Republican's second year at hosting a pork fry rather than the usual carp, catfish and chicken which was served for so many years in the past.
The roaster was fired up at 7 p.m. the night before, and all was ready for the 11 a.m. meal.
Main speaker at the event was Bob Schilling of Rock Island who came on strong with plans to upset democrat incumbent Congressman Phil Hare. Schilling is married to his wife Christie of 23 years and has nine children, another on the way, and one granddaughter.
They run a restaurant, St. Giuseppes Pizza in Moline and said he felt someone needs to take fiscal responsibility.
Schilling wants to represent both non-Union and Union not just one side of things, and bring jobs back to Illinois.
"We need to attract jobs to the 17th district, not tax them out of the state," he said.
"Cap and Trade is NOT how to save the Environment." It "adds $1,800 of taxes, annually, for each family!"
He also feels we need to seek lower costs in healthcare without having the Government take over.
"We all need Health Care, but Big Government is NOT the answer," Schilling said.
He was also sickened by Hare leading workers in a recent factory closing that he said he was going to save workers jobs, when he knew from the start the factory was going to be closed.
The majority of Congressman Hare's campaign contributions come from out of the 17th district, Schilling said, and he is marching to the call of others interest, not the 17th district.
Schilling also supports Ethanol and renewable fuels and says we must do all we can to become self-sufficient in fuel and energy.
Schilling knows he has a lot of responsibilities at home, but feels its a sacrifice one must make to improve their country.
"I believe in term limits" and then, he said, others can take up the call to serve, and he also says he will refuse to take raises and feels getting a pension for only being in office six years is costly to the taxpayers.
When he finishes serving, he will return to his business and the workforce where he will earn his retirement, he said. "Being an elected official is about service to the people, not about a job."
Also speaking were State Representative Rich Myers, Victoria Mohr of Dallas City who is running against Incumbent Myers; and Todd Miller, Oquawka retiring Illinois State Police officer running for Sheriff against incumbent Mark Lumbeck, and Susan Meyers, Henderson County Treasurer seeking re-election.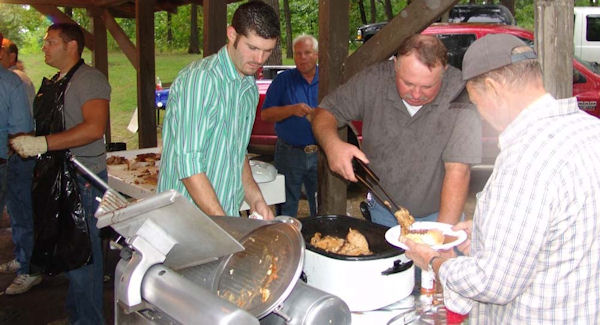 ---